Gretchen Wilson is a Grammy-winning singer who has had numerous hit records in her career.
Despite enjoying the high-profile life as a successful singer, she decided to take a break.
Gretchen Wilson Quick Facts
Full Name: Gretchen Wilson
Date of Birth: June 26, 1973
Age: 50 years old
Zodiac Sign: Cancer
Current Residence: United States of America
Birth Place: Pocahontas, Illinois, USA
Nationality: American
Religion: Christianity
Ethnicity: White Ethnicity
Height: 5 feet 6 inches
Weight: 55 kg
Gender: Female
Sexuality: Straight
Relationship Status: Single
Husband: N/A
Daughter: Grace Frances Penner
Profession: Artist
Famous as: Redneck Woman Singer
Instagram: @gretchenwilson27
Facebook:
Net Worth: $4 million
Gretchen Wilson Early Life Struggle
Since her father abandoned the family when Gretchen was just two years old, things went downhill for quite a long time.
Wilson's mother remarried, and Wilson got herself a stepfather.
However, the family environment wasn't any better.
Gretchen revealed that her childhood was filled with violent and unpredictable experiences.
Similarly, Gretchen's stepfather changed jobs very often, and the family had to relocate frequently.
The Redneck Woman singer remembers living in areas from Southern Illinois to Miami.
Suggested Read: Scrapp DeLeon [Rapper] Relationships, Kids, Net Worth
Education
Gretchen Wilson attended Bond County Community High School, Greenville.
However, she didn't complete school and dropped out in grade 9.
Wilson, who experienced a violent childhood, always dreamed of having a stable life.
But it never happened.
Since her stepfather frequently changed jobs and cities, Wilson had to move and change schools too.
Gretchen remembers having changed school up to three times a year.
Then, when she was studying in 9th grade, at the age of 15, Gretchen moved in with a man much older than her in the hopes he would help her with a stable life.
However, in 2008, 19 years after dropping out of school, Wilson received her GED through an education program for adults.
GED in the United States of America is equivalent to a high school diploma. And Gretchen received this degree at the age of 34.
Suggested Read: Rudy Mancuso and Maia Mitchell Broke Up | Why?
Gretchen Wilson Professional Background
Gretchen signed her first record label with Records in the year 2003.
The following year, she made her debut in the music industry by releasing her Grammy Award-winning first single, Redneck Woman.
Her very first single was on #1 on hit on the billboard county charts.
Furthermore, it was also the 1st number one country hit by a female in almost two years.
The following year, after her first release, she released her second album, 'All Jacked Up,' which was another major hit.
It peaked at No one on billboard's top 200 and country album charts.
On September 3rd, 2008, Gretchen sang the national anthem at the Republic National Convention, which everyone just loved.
Some of the other major hits she had in her career are: 'Come to Bed,' 'Pain Killer,' 'Here For The Party,' and many more.
From her almost two-decade-long career and her constant dedication to singing, she has also won various awards and honors.
Suggested Read: Jennifer Lopez Height: How Tall is Jennifer Lopez?
Gretchen Wilson's Income and Net Worth
Gretchen Wilson's career breakthrough happened right after the release of her first single, which earned her millions.
Her other single releases also did pretty well in the audience, with a few of them peaking top 1 on the Billboard charts.
From her two-decades-long engagement in the industry as a singer, she has amassed a net worth of $4 million in 2023.
Gretchen annually earns around $30,000 to $200,000 as royalty.
One valuable asset the singer owned was a 340-acre Wilson County estate worth $2.9 Million, which she sold back in 2011.
Suggested Read: Rapper Jay Critch Age, Height, Girlfriend, Net Worth
Gretchen Wilson Wiki, Age, Bio
Gretchen Wilson was born on June 26, 1973, in Pocahontas, Illinois, USA.
Wilson is 50 years old today.
For Gretchen, family has always been a sensitive area, and she refrains from talking about it in public.
Her father abandoned her family when she was only 2.
Hence, her mother would work numerous jobs to sustain her family.
Similarly, Gretchen has a half-brother named Josh Malter.
Suggested Read: Chrissy Metz Weight Loss 2021, Before & After, Diet, Exercise, Now
Gretchen & Larry Rolens
Gretchen has had few relationships that were known to the public, as she was very open about it the entire time.
Previously, the singer was married to her long-time boyfriend, Larry Rolens, back in the early '90s.
Larry was a member of the music band Bay Wolfe.
She hasn't mentioned other detailed information about her marriage.
Internal conflicts turned their relationship sour, and the two decided to part ways and opted for divorce.
Suggested Read: Amy Slaton Husband Michael Halterman, Age, Weight Loss, Net Worth
Gretchen Wilson and Mike Penner
Later, in 1996 she started dating Mike Penner. The two never married but started a family of their own.
From their relationship, they welcomed their only daughter, Grace Frances Penner, on November 9, 2000.
Unfortunately, Gretchen and Mike ended their relationship because of an undisclosed matter.
Their daughter, Grace, was only six years old when the couple separated.
Suggested Read: Drew Sidora Age, Husband, Children, Net Worth, 2022 Update
Is She Dating Anyone Today?
After her split with her former partner, the singer has kept her relationship details private.
She hasn't dropped any hints about her partner as of today and keeps all the details low-key.
Suggested Read: Michael Darby [Ashley Darby's Husband] Age, Business, Net Worth
Daughter Grace Frances
Grace is currently enrolled at Belmont University and pursuing a bachelor's degree in motion picture science.
She has kept her life away from the limelight despite being the only daughter of the Grammy-winning singer.
Suggested Read: Larsa Pippen Net Worth & Luxury! Wiki, Age, Kids, Husband
Where Is Gretchen Wilson Today?
Gretchen's fame skyrocketed soon after her career launch. The small-town girl's life suddenly turned into a high-octane lifestyle.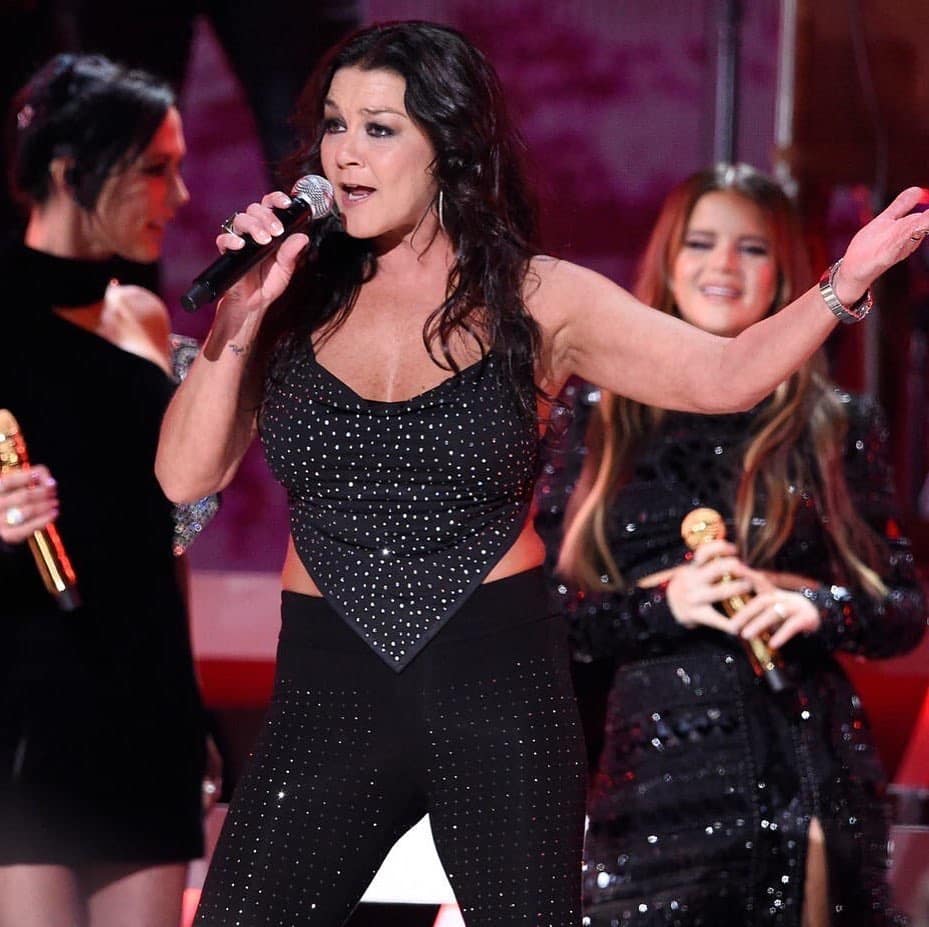 As much as she enjoyed the success, she also confessed not being ready for all the stardom she experienced in a short time.
After 12 years of nonstop trips, concerts, and deals, Gretchen finally put her foot down and decided to take a break from singing.
She did make a comeback a few years later as she craved the adrenaline rush of performing and seeing thousands of her fans together.
The last album she released was back in 2017.
Gretchen's Scandals on Flight
In 2018, Gretchen made headlines when she was taken into police custody.
Reportedly, Gretchen had an altercation with a passenger onboard a commercial flight from D.C. to Connecticut.
The in-flight rage came after another passenger on the flight was using the lavatory at the same time Gretchen wanted to use it.
Gretchen and the other passenger, whose identity remains undisclosed to this day.
Although the airline crew members tried to soothe the altercation out, things got out of hand when police authorities met them at the scene.
Gretchen reportedly acted in a belligerent manner and caused a scene. This prompted authorities to apprehend Wilson and take her into custody on charges of a misdemeanor for breach of peace.
Wilson reportedly paid a $1,000 bond.
How Old Is Gretchen Wilson?
Gretchen Wilson is 50 years old. She was born on June 26, 1973, in Pocahontas, Illinois, USA.
Is Gretchen Wilson Married?
Gretchen Wilson has never married. She has have two public relationships. Wilson dated Larry Rolens in the early 90s. Later, Wilson dated Mike Penner. Gretchen and Mike welcomed a daughter. Later, the couple broke up in 2006.
Gretchen Wilson's Daughter.
Gretchen Wilson and her ex-boyfriend Mike welcomed a daughter and named her Grace Frances Penner.
Gretchen Wilson Net Worth Today
Gretchen Wilson currently has a net worth of $4 million.
[expand title=Sources]
https://www.onepeloton.com/instructors/bike/loonisee
[/expand]