Last updated on November 20th, 2021 at 08:19 pm
Jonathan Steinberg is the founder and CEO of an ETF company called Wisdom Tree since 1998.
However, he got recognition after his marriage to Maria Bartiromo.
Keep reading to learn more about his marriage and all about his personal/professional life.
Jonathan Steinberg Quick Facts
Birthday: November 7, 1965
Birthplace: Philadelphia, United States
Age: 56 Years Old 
Zodiac Sign: Unknown
Height: 5 feet 10 inches
Relationship Status: Married
Wife: Maria Bartiromo
Children: 0
Weight: 87 kg
Net Worth: $61 million
Jonathan Steinberg Background
Jonathan Steinberg was born on November 7, 1965, in Philadelphia, United States. He is currently 56 years old.
He was born to parents Saul Steinberg and Barbara Steinberg. Unfortunately, they divorced in 1974.
Jonathan comes from a very wealthy family where his father Saul was an American businessman and a financer.
Saul Steinberg became very successful that by the age of 40, he was a billionaire.
Moreover, he was famous as a corporate raider. He passed away on December 7, 2012.
More about his family, Jonathan has a sibling named Laura Steinberg and two half-siblings named Julian and Holden from Saul's second and third marriage.
Suggested Read: Maria Bartiromo Love Life & Family with Husband Jonathan Steinberg
Jonathan Steinberg & Wife Maria Bartiromo
Jonathan Steinberg is a married man. He enjoys marital bliss with his gorgeous wife, Maria Bartiromo.
The duo took vows on June 13, 1999, in the village of Quogue.
There is no information about how and when the couple met each other.
Nevertheless, they are happily married to this date.
There were times when affairs rumors hit the couple.
However, Steinberg and Bartiromo remained calm and consistent, which didn't let their marriage stumble.
For example, in 2013, news came that Maria reportedly had an affair with former Citigroup chief Todd S. Thomson.
Mr. Thompson reportedly flew Maria on the company's private jet to an event in Asia in 2007.
Furthermore, he also spent $5 million sponsoring an event Maria was hosting soon.
These facts came out in 2013 when Mr. Thompson's wife filed for divorce.
However, regardless of these issues, Jonathan and Maria stayed strong together.
Moreover, Maria doesn't shy away from acknowledging how lovely her husband is through their adorable photos of them together in her Instagram posts.
The duo owns a beautiful townhouse and lives a luxurious life in Westhampton, New York.
Suggested Read: John Molner, Katie Couric's Husband Age, Net Worth
Jonathan and Maria: Kids
Many tabloids say that Jonathan and Maria are waiting for the right time to start a family.
But we're certain that will never happen.
In an interview, Maria revealed how she chose not to have children, ever.
Moreover, Maria revealed that she is most happy with her decision and hopes that she won't regret it later.
"I believe that right now, I'm happy. I have been happy. I hope I don't have regrets for not having children at some point; I'll be honest in telling you that. I have no idea at some point if I will."
As we mentioned, Jonathan and his wife Maria consciously made the decision not to have any children.
Who Is Wife Maria Bartiromo?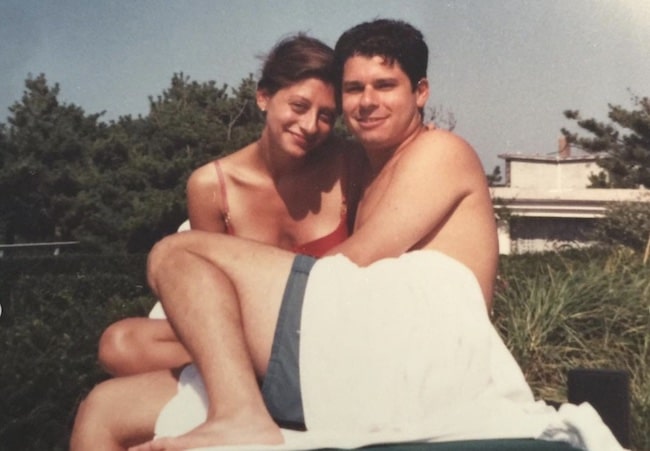 Mario Bartiromo is a supremely talented TV anchor, presenter, and author.
She currently serves as the host of mornings with Maria and Sunday morning futures with Maria Bartiromo on the Fox business network.
Maria was born on September 16, 1967. During her initial career days, she joined CNN as an assignment editor.
She later joined the CNBC business as an anchor and became the first person to report live from the New York stock exchange.
It was a turning point in Maria's career which welcomed numerous opportunities for her.
Similarly, maria anchored and served as a managing editor for CNBC's show, On the money, with Maria Bartiromo.
Furthermore, in 2013 she quit CNBC to join the team of FOX business channel.
Suggested Read: Dave Gardner [2021 Update] Liv Tyler, David Beckham, Wife, Net Worth
Jonathan Steinberg Education
Jonathan attended a business school, Warton School of the University of Pennsylvania.
But he dropped out right before his senior year because of some "reading difficulty."
Suggested Read: David Haffenreffer Age, Lara Spencer Husband, Net Worth
Jonathan Steinberg Career
Jonathan developed an interest in stock analyzing in finance from a young age.
It was his father that he considered as a role model.
At present, Jonathan serves as the founder and CEO of an ETF company called Wisdom tree since 1998.
Steinberg was in his mid 20's when he launched his venture and bought a tabloid called the Penny Stock Journal. He was later renamed an Individual investor.
However, during the early 2000s, the company collapsed.
He re-branded it named it Wisdom Tree.
He was the chairman BOD of his company from 1988-2004.
Likewise, he also served as the president of the wisdom tree from 2012-2019.
Apart from his venture, he is also an author.
Suggested Read: Mason Morfit Massive Net Worth? Age, Divorce, Girlfriend, Now
Net Worth
Jonathan started making fortunes at a young age.
As of 2021, the Jonathan Steinberg has amassed a hefty net worth of $61 million.
His annual salary stands at more than $1 million. Without a doubt, he lives a very luxurious and wealthy life.
Jonathan Steinberg Age
Jonathan Steinberg is 56 years old. He was born on November 7, 1965, in Philadelphia, United States.
Jonathan Steinberg Wife
Jonathan Steinberg is married to his wife Maria Bartiromo. The couple married on June 13, 1999, in the village of Quogue.
Jonathan Steinberg Net Worth
Jonathan Steinberg has a net worth of $61 million as of 2021.
Sources