There's a rising star in journalism, and her name is Marissa Hollowed.
She's incredibly enthusiastic about her work, lives her life to the fullest, and shares that same energy as well.
Now, when off-camera and at home, she's a loving and caring wife as well as a new mother.
Here's everything about Marissa. A comprehensive bio.
Marissa Hollowed Quick Facts
Birthday: June 20, 1989
Birthplace: Glen Ellyn, Illinois, United States of America
Age: 32 years old
Zodiac Sign: Gemini
Height: 5 feet 3 inches
Relationship Status: Married
Husband: Jordan Ross Lewis (Attorney)
Children: Liam Archer Lewis (Son)
Salary: $50,000 and above
Net Worth: $500k
Marissa Hollowed Age, Early Life
The beautiful News Anchor was born on June 20, 1989, in Glen Ellyn, Illinois, United States of America.
Marissa is 32 years old now.
Marissa was born to American parents; hence, her nationality is American, and she comes from white ethnicity.
Born on June 20, Marissa's zodiac sign is Gemini, and she stands tall at the height of 5 feet 3 inches.
Marissa spends most of her childhood in Glen Ellyn and later lives for a time in Paducah, Kentucky, for work.
Education
Born and raised in Illinois, Marissa finished her early education while in Glen Ellyn.
She went to Glenbard West High School and graduated in the mid-2000s.
After high school graduation, Marissa moved to Missouri to enroll at the University of Missouri-Columbia in 2007.
Hollowed spend four years at the university and finished her studies in 2011. She graduated with a degree in Broadcast Journalism.
Read: Diana Williams' Horror! Son and Husband Almost Died
Marissa Hollowed Married Life, Husband
In 2017, Marissa moved to St. Louis, Missouri, when she got a job at KMOV-TV. She joined the network in July.
In the first week of her job, she met a young man named Jordan Ross Lewis in an elevator.
After the two broke the ice and began talking to each other, things moved on forward, and sometime later, the couple started dating.
Fast forward, less than a year later, Jordan proposed to Marissa and asked her to marry him. Obviously, the 32-year-old anchor said yes.
Followed by the engagement, Marissa and her then-boyfriend turned fiance married to each other.
On October 18, 2018, Marissa Hollowed and Jordan Lewis married each other at The Chase Park Plaza, St. Louis.
The couple chose The Chase Park Plaza because both of them live in St. Louis.
The couple have celebrated their three-year anniversary as of today.
Read: Matt Gutman Age, Weight, Wife, Married, Salary
Who Is Hollowed's Husband Jordan Lewis?
Everyone who watches news certainly knows who Marissa is. It's her husband that people want to learn more about.
Professionally, Jordan is an attorney.
He graduated with a bachelor's degree in economics from Rollins College In 2011. After that, Lewis joined Jacksonville University, where he pursued an MBA in Finance and Financial Management services.
In 2012, Jordan joined Texas A&M University, and a year later, in 2013, he received a  Doctor of Law degree.
From 2013-2014, Jordan completed received certificate of specialization in business transactional law.
Lewis began his career with Fox Smith, LLC Attorneys at Law in 2016 as an attorney. After two years there, Jordan joined Tucker Ellis LLP in the same position.
As of March 2019, Jordan Lewis works with Carmody MacDonald P.C. as an attorney and concentrates on business litigation and real estate.
Marissa and Jordan's Son
On March 19, 2019, the former KMOV-TV anchor revealed via Instagram that she and spouse Lewis were expecting their first baby.
She posted a picture of both resting their hands on her baby bump with broad smiles.
On August 8, 2019, Marissa and Jordan welcomed their first child together.
The couple welcomed Liam Archer Lewis.
Marissa gave birth to her son at the Missouri Baptist Medical Center.
Today, their son is already two year old.
On August 15, Marissa gave birth to the couple's second child, another son. She hasn't revealed the name of her baby boy as of now.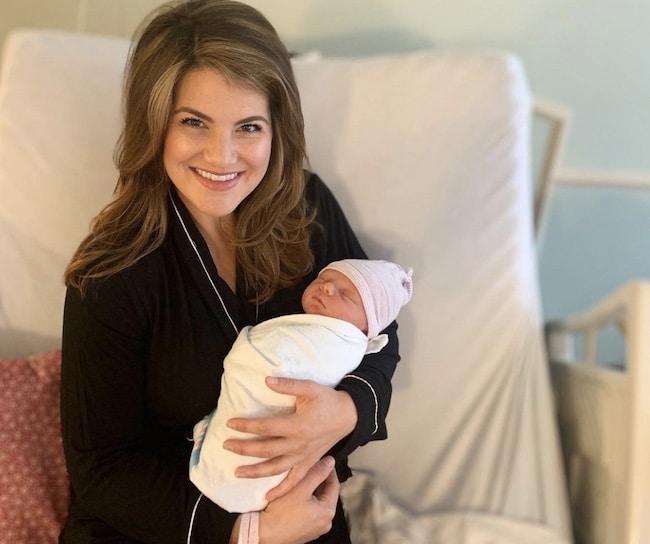 However, both Marissa and her husband Jordan are ecstatic to welcome another baby into their family.
Finally, little Liam has a baby brother.
Marissa Hollowed Career In 2021
The Glen Ellyn native began her career in 2008 as an Outreach Representative for Current TV.
In 2009, she joined KOMU-TV as an Anchor/Reporter, followed by joining WPSD Local 6 as a morning anchor/reporter.
From September of 2014-2017, Marissa worked with News-Press & Gazette Company as Evening News Anchor/Investigative Journalist.
In 2017, Hollowed moved to St. Louis, Missouri, and joined KMOV-TV as a Morning News Anchor.
However, in 2021, Hollowed has become a victim of the economic crisis dawned upon the world by the Covid-19 virus outbreak. She's no longer with KMOV-TV.
Read: Fox News Patti Ann Browne Now | Age, Husband, Son
Marissa In KMOV-TV Lay-Off
Most recently, in September of 2020, KMOV-TV decided to lay off of their employees, a total of 16 people.
One of those 16 people is Marissa.
KMOV has also let go of one of its veteran anchors Steve Savard who had been with the network for over 20 years.
Marissa's unemployment came after the network faced severely plummeting advertising volume. This in turn has hinted a possible recession that seems almost inevitable.
Marissa has not made any statement regarding her lay-off from KMOV-TV at the moment.
Moreover, since she just birth to a baby boy in August, Marissa is naturally taking time off from her career.
What Is Marissa Hollowed's Age?
Marissa Hollowed is 32 years old. She was born on June 20, 1989, in Glen Ellyn, Illinois, United States of America.
What Is Marissa Hollowed's Height
Marissa Hollowed is 5 feet 3 inches or 160cm tall in height.
Where Is Marissa Hollowed Now?
Marissa Hollowed currently lives with her husband and son in St. Louis, Missouri.
When Is Marissa Hollowed Coming Back?
Marissa Hollowed is not coming back to KMOV-TV. The network let go 16 of its personnel amid advertising crisis caused by Covid-19 pandemic.
Sources