32-year-old Amberley Snyder is an American championship barrel racer who started horse riding at the age of 3.
One small mistake had a life-changing impact on her career.
Read the article below to find out about it.
Amberley Snyder Quick Facts
Full Name: Amberley Snyder
Date of Birth: January 29, 1991
Age: 32 years old.
Zodiac Sign: Aquarius
Current Residence: United States of America.
Nationality: American
Religion: Christianity
Ethnicity: American
Height: 5 feet 10 inches
Weight: 60 Kg
Gender: Female
Relationship Status: Single
Boyfriend: Not Disclosed
Children: N/A
Profession: Championship Barrel Racer
Famous as: Championship Barrel Racer & Motivational Speaker
Instagram: amberleysnyder
Facebook: amberleylanasnyder
Net Worth: $10 million
Amberley Snyder Wiki, Age, Bio
Amberley Snyder was born on January 29, 1991, making her 32 years old at present.
She hails from Laguna Hills, California, USA.
Amberley is the elder daughter among five other children of her parents, Tina and Cory Snyder.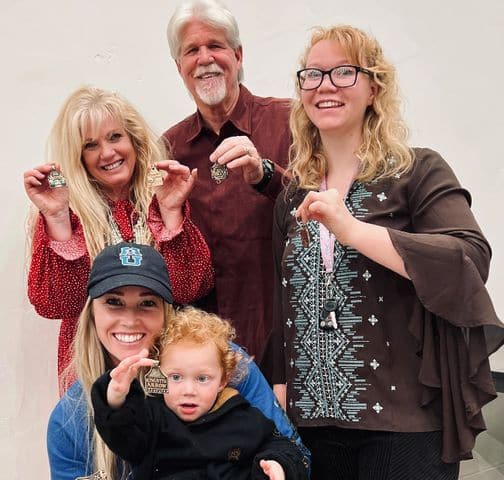 Cory Snyder was an American former professional baseball right fielder.
He played nine seasons in MLB with teams like Chicago White Sox, Toronto Blue Jays, and many more.
As mentioned earlier, she has five siblings and was raised alongside Ashley, JC, Taylor, Aubrey, and Autumn.
The entire family relocated to Utah after her father's retirement.
Suggested Read: Basketball Star Mikey Williams Age, Mom, Dad, Girlfriend, Net Worth
Education
Amberley completed her bachelor's from Utah State University in agricultural education.
For her master's degree, she chose a major in school counseling.
Suggested Read: NFL's Sam Ehlinger Engaged: Beautiful Fiance, Giant Net Worth
Who is Amberley Snyder's Husband?
Amberley remains quite secretive regarding her personal life.
The 32-year-old hasn't mentioned any romantic relationships so far.
A Netflix show called 'Walk. Ride. Based on her real-life events, Rodeo portrayed a character named Tate Watkins, who was her love interest on the show.
For privacy reasons, the names were changed, but when fans saw her on-screen love interest, it raised many questions regarding her relationship status.
After some digging, viewers found the real Tate Watkins, a managing editor of PERC Reports.
And some even believe the two are secretly married; however, these are all based on assumptions.
Snyder has neither confirmed nor denied these speculations.
As of 2023, she is considered to be single, but that remains uncertain until she clarifies it herself.
Suggested Read: NFL Charles Woodson Age, Wife, Sons, Net Worth
Amberley Snyder's Accident
In 2010, the now-32-year-old met with a terrible accident.
Amberley was driving to the National Western Stock Show and Rodeo in Denver.
On her way, she looked down to check her map for a few seconds, which took her eyes off the road.
In those few seconds, Snyder's truck steered in the other lane, about to hit a metal beam, and to avoid her vehicle from doing so, she tried to get back to the right lane.
While she attempted to come back to the right lane, it slid from the road, causing it to roll and crash.
An emergency medical vehicle rushed her to the nearest hospital in a very critical condition and with a crushed T12 Vertebrae.
Amberley underwent extensive reconstructive surgery. However, that wasn't much of a help as doctors announced paralysis from the waist down.
Suggested Read: Staforde Palmer [Yris Palmer Ex-Husband] Age, Wife, Net Worth
Conquering Paralysis
Amberley's hope flickered for some time as she saw her dream and aspirations crumbling down.
While recovering, Snyder required help to do basic day-to-day activities, let alone getting back to horse riding.
But Amberley pulled herself together shortly as she isn't one who gives up on their dreams.
Especially a dream she had manifested from a very young age.
With physical therapy and intense exercises, she was back on track.
The life-threatening accident couldn't hold her back from her passion, her dreams.
Her first experience after her recovery was not great.
She broke down and almost gave up. Luckily, all the positivity and love from the people around her helped her gain back her confidence.
Subsequently, she returned to competition after almost six months of recovery and ranked 19th in the barrel racing event.
Suggested Read: Tommicus Walker Age, Ex-Wife LeToya Luckett, Now In 2022
Amberley Snyder's Career, Net Worth
Amberley rode a horse for the first time at the age of three.
Likewise, she started rodeo barrels at the age of 7.
Amberley Snyder is an American championship Barrel racer.
In 2009, Snyder won the all-around cowgirl world championship in the National Little Britches Rodeo.
Additionally, she was elected as the FFA president for the state of Utah.
After the racer's attempt to get back to the track while recovering from a fatal accident, she became the fan exemption contestant at the world's richest one-day rodeo, comparable to the Super Bowl: RFD-TV's The American.
Furthermore, she also received a standing ovation from more than 40,000 fans in AT&T Stadium for her bravery and dedication.
As of 2022, the racer has an estimated net worth of $10 million.
Suggested Read: Brandon Frankel [Gabourey Sidibe Partner]Age, Married, Now
Amberley Snyder Today
Amberley has shown bravery and did not let her paralysis hold her back from Barrel racing.
She has not just won championships but also won millions of hearts with her courage.
The racer continues doing what she does best and makes a living out of it.
Besides that, she works as a motivational speaker representing the voices of numerous such people going through a similar struggle.
She also posts a weekly "Wheelchair Wednesday" video on social media showing her everyday struggles with paralysis.
How Old Is Amberley Snyder?
Amberley Snyder is 32 years old today. She was born on January 29, 1991, in Laguna Hills, California, USA.
Amberley Snyder Parents
Amberley Snyder is the daughter of Tina Snyder and Cory Snyder.
Amberley Snyder Siblings
Amberley Snyder has five siblings. They are Ashley, JC, Taylor, Aubrey, and Autumn.
Amberley Snyder Today
In 2010, Amberley met with a fatal accident which left her paralyzed from waist down. However, after some years, Amberley began riding on horseback again and started competing in championships.
[expand title=Sources]
[/expand]