Catriona McGinn is best known as the celebrity wife of Mark-Paul Gosselaar, the American sitcom 'Saved By The Bell' star and actor.
Now, it became mandatory for us to learn more about the actor's ladylove who swept him off his feet.
Catriona McGinn Quick Facts
Birthday: June 22, 1978
Birthplace: Sainte-Anne-de-Bellevue, Canada
Age: 43 years old
Zodiac Sign: Cancer
Height: 5 feet 11 inches
Relationship Status: Married
Husband: Mark-Paul Gosselaar
Children: Dekker Edward Gosselaar, Lachlyn Hope Gosselaar
Weight: Unknown 
Net Worth: $750 K  
Catriona McGinn Age, Background
Catriona McGinn was born on June 22, 1978, making her 43 years old.
She hails from Sainte-Anne-de-Bellevue, Canada.
Catriona spent most of her lifetime in Canada before moving to the United States almost a decade ago.
McGinn was born to her parents from a white ethnic background. McGinn's parents keep a low profile and do not prefer the spotlight.
Moreover, while the family comes from a Caucasian background, they have Scottish roots.
Similarly, there's no information about her siblings as well.
Until Catriona clarifies, we believe that she's the only child of her parents.
Suggested Read: Teddi Siddall (Gary Cole's Wife) Death, & Husband's New Wife
Catriona's Education
As a young girl, Catriona attended John Abbott College in her hometown.
Later, Catriona attended Simon Fraser University, where she studied Public Relations, Advertising, and Applied Communications.
Later, she enrolled at McGill University, where she studied Communication & Psychology.
Catriona graduated in the year 2002.
Suggested Read: Lucy McLay [Antony Starr Partner] Age, Relationship
Husband Mark Gosselaar
Catriona McGinn lived a low-key and subtle life before being recognized widely as the celebrity wife of actor Mark-Paul Gosselaar.
Mark-Paul is an American actor who was born on March 1, 1974.
He hails from Panorama City in Los Angeles.
The actor remains the star of an American sitcom named 'Saved By The Bell,' which gained enormous recognition.
His other notable projects are 'Mixes-ish,' 'NYPD Blue,' 'Dead On Campus,' including many others.
Mark was one of the sought-after actors among youths back in the early '90s.
Suggested Read: Jennifer Kitna [Jon Kitna Wife] Age, Husband, Kids
Mark and Catriona: How They Met
Catriona and Mark met each other while co-parenting with his ex-wife Lisa.
After dating for some time, Mark began thinking about asking Catriona for marriage. As a result, Mark ordered a 5-Carat Diamond Bauble.
However, he only proposed to Catriona after asking her father for his blessings.
The whole event was very casual. Mark and Catriona, along with Mark's two children, went out to the beach to collect shells after a family dinner.
While doing so, Mark got down on one knee and proposed to Catriona.
In an interview, Catriona expressed how unexpected it was to see Mark propose to her then and there.
While overwhelmed with emotions, Catriona cried a little and said, "of course, yes!"
Suggested Read: Ouleye Ndoye Warnock Age, Raphael Warnock, Divorce, Now
The Wedding
Catriona and Mark took vows on July 28, 2012, in an intimate wedding ceremony in Sunstone winery in Santa Ynez, California.
They invited around 135 family and friends to attend the wedding.
The couple wanted to pay homage to both their background.
Mark wanted to show off the beautiful wine country and great California weather since most of his family members are from the United Kingdom.
On the other hand, Catriona's gesture to her Scottish heritage was a bagpiper present at the wedding.
Both wrote their own extremely emotional vows and became husband and wife that day.
Catriona and Mark went on a dreamy honeymoon to Italy.
Eight months down their wedding, the couple announced their first pregnancy.
Their eldest child, Dekker Edward, was born on September 30, 2013.
Two years later, the couple welcomed their youngest child, Lachlyn Hope Gosselaar.
Suggested Read: Simone Santos Age, Background, Partner, Relationship, Now
Mark-Paul Gosselaar's First Marriage
Previously, Mark made a statement, revealing that he dated three of his co-stars at a different point in time.
Similarly, he was married to former model Lisa Ann Russell. After dating since the early 90s, Lisa and Mark married in 1996.
From their marriage, Mark and Lisa welcomed two children, Michael Charles and Ava Lorenn.
However, their relationship took a sour turn, and the couple filed for divorce in 2010.
By the start of 2011, the pair were legally separated.
Mark co-parented with his former wife for a year until they received shared custody of their two kids.
By the mid of 2011, the actor had already met his now-wife, Catriona.
A couple of months in their dating phase, mark proposed his ladylove with a 5-carat cushion cut diamond ring.
Fast forward to now, the pair enjoy a blissful married life along with their two children.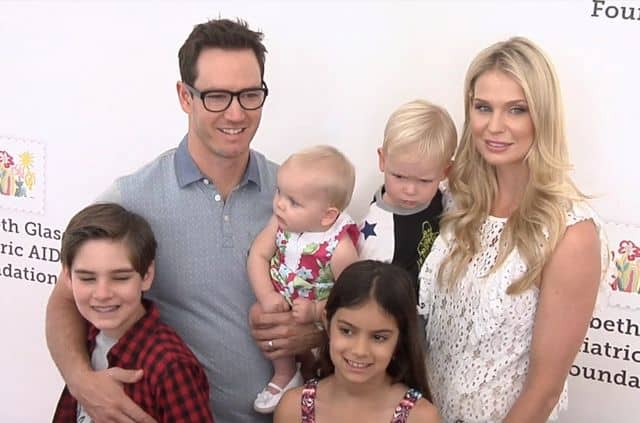 Furthermore, Catriona McGinn is an amazing stepmother to two of mark's kids from a previous marriage.
Suggested Read: Masami Ohno [Masayoshi Son Wife] Age, Married Life, Kids, Net Worth
Catriona McGinn In 2022
Catriona McGinn is mostly recognized as the celebrity wife of the actor.
Besides, she has created an identity of her own with her good handwork, so her recognition shouldn't be based on the actor's wife.
She previously worked as a general manager of Nielsen Broadcast Data System.
Later, McGinn joined Media Monitors as a sales executive.
Today, Catriona McGinn works as an advertising executive based in Los Angeles.
Naturally, Catriona likes to keep her financials a secret.
Nevertheless, McGinn and Gosselaar remain a happily married couple, looking after their children.
Catriona McGinn Age
Catriona McGinn is 43 years old. She was born on June 22, 1978, in Sainte-Anne-de-Bellevue, Canada.
Catriona McGinn Husband
Catriona McGinn is married to famous actor Mark-Paul Gosselaar. The couple married on July 28, 2012, in Sunstone winery in Santa Ynez, California.
Catriona McGinn Children
Catriona McGinn and her husband Mark-Paul Gosselaar have two children together. A son named Dekker Edward Gosselaar, and a daughter named Lachlyn Hope Gosselaar.
Catriona McGinn Career
Catriona McGinn currently works in the advertising field.
[expand title=Sources]
https://www.insideweddings.com/weddings/catriona-mcginn-mark-paul-gosselaar/45745/
[/expand]