Sami Gayle is an American actress famous for her character as Nicky Reagan – Boyle on the CBS series 'Blue Bloods.'
Gayle was born and brought up in Weston, Florida, United States.
Sami Gayle Quick Facts
Birthday:  January 22, 1996
Birthplace: Weston, Florida, United States of America
Age: 26 years old
Zodiac Sign: Aquarius
Height: 5 feet 4 inches
Relationship Status: Single
Children: None
Net Worth: $500,000
Sami Gayle Dating & Boyfriend
This might be sad news, but Sami is extremely private about her love life. Neither has she been seen with any other celebrities nor has she been linked with anyone.
Even Sami herself doesn't speak anything about her relationships.
She has always stayed clean in this case.
Making this case even worse is her past relationship details. Gayle has sneakily kept every single detail about her past relationship hidden.
Because of the oblivious nature, we currently suspect that Gayle is single at the moment.
But there's also an equal chance that she's dating someone secretly.
Maybe, Gayle hides her relationship because a lot of dating affair goes sideways because of unwanted limelight.
Suggested Read: Sarah Levy Age, Married, Husband & Giant Net Worth
Why Did Sami Gayle Leave Blue Bloods?
Since 2010 Sami has been portraying the role of Nicky Reagan in 'Blue Bloods.'
But during season 10 of the show, Sami made an exit, and fans got curious over this.
She has been a member of the Sunday night dinners since the very beginning of the show.
Gayle stayed through season 2 to 10, but in between season 10, she accepted a job offer in San Francisco.
Her screen time started to decrease and appeared less often than usual, and eventually left the show.
But a ray of hope arises among the viewers when her pictures resurfaced on the 'Blue Bloods' Instagram page.
As season 11 came on its way, fans wished Sami would re-enter the show will a bang.
Due to Sami's growing career, fans assumed it was the reason why she departed from the show.
However, it yet remains unknown if she left the show permanently or will re-enter the show after a short while.
Also, Sami herself hasn't given any statements publicly about her departure.
Whatever it is, viewers are expecting Sami, aka Nicky, will be back on the dinner table for the upcoming season or at least some episodes of the season.
Let's see what happens!
Suggested Read: Julio Macias Isn't Gay! Meet Talented Girlfriend
Sami Gayle Family, Education
Sami Gayle is born and brought up in Weston, Florida. She was born in a family of four.
Her mother, Larry Gayle, was a businesswoman and had her own business and now works as a manager Elsewhere.
Her father, Robin Kiltzman, is an attorney lawyer. And she has a sibling brother, chad Klitzman.
She has mentioned many times that her family did not come from the entertainment industry.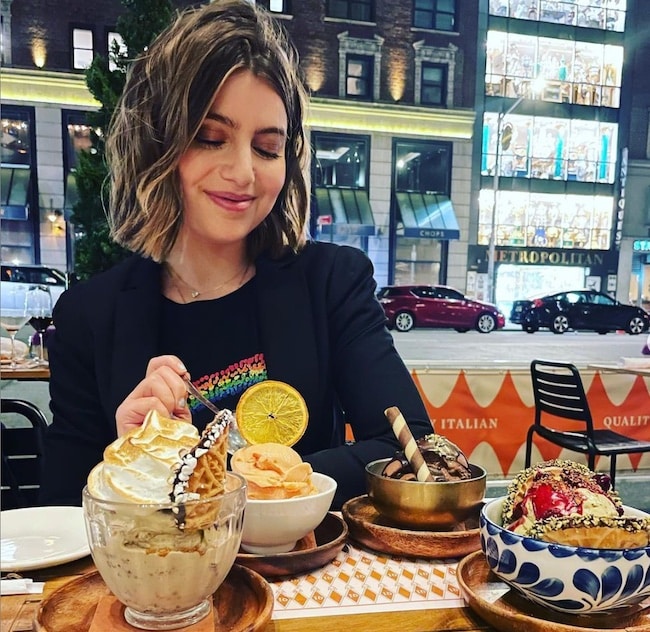 Regardless of that, they always supported her career and always motivated her to do better in it.
As mentioned earlier, she started working in theater at the age of 12, she was home schooled.
And followed an advanced placement in all her subjects.
Later she studied political science and art history at Colombia University and graduated in 2018.
Sami was an intelligent child, not only acting but she was ranked as one of the top debaters.
And she was nationally ranked in the public forum debate and participated in the tournament of champions.
Suggested Read: Daredevil's Wilson Bethel Is A Married Man! Meet Wife
Sami Gayle Career & Net Worth
Sami is an extremely talented, hardworking young actress. Gayle has starred in many movies and television series.
And the feedback Sami has received from her fans is overwhelming.
Sami was only 12 years old when she started to act in New York theater production. She then played the role of baby June in the movie 'Gypsy.'
In the year 2008, she was featured in Broadway revival of a gypsy.
Sami rose to fame when she portrayed the role of Nicky Reagan- Boyle on the CBS series 'Blue Bloods.'
Gayle became very famous and appreciated after this. She got recognition from 'Blue Bloods.'
In the year 2011, Sami took a leap from the television world to the big screen. She did her first debut film, "Detachment."
And Sami took a breakthrough role of a young prostitute opposite Adrien Brody in this movie, which again gained a lot of praise and good responses.
In 2014, she played Mia in the movie 'Vampire Academy.' Some of her major works are: stolen, congress, broad city, etc.
Sami Gayle has an estimated net worth of $500,000.
Suggested Read: Actor John-Paul Howard Wiki, Age, Parents, Girlfriend, Net Worth
Sami Gayle Salary Per Episode
While appearing in 'Blue Bloods' fans always wondered how much Gayle earned per episode.
The starring actors like Tom Selleck earn about $200 thousand per episode. It's mostly because of his legacy and extensive career in the TV show industry.
Unfortunately, exact numbers never came upfront when it came to Gayle. However, we assume that she made well over $20,000 per episode.
How Old Is Sami Gayle?
Sami Gayle is 26 years old. She was born on January 22, 1996, in Weston, Florida, United States of America.
How Tall Is Sami Gayle?
Sami Gayle is 5 feet 4 inches or 154cm tall in height.
What Is Sami Gayle Net Worth?
Sami Gayle has a net worth of $500,000 in 2022.
[expand title=Sources]
https://bluebloodstv.fandom.com/wiki/Sami_Gayle
https://www.imdb.com/name/nm3774109/
https://www.cheatsheet.com/entertainment/blue-bloods-who-is-the-highest-paid-actor-on-the-show.html/
https://www.countryliving.com/life/entertainment/a34992795/why-did-sami-gayle-nicky-reagan-leave-blue-bloods/
[/expand]