Deena Centofanti is one of the most notable American Journalists, widely known as the anchor of FOX 2 Network for more than two decades.
Let's get to know more about Deena in detail below.
Deena Centofanti Quick Facts
Birthday: October 4, 1965
Birthplace: Detroit, Michigan, USA
Age: 58 years old
Zodiac: Libra
Height: N/A
Parents: Joe Centofanti and Marsha Centofanti
Siblings: Joe Centofanti
Relationship Status: Married
Partner: Keith Stironek
Children: Casey, Ellie, and Sophie Stironek
Deena Centofanti Age, Background
Deena was born in Detroit, Michigan, on October 4, 1965. She will be 58 years old in 2023.
Centofanti is of American nationality and Caucasian ethnicity. Her astrological sign is Libra.
Born in Michigan, Deena grew up in Hudson, Ohio, alongside her parents, Joe and Marsha Centofanti, as well as her brother, Joe Centofanti, and grandparents.
Marsha, Deena's mother, works at General Motors.
Deena's family and her family then relocated to a Cincinnati suburb.
Furthermore, Deena exemplifies sisterhood by playing an important role in caring for her physically challenged brother.
He was born deaf and also has cerebral palsy.
She then went to Cincinnati, Ohio, to finish high school at Turpin High School.
She then earned a Bachelor of Arts in Broadcast Journalism from Miami University in Ohio.
Suggested Read: Fox News Lea Gabrielle Age, Married, Husband, Salary, Net Worth
Deena Centofanti Husband, Keith Stironek
Deena is married to Keith Stironek, the Vice President of Creative Services and Programming at FOX 2 Network.
Centofanti met Keith in 1990 while working at WSYX TV. Keith was a production director at the time.
They eventually became friends, which evolved into a love connection over time.
Centofanti said,
"As I moved on to slightly higher-paying jobs, Keith did too. At times there were many miles between us, but we always felt like a team. Finally, in 1996, we got married- and that was just the beginning of many blessings."
Deena Centofanti and her husband Keith Stironek married on June 16, 1996, and have been going strong for more than two decades.
Moreover, the couple remains a team while accomplishing either professional or personal targets in life. 
Suggested Read: [Fox News] Amanda Salas Age, Married, Husband, Salary, Net Worth
Deena Centofanti Children
Centofanti and Stironek are parents to three children, named Casey, Ellie, and Sophie Stironek.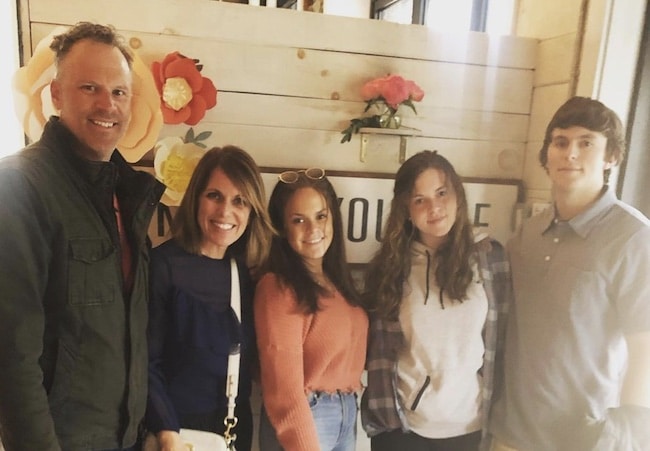 As we know, Deena prefers to keep personal family details confidential; there is not much information regarding her children.
While talking about her early career days as an anchor and mother, she said
"In 1999, I became a mom- and that little boy introduced me to a new level of love. I stayed up late researching everything I could after how to raise a healthy, happy child. That's when I got the opportunity to be the health reporter. I didn't take it lightly at the time, and this is still a job I consider to be an honor and a challenge."
Deena further said,
"As my work life blossomed, so did my family. I gave birth to a daughter in 2002 and then another baby girl in 2005. My three children keep me fulfilled beyond words-as they often keep me humble as well."
However, she does her social media handles updated from time to time with her family pictures. 
Recently, she shared adorable childhood pictures with her children.
Suggested Read: Fox News' Bill Hemmer Married, Wife, Net Worth
Career
Deena began her journalism career in 1990 as a production assistant at ABC's WSYX-TV.
While working at WSYX-TV, she acknowledged her early career struggles.
Because of the Gulf War, she was forced to sleep on the floor in order to cover as much news as possible.
While working there, she eventually began to obtain valuable journalism experience.
Her big break came in 1997, when she was offered a job at the FOX 2 Network.
Even though she had just gotten married, Centofanti was able to balance her work and personal lives.
She has served as FOX2's news anchor for more than two decades and has done an admirable job.
She has talked to a lot of people about their lives and tried to understand them. This has given people a chance to be heard and their problems solved.
She also appeared during President Clinton's impeachment proceedings in 1998.
In 1998, she was fortunate to cover the news of Pope John Paul II's 30-hour visit to St. Louis.
Without a doubt, she has accomplished a great deal in the journalistic sector.
She is currently a health reporter and anchor for the FOX Network's "The Nine."
Suggested Read: Fox News' Patti Ann Browne Now, Age, Husband, Son, Net Worth
Deena Centofanti Net Worth
Deena Centofanti's net worth is an estimated $1 million in 2023.
Centofanti also earns a hefty annual income of more than $50,000.
There is no accurate information available on her properties. We've heard she resides in the Lake Orion region and owns a large property.
How Old Is Deena Centofanti? Age
Deena Centofanti is 58 years old today. She was born on October 4, 1965, in Detroit, USA.
Deena Centofanti Children
Deena Centofanti and her husband Keith Stironek have three children together. Two daughters Ellie Stironek, Sophie Stironek, and one son named Casey Stironek.
Deena Centofanti Salary and Net Worth
Deena Centofanti currently has an annual salary of over $50,000. As of 2023, Centofanti has a net worth of $1 million.
[expand title=Sources]
https://www.fox2detroit.com/person/c/deena-centofanti
[/expand]