| | |
| --- | --- |
| Birthday | October 15, 1946 (New Haven, Connecticut, U.S.) |
| Age | 74 |
| Height | 6 feet |
| Relationship Status | Married (Mary Rudolph) |
One half of the famous band, "The Carpenter," Richard Carpenter still misses his sister dearly. The band that started back in 1965 ended when his sister Karen Carpenter died.
There's are a lot of things that people should know about Richard Carpenter today. Where he started, where is he now, and everything in between.
Richard Carpenter Short Bio, Age, Now
Famous singer Richard Carpenter was born on October 15, 1946, in New Haven, Connecticut, United States of America.
Carpenter is 74 years old today.
Richard was born as Richard Lynn Carpenter to father Harold Bertram Carpenter and mother Agnes Reuwer Tatum.
Rich also had a younger sister named Karen Carpenter, who later became the other half in their duo band "The Carpenters."
Richard Carpenter Education
The 6 feet tall musician and artist went to a local high school in New Haven.
Since he developed a taste in music from a very young age, he decided to continue his studies focusing on music.
In early teens, Carpenter joined California State College, where she took music as his major.
He later met another artist, Frank Pooler, who eventually wrote lyrics to the song "Merry Christmas Darling."
Read: Aria Shahghasemi Age, Girlfriend, Ethnicity, Salary, Net Worth
Richard Carpenter Meeting Wife
In 1975, Richard met his wife, Mary Rudolph. Mary was his adopted cousin, and her brother, Mark Rudolph, worked as the band's road manager.
Mark brought his sister, Mary backstage to one of Richard and Karen's show in 1975, and that's when Richard and Mary first met.
Since the very moment Richard and Mary met each other; both knew they liked one another.
Soon after that, Richard and Mary began dating, and Richard even talked about getting married to her.
However, Mary was only 18 years old back then and wanted some time before getting married.
Mary later moved to California, but their relationship stayed strong still. A couple of years after dating, Mary suggested that they get married. However, this time Richard was not ready.
Married Life, Wife Mary Rudolph
Finally, after about nine years of dating, Richard and Mary married each other.
In Christmas of 1983, Richard visited Mary's home and proposed to her in front of her family.
Richard and Mary got married on May 19, 1984.
Before getting married, however, Richard and Mary disagreed on one particular thing.
Read: Devin Haney Wiki, Age, Married, Fight, Net Worth
Children and Family
Before getting married, Richard expressed how he did not want to have any children. On the other hand, Mary wanted to start a family after getting married.
Eventually, Mary persuaded Richard into starting a family, and in 1986, they began trying for children.
On August 17, 1987, Rudolph gave birth to the couple's first child together, a girl, and named her Kristi Lynn.
Followed by Kristi, the couple welcomed another daughter on July 25, 1989, and named her Traci Tatum.
Carpenter and Rudolph added three more to their family. Mindi Karen, born on July 7, 1992, followed by a son, Colin Paul, on July 20, 1994.
Lastly, Richard and Mary welcomed their last child, a daughter named Taylor Mary.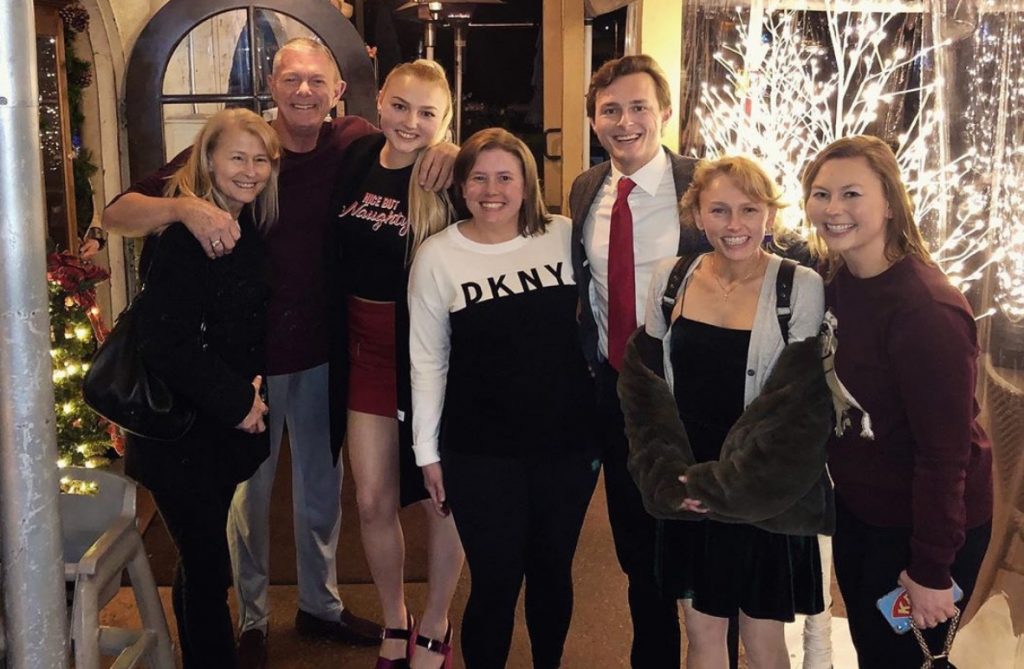 Their second daughter Mindi Karen is named after Richard's sister Karen.
Starting "The Carpenters"
In 1965, Richard joined forces with friend Wes Jacobs and sister Karen Carpenter to form a trio band called "The Carpenters."
Wes played Tuba and Bass, Karen played drums, and Richard played piano.
In 1969, Richard and Karen signed a record deal with A&M, and that's when their career took off.
The Carpenters Albums
| | |
| --- | --- |
| Studio Albums | 14 |
| Compilation Albums | 13 |
| Live Albums | 2 |
| Singles | 46 |
| B-Sides | 15 |
| Soundtrack Albums | 3 |
| Tribute Albums | 1 |
| Video Albums | 3 |
Karen Carpenter's Death – Reason
Karen Carpenter, drummer and singer for "The Carpenters," was born on March 2, 1950. She and her brother started their band in 1965, which shot to fame in a couple of years.
With all of the attention and fame, Karen became overly conscious about her weight.
She had opted towards dieting while in high school and later in her teenage days, went for another kind of dieting called the Stillman diet.
This diet drastically reduced her weight to a mere 120 pounds.
By 1975, during the height of her musical career, Karen was only 41 kgs. Even for someone with a height of 5 feet 4 inches, this was very low.
Carpenter, who was once married to Thomas James Burris, later sought help from her brother and started medication for anorexia.
Karen later recouped towards other means of losing weight like taking laxatives, thyroid replacement medications, and so on.
Despite slightly recovering from her 1982 collapse, after admitting to the hospital and using intravenous drip, Karen's body was very weak.
On February 1, 1983, Karen was found dead in her bedroom. She was taken to Downey Community Hospital, but unfortunately, she did not survive.
Autopsy reports showed that the cause of death was drugs or medication overdose and ten times high blood sugar than average.
Read: Giorgia Gabriele Wiki, Age, Boyfriend, Net Worth
Richard Carpenter After Karen's Death
A couple of years after Karen's death, Richard continued his career in music.
In 1986, Richard released his first solo LP called Time.
Since then, he has also released numerous singles like Something in Your Eyes, Karen's Theme, and Medley.
Even years after, Richard and his children would perform in different Carpenter related shows. Carpenter and wife Mary currently live in their California home.
Is Richard Carpenter Still Alive?
Yes, Richard Carpenter is alive. He is 74 years old and lives in California with wife Mary Rudolph
What Happened To Richard Carpenter after Karen Died?
After his sister Karen Carpenter died, Richard took some years off from music and released a solo project called "Time" in 1987.
Richard Carpenter Today
Richard Carpenter is living a peaceful life with his wife Mary today. He sometimes attends events related to "The Carpenters."
Richard Carpenter Net Worth
Musician and composer Richard Carpenter has a net worth of $10 million. He earns from his music sales and royalties.
[expand title=Sources]
https://people.com/archive/four-years-after-his-sister-karens-death-singer-richard-carpenter-makes-his-debut-as-a-solo-act-vol-28-no-17/
https://www.smoothradio.com/artists/carpenters/karen-carpenter-death-story-solo-album-husband/
https://www.nytimes.com/1996/10/06/magazine/karen-carpenter-s-second-life.html?pagewanted=3
https://www.celebritynetworth.com/richest-celebrities/singers/richard-carpenter-net-worth/
[/expand]