Last updated on January 24th, 2022 at 09:44 pm
Sarah Walsh is an award-winning sportscaster who has worked for famous channels like ESPN and Fox Sports. 
Let's get to know more about Sarah, from her professional to personal life.
Sarah Walsh Quick Facts
Birthday: April 12, 1978
Birthplace: Tampa Bay Area, United States
Age: 43 Years Old
Zodiac: Aries
Height: Five feet and four inches
Parents: John Walsh and Wendy Walsh
Siblings: N/A
Marital Status: Married
Partner: Matt Buschmann
Children: Hutton Buschmann and Brees Buschmann
Sarah Walsh Age, Background
Sarah was born on April 12, 1978, in the Tampa Bay Area, United States. 
As of 2022, she is 43 years old. 
Moreover, she holds American nationality. Her zodiac sign is Aries.
She grew up with her parents, John Walsh and Wendy Walsh.
Unfortunately, there is not much information regarding her early life and family whereabouts.
Walsh graduated high school from Gulf High School in Florida.
Later, she joined the University of North Florida for further studies.
Suggested Read: Fox's Kaitlin Sharkey [2022] Age, Husband, Divorce, Salary
Sarah Walsh Married Life, Husband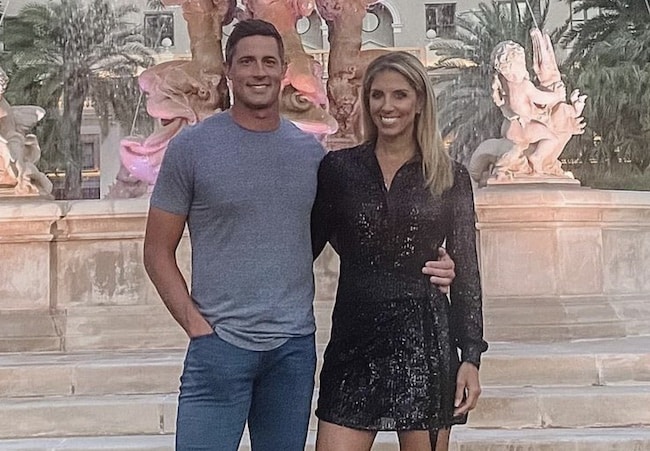 Sarah is married to Matt Buschmann.
Matt Buschmann, Sarah's husband, is a former professional baseball player. Previously, he played for the Toronto Blue Jays as their minor pitcher.
The couple met in Hutton Hotel when Sarah interviewed Matt while working in a local TV station in 2012.
Later after the interview, Walsh followed Buschmann of Twitter, both exchanged a couple of messages.
This went on for some time before their official date in Nashville in 2012.
Later, on January 18, 2014, they tied the knot in the presence of their close circle. John Dwyer, former sports director, officiated the wedding.
The lovely pair have two beautiful twins, Hutton and Brees Buschmann. They were born on February 3, 2017.
Sarah and Matt have been married for seven years and lead a successful family life.
Suggested Read: Fox News Abby Hornacek Age, Eye Injury, Height, Net Worth
Who Is Husband Matt Buschmann?
While Sarah is a household name, her husband Matt Buschmann takes the win in fame.
Born on February 13, 1984, in St. Louis, Missouri, Matt is 37 years old today and six years younger than Sarah.
Matt went to Lafayette High School and later joined Vanderbilt University.
Throughout his career, Matt has played several games for a lot of teams.
He started with Vanderbilt Commodores and began his professional career with San Diego Padres in 2006.
Buschmann signed a minor league contract with Toronto Blue Jays.
After retirement, Buschmann worked as an assistant director of player development for the San Francisco Giants.
Later, he joined Toronto Blue Jays as a bullpen coach in 2018.
Suggested Read: Fox News Lea Gabrielle Age, Married, Husband, Salary, Net Worth
Making Marriage Work
Today, after Buschmann retired from professional baseball, the couple experience a relaxing life together.
However, this was not always the case for the couple.
For players like Matt, they can only relax and spend time with their family during the off-seasons.
In an interview, Buschmann stated how he wanted to have nice dinners with his wife now and then.
However, the couple would end up making compromises.
Nevertheless, Matt and his wife always made it work as both understood their lifestyle and requirements.
Suggested Read: Fox News' Bill Hemmer [2022 Update] Married, Wife, Net Worth
Children, Miscarriage
Before giving birth to her twins, she had to go through the four most painful experiences as a mother-to-be; miscarriage.
During her first miscarriage, she was hosting a live episode of SportsCenter.
"The juxtaposition of college kids going nuts behind our set, while I was losing a baby on it, was surreal. I was scared, nobody knew I was pregnant, so I did the show while having a miscarriage."
Furthermore, she revealed that her twins were conceived from the In-Vitro Fertilization process.
While Sarah was pregnant with the twins, she tried her best to hide pregnancy as the fear of miscarriage consumed her.
Sarah mentioned the expensive hardship of numerous tests and shots, unexpected surgeries, IUI, and IVF before having twins in an Instagram post.
For the couple, it was a rollercoaster of emotions.
Suggested Read: Arthel Neville [2022 Update] Age, Husband, Net Worth, Related To Aaron Neville?
Career
Sarah began her career by working at Beaches Leader Newspaper as a game essayist and sportscaster.
Afterward, she went on to work at WPGA from 2001-2003.
Her big breakthrough came when she got the opportunity to work in WKRN. Within three years, she won three regional Emmys.
Besides, she also hosted 'Monday Night Live' and a radio show every week.
From 2006 – 2010, she worked as a sports anchor at WUSA as well as Redskins.
Amidst wide recognition, she decided to move to ESPN in 2010.
During her time there till 2017, she covered Sports Nation, NFL Live, Fantasy Football Now, and First Take. 
Sarah was let-go during ESPN's huge round of layoffs just before she was about to return from her maternity leave.
Thereafter, she worked as a Fox Sports reporter for the NFL season 2018-19.
Soon, she will appear as a studio host for NASCAR.
Suggested Read: Who Is Lori Stokes Husband? Age, Married, Salary, Net Worth
Sarah Walsh Net Worth
As of 2022, Sarah's net worth is still under review.
However, she lives a comfortable life with her husband and kids because Matt made a ton of money over the years.
Not to mention how successful of a career Sarah maintains too.
Matt Buschmann has done everything from earning over $500,000 a year to accumulating millions in net worth.
Sarah Walsh Age
Sarah Walsh is 43 years old. She was born on April 12, 1978, in the Tampa Bay Area, United States.
Sarah Walsh Husband
Sarah Walsh is married to Matt Buschmann. The couple met in 2012 when Sarah interviewed Matt in Hutton Hotel and later married in January 18, 2014.
Sarah Walsh Children
Sarah Walsh and her husband Matt Buschmann have two children together. Twin children, one daughter named Brees, and one son Hutton Buschmann.
Sarah Walsh Net Worth
As of today, Sarah Walsh's net worth remains undisclosed. Walsh's husband Matt Buschmann's net worth is in millions.
Sources