Christi Pirro is an American lawyer who is best known as the elder daughter of American Conservative TV host, former NY state judge, and author Jeanine Pirro and her businessman husband, Albert.
Here's everything that you need to know about her.
Christi Pirro Quick Facts
Birthday: June 23, 1985
Birthplace: Rye, New York, USA
Age: 38 years old
Zodiac Sign: Cancer
Height: 5 feet 6 inches  
Weight: 60 kg
Relationship Status: Married
Husband: Zak Schwarzman
Children: Cameron "Cam" Pirro Schwarzman
Net Worth: $1 Million
Christi Pirro Wiki, Age, Bio
Christi Pirro was born June 23, 1985, making her 38 years old.
She hails from Rye, New York, USA.
Similarly, she is the eldest daughter of her parents, Jeanine Pirro and Albert Pirro.
She grew up along with a younger sibling named Alexander Pirro.
Furthermore, Christi attended the University of Pennsylvania and graduated with a BA degree in Political science and communications.
She went ahead to receive her JD degree from the University of Pennsylvania law school.
Suggested Read: Tiana Gia Johnson [Dwayne Johnson Daughter] Untold Truth
Christi Pirro Wedding
Unlike her parents, Christi has a blissful married life with her husband, Zak Schwarzman.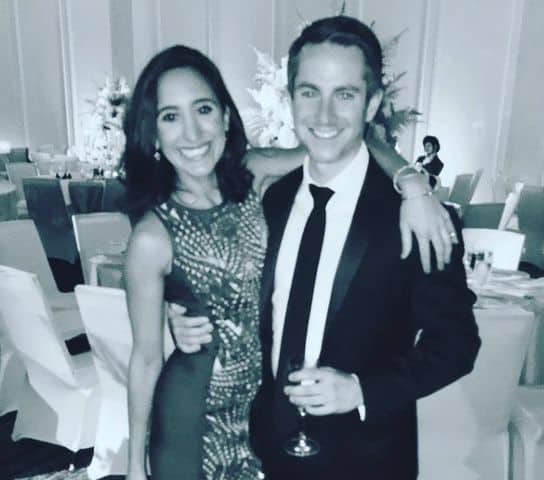 After dating for a couple of years, Christi and Zak got engaged.
The couple was in Croatia when Zak came down on one knee and proposed to Christi.
On August 19, 2017, the pair married at House Island, Portland Harbor.
Keeping their engagement moments into consideration, the couple ordered wines from Croatia.
While walking down the aisle, the DJ played 'Over the Rainbow' Christi and her mother Jeanine's special song.
What's more, was that Jeanine planned a surprise firework that nobody else knew about. It happened as the song played, and Christi walked down the aisle.
Suggested Read: Sulayman Chappelle [Dave Chappelle Son] Unknown Truth
Who Is Husband Zak Schwarzman?
Zak Schwarzman is a Greenwich, Connecticut, native who currently lives in New York.
Schwarzman went to Tulane University in 2001 and graduated with a B.A. degree in Political Economy and Business in 2005.
After graduation, Zak attended The London School of Economics and Political Science for less than a year.
Similarly, Zak received his Master's degree in Business Administration in 2013 from Columbia Business School.
Schwarzman began his career in 2005 as an intern at Senator Edward M. Kennedy's Office.
His first major job was in Seedco as a Senior Associate from 2009 to 2011.
Since then, Schwarzman has worked at various organizations like AOL Ventures, Learn Capital, Draper Fish Jurvetson Gotham Ventures, Cannan Partners, Kauffman Fellows, and so on.
Today, with years of experience, Zak works as a General Partner at MetaProp NYC, and he's been there since 2016.
Suggested Read: Jake DeVito [Danny DeVito's Son] Untold Truth About Him
Christi Pirro and Zak's Son
In June of 2021, Christi and Zak welcomed their first child together, a son, and named him Cameron "Cam" Pirro Schwarzman.
This is the couple's first child together, and they have been over the moon with joy ever since.
Cameron came into the world healthy and through normal delivery. Both Christi and the baby were fine after the birth.
Suggested Read: Rory John Gates, Untold Truth About Bill Gates' Son
What Does Judge Jeanine's Daughter Do?
Christi followed in her mother's footsteps and chose to pursue Law as a career.
She joined Roped and Gray in 2019 as a Business Restructuring Partner.
Furthermore, she previously served as a practitioner at Weil, Gotshal, and Manges restructuring group.
Christi received her J.D., Doctor of Law degree from the University of Pennsylvania Carey Law School in 2010 and has extensive and sophisticated knowledge in her field.
Suggested Read: Alejandra Fernández [Vicente Fernández's Daughter] Adoption & Truth
Who Is Christi Pirro's Mother Jeanine Pirro?
Jeanine Pirro is an American conservative TV host, former NY state Judge, Prosecutor, and author. She hails from Elmira, NY, USA.
She is best known as the host of Fox News channel's Justice with Judge Jeanine and appears on NBC news frequently.
Jeanine was the first-ever female to be appointed as a judge in the Welch ester country, NY.
Similarly, she has authored six books so far 'Sly Fox,' 'Liars, 'Leakers,' and 'Liberals' including many others.
Suggested Read: Darby Rudd [Paul Rudd Daughter] Today, Wiki, Age, Net Worth
Who Is Father Albert Pirro
Christi's father, Albert, is another known figure as a businessman and a lawyer. He currently maintains active ownership over 32 companies.
But he is mostly known as the former husband of a former judge, Jeanine.
He was previously convicted at a trial in NY federal court for tax evasion and deduction of $1.2 million for his benefits which eventually led to 28 months in prison.
Albert only served 17 months of his sentence.
Furthermore, he is also the former business partner of ex-president Donald trump.
After being accused of tax evasion and fraud, his life had turned upside down.
However, Albert breathed a huge sigh of relief after Donald Trump, former president of the United States, provided him with a full pardon.
Donald Trump made this decision 45 minutes before his tenure officially ended.
Suggested Read: Meet August Anna Brooks, Garth Brooks' Second Daughter
Albert Pirro and Jeanine Pirro
Christi's parents married each other in 1975 and welcomed their first child a decade after their marriage.
Jeanine also has a son but from her other relationships. Her son's name is Alexander, who has grown up to be a successful businessman.
Jeanine and Albert's relationship went on very well until she found her husband having an extramarital affair.
Suggested Read: Taylor Mayne Pearl Brooks, The Truths About Garth's Daughter
Albert and Jeanine's Divorce
Jeanine battled tooth and nail to keep my marriage together, believing that her children needed a father. She also thought Albert was a wonderful father.
However, their relationship turned sour once Jeanine found out her husband had a mistress and even a child that was kept a secret for a long time.
Around 2006, people began talking about Albert's possible romantic affair with a woman named Lisa Santangelo, a woman 20 years younger than Jeanine.
When media outlets confronted Albert regarding the rumor, he simply said that Lisa was a good friend.
While talking about relationships, Albert also confessed how he received inadequate attention at home from his wife. This surely left Jeanine embarrassed.
Making the matter worse, news came that Jeanine reportedly bugged her husband's boat to catch him red-handed.
This all went down while Jeanine stood as a candidate for New York Attorney General.
In 2006, Jeanine's marriage fell, she did not become New York's Attorney General, and things did not look nice for the couple.
The pair began living separately from 2006 until their eventual divorce in 2013.
Suggested Read: Jaz Elle Agassi [Andre Agassi Daughter], All Hidden Facts
Net Worth
With ample experience, Christi works very effectively in her work of line.
Needless to say, her experience and knowledge render a higher price wherever she goes.
While Pirro likes to keep her financials undisclosed, we reckon that she has a net worth that ranges around $1 million as of today.
Similarly, her mother, Jeanine Pirro, has a massive net worth of $14 million with an annual salary of $3 million.
How Old Is Christi Pirro?
Christi Pirro is 38 years old today. She was born June 23, 1985, in Rye, New York, United States of America.
Who Are Parents?
Christi Pirro was born to mother Jeanine Pirro and father Albert Pirro. Her parents separated in 2006 and subsequently divorced years later in 2013.
Who is Brother Alexander Pirro?
Christy has a younger brother named Alexander Pirro who is a businessman.
Who is Christi Pirro's Husband?
Christi Pirro married longtime boyfriend Zak Schwarzman on August 19, 2017, the pair married at House Island, Portland Harbor. Zak works as a General Partner at MetaProp NYC since 2016.
[expand title=Sources]
https://www.linkedin.com/in/zschwarzman/details/experience/
https://www.linkedin.com/in/cristine-pirro-schwarzman-52727b94/
https://www.lohud.com/story/news/local/westchester/2021/01/20/albert-pirro-jr-jeanine-pirro-trump-pardon/4230821001/
[/expand]