AJ Styles is one of the most famous American wrestlers. 
He got widely known after joining WWE. He has managed to win many championships and titles, making him one of the best wrestlers of WWE. 
Let's get to know more about AJ in detail below.
AJ Styles Quick Facts
Full Name
Allen Neal Jones
Nick Name
AJ Styles
Birth Date
June 2, 1977
Age
46 years old
Birth Place
North Carolina, USA
Horoscope
Pisces
Religion
Christianity
Nationality
American
Ethnicity
Caucasian
Education
Anderson University
Father's Name
Not Disclosed
Mother's Name
Not Disclosed
Biological Siblings
Three Siblings
Half Siblings
Not Disclosed
Height
5 feet 11 inches (1.8m)
Weight
85 kg (188 lbs)
Shoe Size
12 US
Hair Color
Black
Eye Color
Dark brown
Physique (Figure)
Muscular
Married
Yes
Relationship Status
Married
Partner
N/A
Ex-girlfriend
Wendy Jones
Son
Ajay Jones
Albey Jones
Daughter
Avery Jones
Anney Jones
Profession
Professional Wrestler
Net Worth
$6 million
Social Media
@ajstylesp1
AJ Styles Age, Background, Family
AJ was born on June 2, 1977, in North Carolina, USA. The famous wrestler, whose real name is Allen Neal Jones, is 46 years old.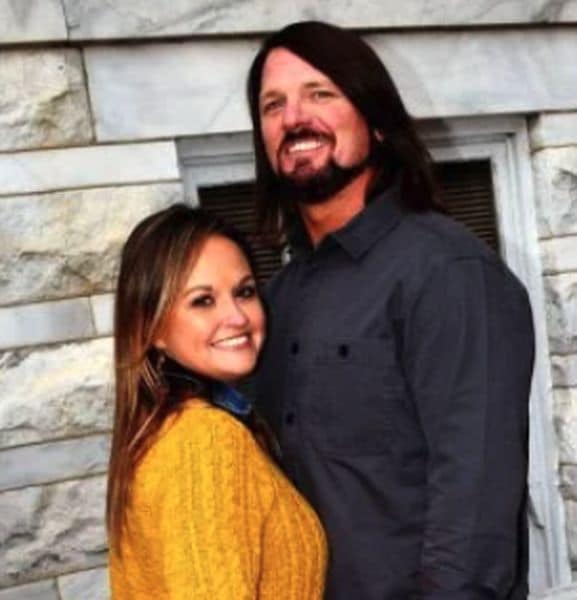 Moreover, he is an American by nationality and Caucasian by descent.
His zodiac sign is Gemini.
Regarding his family and early life, there is not much reliable information.
He has not disclosed his family details to the public. 
However, according to some sources, his father worked in the marine.
Later, his father quit his work to become an abusive alcoholic, which deteriorated the family's financial situation.
Also, he grew up along with three of his siblings.
He even worked as a lawnmower and an ambulance driver to support the family's finances. 
Moving on to his education, he completed his high schooling at Johnson High School in 1996.
Then, he got into Anderson University for further studies after obtaining a scholarship but eventually dropped out to join Professional Wrestling School.
Suggested Read: Melissa Ann Piavis Big Show, Divorce, Kids, Net Worth
AJ Styles Married Life, Wendy Jones
AJ Styles is married to Wendy Jones, a school teacher. 
Styles and Jones met each other while going to the same high school, Johnson High school.
Eventually, they became high school sweethearts and started dating on Valentine's Day of 1996.
The couple got married on August 5, 2000, and has been going strong for more than two decades.
AJ might come across as a ruthless man while he's performing in the ring, but he is the most considerate and loving husband when it comes to his wife.
Moreover, Styles revealed the reason behind declining WWE's offer in 2002.
"I wanted to make sure that she was able to go after her dream. That was very important to me. Mine could come second, so I didn't take the developmental with WWE in Cincinnati. Years later, it ended up leading me back to WWE at the perfect time."
Styles further said,
"My wife is brilliant, though I like to say she made a mistake in marrying me. She worked so hard to get to college and earn a scholarship, and her dream was becoming a teacher."
This just shows how much Wendy means to AJ after all.
Suggested Read: Araksya Karapetyan Age, Husband, Kids, Salary, Net Worth
Kids, Family
AJ and Wendy are parents to four amazing and adorable children.
Their first child, Ajay Jones, was born on May 3, 2005. He is years old.
They welcomed their second child, Avery Jones, on February 14, 2007. Avery is 16 years old.
After two years, the duo welcomed their third child, Albey Jones, on September 15, 2009. Albey is 14 years old.
Finally, their youngest child, Anney Jones, was born on October 8, 2014. Anney is 9 years old.
Furthermore, Styles also has tattoos of all of his children's birth dates. 
Furthermore, the duo lives a happy and satisfied life with their kids in Gainesville. 
Suggested Read: Fox News Lea Gabrielle Age, Married, Husband, Salary, Net Worth
AJ Styles Injury
AJ Styles reportedly got an injury in his left arm at the Royal Rumble Match in 2020.
The injury was caused when Edge performed a Pendant Spear on Styles, due to which he fell severely on his shoulders.
After elimination, Styles was seen backstage with his arm wrapped with ice on it.
While fans were worried that Styles had a severe injury, Dave Meltzer said:
"AJ is probably selling it for a little while, but AJ is way too valuable and not hurt. Like if AJ was going to get surgery, I could have seen like, 'Okay, AJ is getting surgery, and this was the write-off.' That was not it. AJ is not injured.
That was just the finish that they went with, and now he's got to live through this somehow and be unburied alive."
Later while speaking with Mixer Channel, Styles said
"Just so everything is clear: Edge did nothing, absolutely 100% nothing wrong. His move, his spear, everything was perfect the way he did it. If there is any blame on anybody about what I'm dealing with my shoulder, it's me. 100% me," said AJ Styles."
Moreover, he disclosed that his shoulder recovered quickly and he would be back as soon as possible. 
Suggested Read: Arthel Neville Age, Husband, Net Worth, Related To Aaron Neville?
Career
In 1998, AJ made his debut as a professional wrestler as the National Championship Wrestling Promotion. 
He started competing in independent promotions before getting recognition in World Championship Wrestling in 2001. 
Later, he was signed to TNA. He has won the TNA World Heavyweight Championship, NWA World Heavyweight Championship, X Division Championship.
Furthermore, he went on to be the first TNA Triple Crown and Grand Slam champion.
Then, he made frequent appearances in Ring of Honor from 2002 to 2006.
Also, between 2014-2016, he wrestled in NJPW and won the IWGP Heavyweight Championship two times.
Later, in 2002, WWE offered him a developmental contract, but he declined it then. However, he signed a contract with WWE in 2016.
He has been the winner of the WWE Championship twice, which earned him massive recognition
Consequently, Styles has won the United States Championship (3 times), the Intercontinental Championship, and the Raw Tag Team Championship, to name a few.
As of 2023, he is known as one of the best professional wrestlers. He has been performing in the WWE since 2016.
Additionally, he frequently is seen on WWE Friday Night SmackDown! Too.
Suggested Read: Grant Napear Age, Wife, Married, Net Worth
AJ Styles Net Worth
As of 2023, AJ Styles is estimated to have a net worth of around $8 million, with the majority of his wealth coming from his successful wrestling career.
On an annual basis, AJ Styles earns an impressive salary of $3 million.
How Old Is AJ Styles? Age
AJ Styles is 46 years old today. He was born on June 2, 1977, in North Carolina, USA.
AJ Styles Wife
AJ Styles is married to Wendy Jones, a school teacher by profession. The couple married on August 5, 2000.
AJ Styles Kids
AJ Styles and his wife Wendy Jones have four children together; Ajay Jones, Avery Jones, Albey Jones, and Anney Jones.
AJ Styles Net Worth
AJ Styles has a massive net worth of $8 million in 2023.