Popularly known as the host of Good Morning Texas, Alanna Sarabia is also a former pageant titleholder and NBA dancer. 
Currently, Sarabia works as a afternoon and evening traffic anchor for KENS 5.
Let's get to know Alanna Sarabia furthermore in detail.
Alanna Sarabia Quick Facts
Birthday: December 29, 1981
Birthplace: North Texas, USA
Age: 30 Years Old
Zodiac: Capricorn
Height: 5 feet and nine inches
Parents: Rick Sarabia and Lorraine Sarabia
Siblings: 3
Relationship Status: Married
Partner: Jonathan Reyes
Children: Dallas Anastasia
How Alanna Sarabia Met Husband Jonathan
Alanna Sabaria met her now husband, Jonathan Reyes, in a rather unconventional and unexpected manner.
It was in 2013 while Alanna was co-hosting San Antonio Living, a local show for the NBC station WOAI.
Excited and accompanied by her parents and some girlfriends for support, Alanna was given the honor of throwing out the first pitch of the game.
She made her way to the mound and, to her surprise, almost made it to home plate with her throw. Afterward, she settled into the stands to enjoy the game with her family.
However, the pleasant atmosphere was soon disrupted by an unfortunate incident involving a troll, a grouchy lady, who started bullying Alanna's mother in the stands.
Alanna's father took it upon himself to find the closest available "security guard" to handle the situation. That's when Jonathan Reyes, a police officer, came into the picture.
Jonathan approached the situation and successfully diffused it, ensuring the safety and well-being of Alanna's family.
Following the incident, Alanna wanted to express her gratitude and approached the officer to thank him.
She learned his name and was immediately struck by his handsome appearance.
Suggested Read: Lou Dobbs Age, Wife, Kids, Net Worth
Alanna's First Hand Embarrassment
As Alanna's family began leaving the stadium, she turned to her mother and, thinking she was speaking privately, confessed that she found the cop attractive.
However, to her utter embarrassment, Jonathan overheard the conversation.
It turned out that he had been "stalking" them (in a light-hearted sense), walking behind them like a ninja. Alanna was taken aback when she saw Jonathan seemingly emerge from the bushes.
Jonathan assured that he only followed them because he believed the troll from the stands was tailing them, and he wanted to ensure their safety.
Although Alanna was mortified that Jonathan had overheard her comment, she decided to embrace the situation with confidence.
To confront the cop who had heard her, she boldly requested a photo together.
This is the picture.
Trying to maintain her cool, Alanna suggested connecting through social media only to realize Jonathan was not active on popular platforms at the time.
She then asked for Jonathan's number with the excuse of texting him the picture they had just taken.
Alanna and Boyfriend John Got Engaged
On February 23, 2021, Alanna announced that Jonathan Reyes proposed her. 
John and Alanna went out for a nice romantic dinner.
Her boyfriend John apparently something more romantic planned out.
He got down on one knee and asked Alanna to marry him. Of course, Alanna said yes.
Suggested Read: Nischelle Turner Sex-Couch Phobia, Boyfriend & Dating Common
Alanna Sarabia and Jonathan Reyes Wedding Ceremony
Alanna Sabaria and Jonathan Reyes exchanged vows in a memorable wedding ceremony on Saturday, October 30, 2021.
They held the wedding mass at St. Paul the Apostle Church located at 201 Dalton Circle in Horseshoe Bay, Texas.
After the wedding mass, they hosted a cocktail hour at Falkenstein Castle, situated at 7400 Park Road 4 South in Burnet, Texas.
The celebration continued with a wedding reception dinner, also held at Falkenstein Castle. The reception was a delightful evening of dining, dancing, and celebrating the union of Alanna and Jonathan.
Alanna and Husband Jonathan Welcomed a Baby
Alanna Sarabia, the traffic anchor, and her husband Jon joyfully welcomed their daughter, Dallas Anastasia, on September 26, 2022.
The little bundle of joy weighs 6 pounds and 11 ounces.
Alanna Sarabia Age, Early Life, Family
Alanna was born on December 29, 1981 in Grand Prairie, North Texas, US.
As of 2023, she is 41 years old.
Also, her zodiac sign is Capricorn.
Furthermore, she holds an American nationality.
Born in Texas, Sarabia is one of three children of Rick Sarabia and Lorraine Sarabia.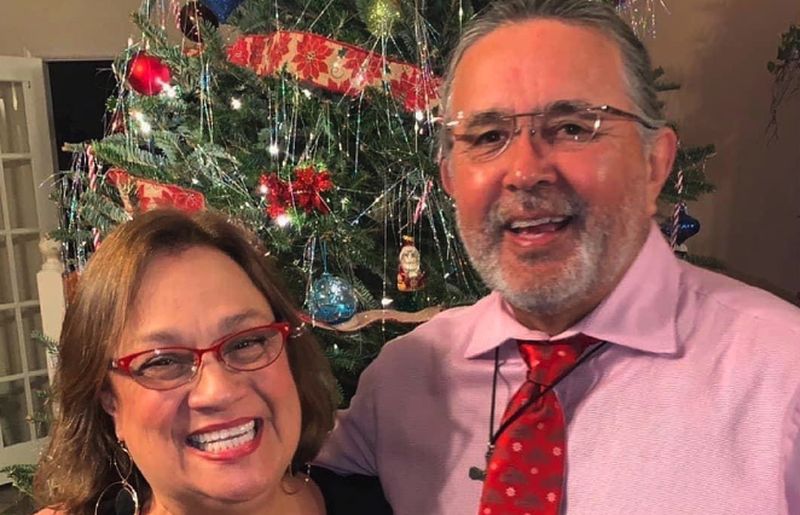 She spent her childhood surrounded by her three brothers, named Vicente Sarabia, Adrian Sarabia, and Marcos Sarabia.
Her father, Rick Sarabia, is an attorney based in Texas. Her brothers Vicente and Adrian are both business executives.
Moreover, Alanna has a very loving and strong bond with her parents looking at her pictures.
Suggested Read: Paul Magers Wife Of 40+ Years, Age, Salary, Net Worth
Education
Alanna completed her high schooling at South Grand Prairie High School.
Later, she enrolled at Texas State University, San Marcos, in 2007. She has a bachelor's degree in Arts in Electronic Media.
During her time in University, she engaged in activities like Student foundation, G.A.M.M.A and Zeta Tau Alpha.
Suggested Read: Brooke Baldwin Age, Husband, Salary, Net Worth
Career
Alanna started her career in Television by working with Sinclair Broadcast Group.
Previously, she also co-hosted the Daytime @Nine, which is a lifestyle show with a host and hour-long format.
Furthermore, she has worked at local NBC affiliates and the CW35.
She joined the WFAA news team in January 2016. As of 30, she has more than ten years of experience in the industry.
Besides, the gorgeous TV personality tried herself in the beauty pageant world.
In an interview with Yahoo Lifestyle, she revealed her experience as an NBA Dancer from 2011 -2012.
As of today, she is also excelling at making various content of lifestyle videos.
Suggested Read: Elie Honig Age, Wife Rachel Honig, Children, Net Worth
Alanna Sarabia on Leaving Good Morning Texas
Alanna has been working with WFAA as their anchor on Good Morning Texas for four years now.
Sadly, she announced that she would be quitting her journey on GMT on February 1, 2021. 
During her time as GMT's host, she has accumulated lots of well-wishers, so she did not hesitate to share the news in detail on her social media.
However, she has not disclosed her next job till now. She moved to San Antonio with her family.
"The peace of having that in my life. Even though right now my professional future is unknown, I am happy and excited about my future, back in San Antonio." 
Alanna joined KENS 5 in May 2022, as the afternoon and evening traffic anchor.
Suggested Read: Fox News Lea Gabrielle Age, Married, Husband, Salary, Net Worth
Net Worth
After combining all of Alanna's sources of income as an anchor, her net worth is estimated to be somewhere between $1 million in 30.
Alanna Sarabia Age
Alanna Sarabia is 41 years old. She was born on 29 December 1981 in Grand Prairie, North Texas, US.
Alanna Sarabia Boyfriend
Alanna Sarabia is in a relationship with John Reyes, a police officer by profession.
Alanna Sarabia Getting Married
On February 23, 2021, John Reyes asked Alanna to marry him. Alanna said yes. Today, the couple married on October 30, 2022.
Alanna Sarabia Net Worth
Alanna Sarabia has a net worth of $1 million as of 30.