Last updated on July 16th, 2022 at 01:49 am
Hunter Feiri is the eldest celebrity child of Celebrity chef and Food Network star Guy Fieri.
Hunter is all set to follow in his father's footsteps, but he takes his sweet time to explore and understand the culinary world.
You will find more interesting details about Hunter's life in the article, don't miss out!
Hunter Fieri Quick Facts
Birthday: August 13, 1996
Birthplace: USA
Age: 26 years old
Zodiac Sign: Leo
Height: 5 feet 11 inches
Parents: Guy Fieri and Lori Fieri
Brother: Rider Fieri
Relationship Status: Single 
Girlfriend: Unknown
Children: 0                              
Weight: Unknown           
Net Worth: $400k
Hunter Fieri Age, Background
Hunter Fieri was born on August 13, 1996, which makes him 26 years old at present.
He is the eldest son of his parent's culinary star Guy Fieri and Lori Fieri.
Hunter belongs from the mixed ancestry of Italian Scots-Irish and English.
He has a 15-year-old younger sibling named Rider Fieri.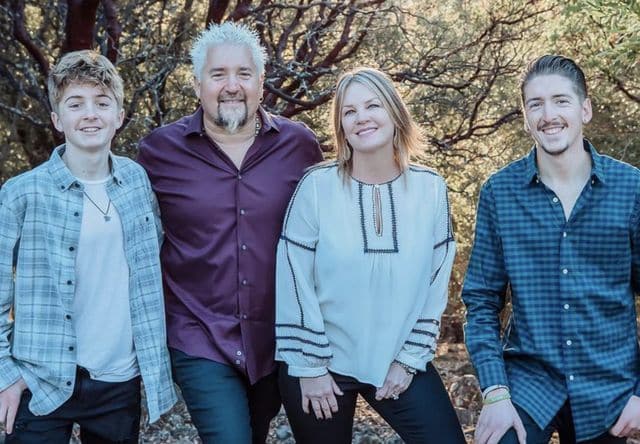 Additionally, he attended Sonoma academy & William F, Harrah College of hospitality.
Furthermore, he enrolled in The University of Nevada, Las Vegas doing his majors in hospitality management.
As it happens, the University of Nevada is also his father, Guy Fieri's Alma Mater.
Suggested Read: Kody Angle [Kurt Angle's Son] Age, Parents, Siblings, Now
More About Parents
Everyone must have heard a little about Guy Fieri but that's not the case about Hunter's mother, Lori Fieri.
That's because Guy is an award-winning chef, restaurant owner, and a famous TV personality, whereas his wife lives a low-key life despite being a celebrity wife.
Growing up in a modest family where her father was a toolmaker and mother cleaned houses for a living, Lori currently lives a lavish lifestyle.
As per Hunter, Lori is an amazing cook as well. She often makes family favourite taco salads, chicken salad, and more.
While her professional career remains undisclosed, in an interview, Lori revealed how she loved the fancy celebrity lifestyle she has today.
On the other hand, Guy came into the limelight after his victory in the 2nd season of the Next food network in 2006.
Fieri's other works include TV shows, where he showcases skills and does other interesting stuff.
Some of the shows are 'Guy's big bite,' 'Diners,' 'Guy's ranch kitchen,' and many more.
Furthermore, he co-owns three restaurants and is soon expanding his restaurant empire.
Suggested Read: Karen Jarrett [Kurt Angle Ex-Wife] Age, Husband, Kids, Net Worth
Early Career
Guy began teaching Hunter how to cook from the age of 5 years old. He started by cutting onions.
The first dish/meal that Hunter made was breakfast. While in third/fourth grade, Guy taught Hunter how to make a French toast sandwich and put sliced strawberries and cream cheese in the middle.
After graduating from the University of Nevada with a degree in hospitality and restaurant management, Hunter wanted to work at a couple of restaurants owned by his dad's pals.
However, the COVID-19 pandemic ruined this opportunity for the young culinary enthusiast.
Suggested Read: Duke Lesnar Age, Parents, Brock Lesnar, Siblings, Net Worth
Hunter Fieri Possibly following Guy's Footsteps
Hunter has been passionately following in his father's footsteps.
However, he refuses to utilize his dad's stardom to create a successful career for himself; instead, he is taking time to explore the culinary world.
With time he is showing more of the growing interest in guy's culinary endeavours.
A fun fact, Hunter self-proclaims himself as "Prince of Flavortown," while people call his father, Guy, "Mayor of Flavortown."
Additionally, Hunter accompanies his chef father on tours and restaurants and makes appearances in his TV shows. 
Hunter came into the limelight after his appearance in his father's show, 'Guys big bite.'
The duo shares a great bond.
Nevertheless, the 26-year-old yearns to be a great chef, and why won't he be?
He is getting guidance from the very best, his father, who has earned his place in the culinary world for the past 15 years through his undeniable talent that leads him where he is currently.
Suggested Read: Julian Henry De Niro [Robert De Niro's Son] Truth & Lies
Is Hunter Fieri Dating?
While any girl would be lucky to date this upcoming star chef, he is presumably single at this point.
Hunter has never been rumoured or spotted out and about with anyone yet.
The 26-year-old has dogged possible rumours about his alleged relationship with anyone and focused entirely on building his career strong.
Being a celebrity child, he lives a luxurious lifestyle.
He does have numerous fangirls hovering around him for his attention at all times; besides, he is very low-key about his life matters.
Moreover, Hunter hasn't opened up about his possible relationship yet, making it safe to assume that he is single.
Nevertheless, in the future, we wish to hear more about Hunter's romantic relationship with someone.
Suggested Read: Katherine Pine All About Chris Pine's Sister
Hunter Fieri Net Worth
He is yet to kick start his career as of now.
So, for now, in 2023, we do not have an exact figure that shows his net worth. But we believe the numbers are somewhere around $400k.
But his award-winning culinary star father Guy Fieri has an astonishing net worth of $25 million which he earned through his career as a professional chef and as a TV personality.
Suggested Read: Bronny James [LeBron James' Son] Age, Girlfriend, Height, Net Worth
Hunter Fieri Hobbies
It's obvious that Hunter loves to cook and wants to make a career out of it as well.
However, as a young man with a taste for adventure, there's a lot more than entices him.
For example, these are the things that Hunter likes to do for refreshment and as a hobby.
Dirt Biking
Wakesurfing
Hiking
How Old Is Hunter Fieri? Age
Hunter Fieri is 26 years old. He was born on August 13, 1996, in the United States of America.
Hunter Fieri Girlfriend
As of 2023, Hunter Fieri is single. He is not dating anyone and focuses on career as a culinary professional.
Hunter Fieri Net Worth
Hunter Fieri has a net worth of $400,000 as of 2023. His father, Guy Fieri has a net worth of $25 million today.
Sources