Patrick Mahomes, son of legendary MLB player Pat Mahomes, is very famous in his own game. Professionally serving as a quarterback for Kansas City Chiefs, there's a lot of good things going on in his life.
He's got a great girlfriend who's an athlete, fitness expert, and businesswoman. Also, the couple has a baby.
Patrick Mahomes II Quick Facts
Birthday: September 17, 1995
Birthplace: Tyler, Texas, United States
Age: 26 years old
Zodiac Sign: Virgo 
Height: 6 feet 3 inches
Weight: 104 kg (240 lbs.)
Relationship Status: Engaged
Girlfriend/Wife: Brittany Matthews
Children: N/A
Patrick Mahomes and Brittany Matthews – Beginning
For Patrick and Brittany, love started back in high school.
Both attended the same school, Whitehouse High School, located in Texas. By the time prom came around, the Mahomes and Matthews had already become best friends.
Yes, before anything, Patrick and Brittany were best friends and went to prom together.
Eventually, both began liking each other, and by the end of 10th grade, the couple had begun dating.
Brittany, who is just 16 days older than Patrick, was pretty smitten with her relationship. And so was Mahomes.
Read: Brittany Matthews & Her Untold Story – Why Is She Famous?
Long-Distance Relationship
In 2013, Matthew and Patrick graduated high school and had to choose their career paths.
Mahomes went to Texas Tech University, where he would play football and baseball.
On the other hand, Matthews enrolled at the University of Texas.
The newly dating couple were already over 400 miles apart.
However, this never wavered their determination to love each other and make things work.
While Mahomes played college football and basketball at Texas Tech University, Brittany also began setting herself up for an athlete's career.
Both wanted to excel in their relative fields, and that created a much stronger bond.
In 2017, Matthews graduated from the University of Texas with a degree in Kinesiology. She signed with UMF for a professional Soccer playing career.
On the other hand, Mahomes made it through the 2017 NFL Draft.
Back Together in 2017, Brittany went to Iceland to pursue a soccer championship, which he later won.
By 2018, Patrick and Brittany were back together, and this time, it was for good.
In 2019, Brittany used her years of fitness expertise to become a certified fitness trainer.
After receiving certification, Brittany began her career as an online fitness coach through her website called Brittany Lynne Fitness.
While Brittany earns hefty from her fitness program, she also sells her merchandise over there.
Read: NFL Star DeMarcus Lawrence's Beautiful Girlfriend Revealed
In 2019
Just in 2019, Mahomes and his beautiful partner Brittany purchased a new home for themselves.
Before that, Patrick had been living in a condo that he bought in 2018.
In 2019, Patrick and his to-be-bride purchased a massive home near Mission Hills Country Club.
The house is built on 3,759 square-foot, has three bedrooms, three bathrooms, a gym, a pool, and a chef's kitchen as well.
Patrick and Brittany bought this house for $1.925 million.
As of 2020, the house is listed on sale for $2.2 million.
Engagement In 2020
On September 2, 2020, Patrick Mahomes posted a picture on his Instagram, announcing his engagement with high school sweetheart Brittany Matthews.
The day Mahomes proposed to his girlfriend was a special one. On September 2, Mahomes also received his Super Bowl ring.
After that honor, Mahomes took his longtime girlfriend to Arrowhead Stadium Suite that was already decorated with flower petals and a sign that read, "Will You Marry Me?"
For anyone wondering what kind of ring Patrick gave to his beau, it's made of 10.85-carat diamonds.
The ring consists of a total of 255 diamonds. It has 244 round diamonds, two marquise diamonds, and nine baguette diamonds.
Moreover, the ring also has 32 custom-cut rubies and four baguette rubies.
Read: What Happened To Charlie Rose & Where Is He Now In 2020
Pregnant with Baby Girl
The start of September engagement announcement wasn't the one that brought Patrick and Brittany major happiness.
Of course, the couple was over the moon about getting engaged.
It was the later September news that shook their whole world for good.
On September 29, 2020, Brittany took it to her Instagram and revealed her pregnancy.
She posted a picture of herself, holding a picture of a sonogram while Patrick embraced her from behind.
On October 22, in a gender reveal ceremony, Brittany revealed that she and Patrick are expecting a baby daughter.
Brittany has also finished furnishing a new room for her baby girl.
Patrick Mahomes Baby Update [2022]
On February 22, 2021, Patrick Mahomes and his partner Brittany welcomed their first child together. A baby girl who the couple named Sterling Skye Mahomes.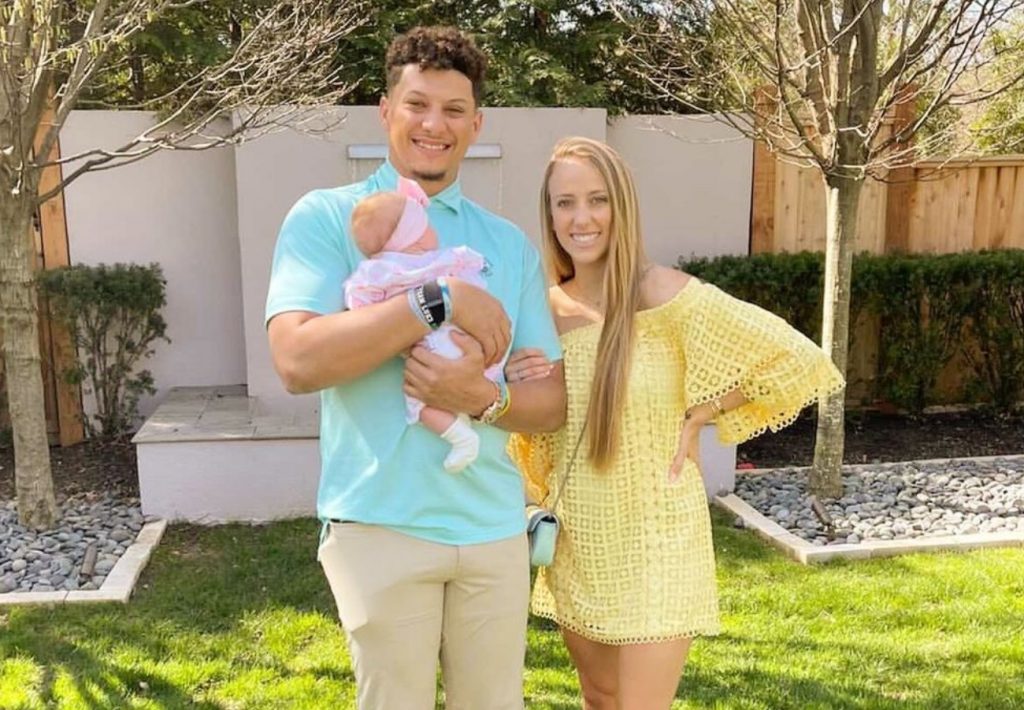 As of today, this new Mahomes family of three are living a very content and happy life.
Patrick Mahomes Bio, Age, Background
American football quarterback Patrick Mahomes was born on September 17, 1995, in Tyler, Texas, United States of America.
Today, Patrick is 26 years old, and his zodiac sign is Virgo.
Mahomes was born to father Pat Mahomes and mother, Randi Mahomes. His father, Pat, is a retired MLB Pitcher.
Growing up, Patrick studied at the Whitehouse High School, where he also met his future partner Brittany Matthews.
After high school graduation, Mahomes joined Texas Tech University.
Mahomes Contract and Net Worth
In 2017, Kansas City Chiefs signed Mahomes to a four-year, $16.42 million contract.
In Mid-2020, Kansas City Chiefs extended Mahomes' dead and offered him a 10-year contract.
Kansas City Chiefs offered Mahomes a 10-year deal worth half-billion. The contract values at $503 million in total, of which $477 million remains guaranteed.
In 2020, Patrick earns a salary of $40 million annually.
He has a net worth of $30 million. Mahomes' net worth will surely increase once his contract comes into effect.
How Old Is Patrick Mahomes?
Patrick Mahomes is 26 years old. He was born on September 17, 1995, in Tyler, Texas, United States of America.
How Tall Is Patrick Mahomes?
Patrick is 6 feet 3 inches or 1.91m tall in height.
What Is Patrick Mahomes' Weight?
Mahomes' weight is 104 kg (240 lbs.)
Patrick Mahomes Salary and Net Worth
Patrick earns an annual salary of $40 million. In 2020, he has a net worth of $30 million.
Patrick Mahomes Latest Contract
In 2020, Mahomes signed a 10-year contract with Kansas City Chiefs, worth $503 million, of which, $477 million is guaranteed.
[expand title=Sources]
https://www.trulia.com/p/mo/kansas-city/1257-w-57th-st-kansas-city-mo-64113–2105899396
https://www.businessinsider.com/patrick-mahomes-girlfriend-brittany-matthews-relationship-high-school-sweethearts-2019-12
https://brittanylynnefitness.com/
https://www.usatoday.com/story/sports/nfl/2020/09/02/chiefs-qb-patrick-mahomes-engaged-to-longtime-girlfriend/42370329/
https://www.celebritynetworth.com/richest-athletes/nfl/patrick-mahomes-net-worth/
https://bleacherreport.com/articles/2899068-where-patrick-mahomes-reported-450m-contract-ranks-among-all-time-sports-deals
[/expand]