Last updated on January 24th, 2022 at 09:40 pm
Romina Puga is a well-known television personality, producer and writer, recognized for her work in ABC News and Club Mundo Kids.
Let's get to know more about Romina, from her professional to personal life.
Romina Puga Quick Facts
Birthday: October 20, 1989
Birthplace: Miami, USA
Age: 32 Years Old
Zodiac:  Libra
Height: 5 feet and 2 inches
Parents: N/A
Siblings: 2
Relationship Status: Married
Husband: Miguel Tamayo
Children: None
Net Worth: $300,000
Romina Puga Age, Background
Romina was born on October 20, 1989, in Miami, USA. As of now, Puga is 32 years old. Her zodiac sign is Libra.
Moreover, Puga holds American nationality and belongs to the white ethnicity. 
Talking about her family, she has made sure to present them on her social media without revealing information about them.
Regarding her academics, she initially joined Florida International University but later moved to New York University. 
She holds a bachelor's degree in Journalism and Communication.
Suggested Read: Melissa Magee [2022 Update] Age, Husband, Salary, Net Worth
Romina Puga Married Life, Husband
Puga, the beautiful reporter, is married, and her husband's name is Miguel Tamayo.
The couple had their first date back in 2012, on Halloween's day, and since then, they have been together.
Six years after dating each other, Miguel decided to propose to his beautiful girlfriend.
While both the couple have kept details about their engagement a secret, we believe it must have been one of the most romantic moments.
Fast forward, on January 20, 2018, Romina Puga and her handsome hunk boyfriend-turned-fiancé married each other.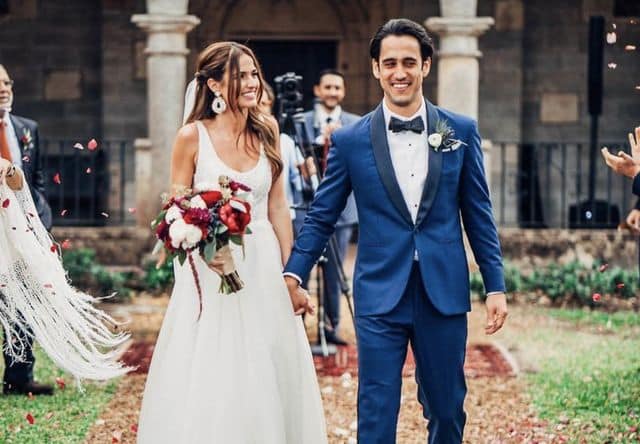 There were only a handful of attendees at the wedding; very close family and friends.
Puga and Tamayo's wedding took place at The Ancient Spanish Monastery Foundation.
While Miguel donned navy-blue suit and trousers, Puga wore a very chic but cute Monique Huillier dress for the occasion.
For their honeymoon, Miguel and Romina went to Mukul Resort, Nicaragua.
Suggested Read: Fox's Kaitlin Sharkey [2022] Age, Husband, Divorce, Salary
Who Is Husband Miguel Tamayo?
Like Romina, her husband Miguel is also a very successful personality in his field.
Miguel is a 2008 English/Creative Writing graduate from Boston College.
He later went to study Law at the University of Michigan Law School and graduated in 2011.
Tamayo initially started his career as a Chief Writer for Univision Communications, Inc in 2011.
Since then, Tamayo has worked at many companies like Fusion Media Network, The Players' Tribune, etc.
Currently, Miguel is the Head of Unscripted & Sports at Exile Content Studio.
Suggested Read: Fox News Abby Hornacek Age, Eye Injury, Height, Net Worth
Does Romina Has Kids
As of 2022, Romina has no children of her own.
However, going through her social media handles, she seems to have a special bonding with children.
Considering her closeness with children, we assume that she will create one of her own very soon.
Suggested Read: Fox News' Bill Hemmer [2022 Update] Married, Wife, Net Worth
Career
Before getting to her career, let's talk about how she came into the limelight.
In 2013, she interviewed 'Social Network' actor Jesse Eisenberg for his 2013 movie "Now You See Me."
During the interview, Eisenberg dug up her interviewing skills and pointed her out for having questions written on her palm.
Shortly after, the clip circulated on the internet where Eisenberg was termed as "rude" and "obnoxious."
Thereafter, Romina took her social media handle to elaborate on the situation and express her feeling of humiliation caused him.
According to Eisenberg, she seemed to have a good laugh throughout the interview, and he enjoyed the interview too.
Later, Eisenberg reportedly tried to contact her but failed to reach her.
Therefore, after making headlines on the internet, she gained better exposure.
Romina started her career at Ocean Drive Magazine as an intern.
Subsequently, she worked at the Met Gala as Vogue's production intern in 2012.
Afterwards, she served as a producer and writer at Fusion Weekly for several years.
Thereafter, in 2018, ABC News hired her as their producer and correspondent.
Currently, she works as a host and writer for Club Mundo Kids.
Suggested Read: Arthel Neville [2022 Update] Age, Husband, Net Worth, Related To Aaron Neville?
Romina Puga Net Worth
Although her net worth remains under review, Romina reportedly has a net worth of $300k as of 2022. 
Each ABC News reporter earns an estimated average salary of $43,536k.
Since Puga is a professional, we expect she's earning way more than that average salary.
Romina Puga Age
Romina Puga is 32 years old today. She was born on October 20, 1989, in Miami, USA.
Romina Puga Husband
Romina Puga is married to her husband Miguel Tamayo. The couple started dating back in 2012 and got married on January 20, 2018.
Does Romina Puga Has Children
As of 2022, Romina does not have any children.
Romina Puga Salary & Net Worth
As of 2022, Romina has an estimated net worth of $300k. She also earns an annual salary of over $50,000.
Sources