Ryan Elizabeth Peete is well known as a famous actress, Holly Robinson Peete, and former NFL player Rodney Peete.
Let's get to know more about Ryan in detail below.
Ryan Elizabeth Peete Quick Facts
| | |
| --- | --- |
| Full Name | Ryan Elizabeth Peete |
| Nick Name | Ryan |
| Birth Date | October 19, 1997 |
| Age | 26 years old.  |
| Birth Place | Los Angeles, California |
| Horoscope | Libra |
| Religion | Christianity |
| Nationality | American |
| Ethnicity | African-American |
| Education | New York University's Tisch School of Arts |
| Father's Name | Rodney Peete |
| Mother's Name | Holly Robinson Peete |
| Biological Siblings | Roman Peete, Robinson Peete, Rodney Peete Jr. |
| Half Siblings | N/A |
| Height | 5.6 feet (1.70 m) |
| Weight | 55 kg (121 lbs) |
| Shoe Size | 8 US Size |
| Hair Color | Brunette |
| Eye Color | Dark Brown |
| Body Measurement | Not Disclosed |
| Physique (Figure) | Slim |
| Married | No |
| Relationship Status | No |
| Partner | Not Disclosed |
| Son | None |
| Daughter | None |
| Profession | Singer/Songwriter, NFT Creator |
| Net Worth | $4 million |
| Social Media | @ryanepeete |
Ryan Elizabeth Peete Personal Life
As of 2023, there has not been any news or rumors regarding Ryan's relationship status.
Also, Elizabeth has not revealed anything regarding her relationships on social media either.
However, Ryan came out publicly as gay on June 23, 2020.
On her Instagram post (since deleted), she revealed her struggle with self-loathing while figuring out her sexuality.
She expressed her gratitude towards supportive family and friends who helped her throughout the harsh times.
Here's her full testimony.
"I was debating making this post, but it's important to me so I'm going to go forth! I haven't directly talked about this on Instagram, but I've been openly gay for about a year and a half now.  I never thought that I'd ever be this comfortable with myself, and it's crazy to me that I can now say this with pride. Coming to terms with this has not been a comfortable journey.

There were times while in school where I didn't want to exist anymore because I didn't want to be gay.

I was reading old journal entries from my junior year and breaks my heart thinking about how much I hated myself as I struggled to contextualize the confusing feelings I had for girls. Liking women used to bring me a lot of shame, but I'm so grateful for the comfort I have in myself now.

I'm thankful for my immediate family, who accepts and embraces me fully with open arms. I'm grateful for the friends I made while in school who were there for me when I was at my lowest. I'm thankful for all of the black queer people before me who fought for my right to live my life authentically and openly.

In the midst of everything going on, here is a friendly reminder: If your revolution doesn't include black queer voices, it's anti-black. Happy pride month, thank youuuuu."

Ryan Elizabeth Peete
Suggested Read: Skye Herjavec: Robert Herjavec's Daughter's Age & Net Worth
Diagnosed with ADHD
At the age of 14, Ryan was diagnosed with ADHD.
This happened after her mother, Holly, began paying attention to her inattentiveness, indecisiveness, and social awkwardness.
Before the diagnosis, Ryan felt like there was something terminally wrong with her and she was having a hard time coping with it.
However, after the diagnosis, things became clearer and Ryan could take steps to minimize its affect.
For example, Ryan took her diagnosis into consideration while choosing schools. She only shortlisted those schools that had SAT and ACT as optional.
Similarly, she began diving into listening and then making music which as per her, "has been really helpful."
Ryan Elizabeth Peete Wiki
Robinson was born on October 19, 1997, in Los Angeles, United States. As of 2023, she is 26 years old. 
Moreover, she is an American by nationality. Her zodiac sign is Libra.
Currently, Peete lives in Los Angeles with her family.
Moving on to her education, she completed her bachelor's degree in Fine Arts.
Later, Ryan graduated from New York University's Tisch School of Art in 2020.
Suggested Read: Roman Peete Age, Parents, Siblings, Girlfriend, Net Worth
Ryan Elizabeth Peete Family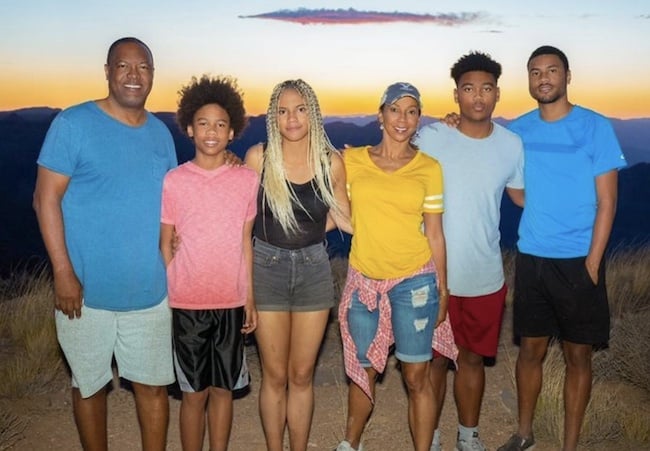 Ryan is one of the four kids of Holly Robinson Peete and Rodney Peete.
Both of her parents are well-known figures in their respective careers.
Suggested Read: Robinson James Peete Age, Parents, Girlfriend, Net Worth
Holly Robinson Peete
Holly is a famous American actress. Apart from being famous as an actress, she is also an author.
She has been in the industry since 1969. 
Similarly, Holly is mostly renowned for her roles in TV series like '21 Jump Street,' 'Hangin' with Mr. Cooper, ' and 'For Your Love,' to name a few. 
Additionally. She appeared on her family's reality shows, 'Meet The Peetes' and 'For Peete's Sake.'
Besides, she is the author of books named 'Get Your Damn Beer, I'm Watching the Game: A Woman's Guide to Loving Pro Football" and 'Same But Different – Teen Life On The Autism Express.'   
She also co-wrote an award-winning book with Ryan, 'My Brother Charlie (Scholastic). 
Thus, having contributed a lot as an actress, author, and advocate, she has been the center of honor several times.
Suggested Read: Dolores Robinson Age, Children, Husband, Net Worth
Rodney Peete
Rodney is an acclaimed former American footballer who played in the National Football League for various reputed teams. 
After he retired from football, he has made appearances as an actor and a host on television.
Currently, Rodney appears as the host of the podcast 'Lunchtime with Roggin & Rodney.'
Besides, he wrote his first book 'Not My Boy: A Father, A Son and A Family's Journey with Autism' in 2010.
Suggested Read: Cierra Wight Age, Big Show, Boyfriend, Dating, Net Worth
Siblings
Ryan is the first-born child of Holly and Rodney Peete and her twin brother, Rodney Jr. Peete.
Ryan and Rodney were born on October 19, 1997. They are 26 years old.
Rodney Jr. suffered from autism since the age of 3.
As of now, he works in the clubhouse of the Los Angeles Dodgers. He is also a member of the Speech and Language Therapy Center in LA.
Additionally, he advocates for autism with his mother and is an aspiring rap artist. 
Likewise, her brother, Robinson James Peete, was born on August 11, 2002. Robinson is 21 years old.
Roman is about to pursue a career as a baseball player and is an aspiring rapper too.
Ryan's youngest sibling, Roman Peete, was born on February 25, 2005. Roman is 18 years old.
All of her siblings, including her, are television personalities and have chosen their career paths.
Suggested Read: Luke Lesnar Brock Lesner's Son Joins WWE
Career
Ryan Elizabeth Peete is a published author, an advocate, and an aspiring singer.
She published her first book 'My Brother Charlie (Scholastic)', one of the best sellers, earning the NAACP Image Award.
In 2016, she co-authored the book 'Same But Different' with her mother and brother, RJ. 
Moreover, she actively uses her voice to advocate for children with special needs and various media platforms. 
As an aspiring singer, she posts her covers of songs on her social media handles.
Recently, she released a cover of the song "Baltimore" by Randy Newman.
Similarly, Ryan also started career as a NFT artist and has been doing quite well in that space.
As of 2023, Ryan has an estimated net worth of $4 million.
Suggested Read: Rodney Harrison Age, Wife, Children, Net Worth
Trivia
Ryan likes to go out to nice restaurants when she is not working.
Instead of shopping at high end stores, Ryan shopping at thrift stores.
Often times, Ryan visits the flea markets to see if she can find anything that takes to her liking.
She likes to make friends on via Twitter account.
Ryan Elizabeth Peete Age
Ryan Elizabeth Peete is 26 years old today. She was born on October 19, 1997, in Los Angeles, California.
Is Ryan Elizabeth Peete Dating Anyone?
As of today, Ryan is not dating anyone publicly.
How Much Is Ryan Elizabeth Peete Worth?
Ryan Elizabeth Peete has a net worth of $4 million as of 2023.
[expand title=Sources]
https://thegrio.com/2020/07/02/holly-robinson-peete-ryan-gay/
[/expand]