Born on September 10th,1986 Sarah Levy, goes by as one of the most hardworking, smart, and beautiful actresses.
She is famously known for her role in "Schitt's Creek."
Sarah is a hardworking actress and is doing pretty well in her career as well.
Sarah Levy Quick Facts
Birthday: September 10th, 1986
Birthplace: Toronto, Ontario, Canada
Age: 35 years old
Zodiac Sign: Virgo
Height: 5 feet 3 inches
Relationship Status: Dating
Boyfriend: Graham Outerbridge
Children: None
Who Is Sarah Levy Dating? Boyfriend, Partner
As you already know, Sarah Levy is very popular and active in social with over 500k followers. Her fans address her as a loveable and hardworking actress.
Sarah is also very open about her relationship as well, and that too on social media. The good news for fans, she does not hide anything.
Sarah is a dating actor and producer, Graham Outerbridge. Her boyfriend is famous for appearing in "The Britishes" and "Distancing Socially."
Sarah and Graham started dating each other back in 2018, and both the lovebirds miss no chance to appreciate and show off their relationship on social media.
Sarah and her partner Graham made it official and announced their relationship in May 2018 by posting pictures of them together.
Later in 2020, Sarah shared a picture wishing her boyfriend a happy birthday, where fans were quick enough to spot a big ring on her finger.
Speculations of their engagements started flooding. Fans started gushing over that picture.
Nevertheless, the pair haven't spoken anything about it. So, it is only for the best if we stop assuming dramatic possibilities right now.
While fans of both Levy and Outerbridge are waiting for the news of their marriage, but there's no sign of it as of now.
However, we, along with all the fans, are all very happy to see the couple enjoying time with each other, and of course, fans are expecting some good news of marriage from the couple soon.
Suggested Read: Austen Rydell, Billie Lourd's Partner: Bio, Age, Net Worth
Sarah Levy Family, Parents – Eugene & Deborah
Sarah belongs to a family that comes from different backgrounds.
Meaning, her father is Jewish, whereas her mother is protestant, a follower of western Christian churches, quite separate from Roman Catholic churches.
She gets to enjoy the best of both sides.
The fact that Sarah comes from a famous family is no news to anyone.
Her mother, father, and brother are also among the many established people in the entertainment industry.
Levy's father is Eugene Levy, who is a producer, comedian, writer, and actor. Her mother is Deborah Divine, and she is a screenwriter.
Her brother is Daniel Levy, who is also a producer, director, and actor.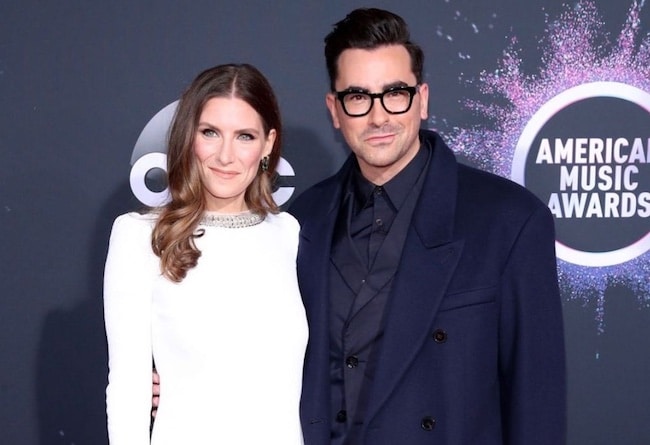 Eugene Levy was a part of films like bringing down the house, father of the bride, etc.; he has even won multiple awards as an actor, writer, and producer.
Deborah Divine has also worked on projects like The Edge of Night, Another World, etc.
Also, another interesting thing is the family of 4 together produced, directed, and acted in the series called "Schitt's Creek."
Daniel and Eugene opened their own production agency and created this series, and Daniel, Eugene alongside Sarah, are a part of this.
Which eventually gave them fame as the series turned out as a massive hit.
Suggested Read: Linzey Rozon Age, Real Name, Husband Tim Rozon, Net Worth
Sarah Education and Career
Sarah studied theaters/acting at Dalhousie University.
The Best Institution actress started her career as an actress in the year 2011, with an action crime show called XIII – The Series.
Levy also had a small role in the movie Larry Crowne. This was when she got recognition as an actress.
In the year 2012, 2013 she did two short films: Roomies and The Applicant.
Her acting career took a major upturn when Sarah became a part of the series Schitt's Creek from 2015-2020.
She played the character of Twyla Sands, which attracted the audience, and Sarah gained lots of fans globally.
This series won Guild Award for Outstanding Performance by an Ensemble in a Comedy series. Moreover, Sarah was nominated for the best supporting actress. 
Sarah was already famous and appreciated by this time by the audience.
After Schitt's Creek, Sarah became part of many films like the Winner Mindset, Dear Class of 2020, United We Fall, All Rise, etc.
In 2020 Sarah bagged a role in a movie called Distancing Socially. This movie was a pandemic-inspired movie, which tells us about the challenges we have faced.
Suggested Read: Is Lorene Scafaria Married In 2021? Age, Husband, Net Worth
Sarah Levy Net Worth
United We Fall actress Sarah has well over a dozen of movies and TV shows credits to her name.
Thanks to her exemplary actingskills, people love her work and want to see more of it.
Now, with such success, it also drags along a massive fortune as well.
In 2021, Sarah has a massive net worth of over $1 million. Now, don't get shocked, people. These are not verified by Levy herself.
This means that her actual net worth might be well over this estimated number.
On the other hand, her famous father, Eugene Levy, has a gigantic net worth of $20 million.
Similarly, Sarah's mother, Deborah Divine, also has well over $1 million as her net worth.
Similarly, Levy's brother and co-star in Schitt's Creek, Dan Levy, also has a net worth that is over $14 million in 2021.
How Old Is Sarah Levy?
Sarah Levy is 35 years old. She was born on September 10th, 1986, in Toronto, Canada.
How Tall Is Sarah Levy?
Sarah Levy is 5 feet 3 inches or 160cm tall in height.
What Is Sarah Levy's Net Worth?
Sarah Levy has a net worth of over $1 million in 2021.
Is Sarah Levy Married?
No, Sarah Levy is not married. She is dating 'Distancing Socially' actor Graham Outerbridge since 2018.
[expand title=Sources]
https://www.imdb.com/name/nm2363049/
https://www.yahoo.com/entertainment/schitt-creek-actor-Sarah-Levy-213835131.html
[/expand]