Charissa Thompson is beautiful, talented, and rich. As a Fox Sports broadcaster, Thompson makes journalism look so easy.
But, there's more to Charissa than just her professional career. Here's everything about her married life, new relationship, and more.  
Charissa Thompson Quick Facts
Birthday: May 4, 1982
Birthplace: Seattle, Washington, United States of America
Age: 38 years old
Zodiac Sign: Taurus
Height: 5 feet 8 inches
Relationship Status: Engaged
Husband/Partner: Kyle Thousand (Managing Director)
Children: N/A
Charissa Thompson Engaged to Boyfriend
It's a long love story in the making for Charissa Thompson.
Thompson is recently engaged-to-get-married, and she's over the moon with her partner.
In January 2020, Charissa Thompson announced her engagement to tall and handsome boyfriend Kyle Thousand.
On their vacation trip to Kauai, the fourth largest island in Hawaii, Kyle popped the question to Charissa.
By the beautiful sunset at the Princeville Resort beach, Kyle got down to one knee, presented a fabulous engagement ring, and asked Charissa to marry him.
Thompson, who loves her boyfriend very much, said yes to the proposal.
Thompson posted a picture on her Instagram, simply captioning "YES."
On the other hand, Kyle exclaimed his excitement as he said,
"She said, yes! I couldn't be more happy to spend the rest of my life with you, baby. I love you so much!"

– Kyle Thousand
There haven't been any talks about a wedding date. However, it's likely that Charissa and Kyle will get married in 2021 if the COVID-19 pandemic comes under control.
Speaking of getting married, Charissa has another secret.
Read: ESPN's Cari Champion Age, Married, Husband, Salary, Net Worth
Previously Married
That's right. Charissa was previously married.
While she was working at FOX Sports, she married her boyfriend, whose identity remains out of the question at the moment.
In an interview, Charissa mentioned that she got married and divorced while she was at FOX Sports.
In another interview, Thompson stated that getting married is something that she regrets.
On another note, Charissa also has a past relationship that got quite an attention. In 2013, Charissa began dating fellow journalist Jay Williams.
While the couple was dating, rumors came around that Charissa and Jay were expecting a baby. A source claimed that Thompson was going on maternity leave in 2014.
However, this was just a hoax, as Jay Williams clarified humorously, stating he had no idea that he and Charissa were pregnant.
Read: Is David Muir Married? Or Secretly Gay, Living With Partner?
Who Is Partner Kyle Thompson?
Everyone knows Charissa is pretty successful at what she does. It's her partner and husband-to-be that people do not know about.
It turns out, Thompson's beau is a very successful figure in his own field.
Born on October 1, 1980 in the United States of America, Kyle went to the University of Iowa in 2001, where he studied Business Administration and Finance.
Kyle graduated from the University of Iowa in 2003.
In 2004, Kyle joined Creighton University School of Law and graduated with a Juris Doctor law degree in 2007.
Right After graduation in 2007, Kyle joined Katten Muchin Rosenman LLP as a Corporate Attorney. In 2010, Kyle joined Roberts McGivney Zagotta LLC and worked there for nine months.
In 2011, Kyle joined Excel Sports Management as a director and represented MLB Certified players.
Currently, Kyle serves as Managing Director of Baseball at Roc Nation. He's been with the firm since 2015.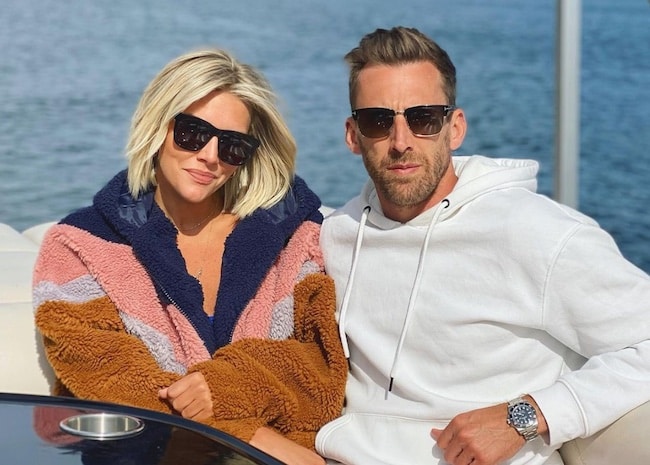 When not working, Kyle likes to spend time with his wife-to-be. He's also an avid golfer.
Charissa Thompson Age, Bio, Background
Fox Sports Broadcaster Charissa Thompson was born on May 4, 1982, in Seattle, Washington, United States of America.
Today, Charissa is 38 years old, and her zodiac sign is Taurus.
Thompson was born to American parents who married at the age of 18. She has two older siblings.
She went to Inglemoor High School. After high school graduation, she joined the University of California.
Charissa Thompson began her career as a reporter for Big Ten Network. Often times, she also worked as a sideline reporter for college football and basketball.
From 2010 to 2013, Thompson worked for ESPN. While joining FOX Sports, Thompson started out as HR personnel despite wanting to pursue broadcasting.
After her HR duty hours, Thompson would go to the broadcasting area and practice in front of the green screen.
After moving to Denver and persuading a production assistant news director to let her do an Interview.
That is how Charissa made it into sports broadcasting at FOX Sports.
Read: Samantha Ponder Married Twice & Nobody Noticed!
Charissa Thompson Tattoo
Thompson is pretty fond of Sea Hawk feathers.
In 2013, she revealed getting a white Sea Hawk feather tattoo on her left forearm.
However, there's another tattoo that many people do not know about.
Charissa has another feather tattoo on her lower ribs, on the left side.
This medium-sized tattoo is only visible on the sideways or backside when Thompson wears bikinis or backless dresses.
Thompson's 2018 Nude Leaks
In 2018, a scandal confronted Charissa Thompson dead on her feet. Someone stole a couple of nude pictures from her iCloud account and leaked it over the internet.
Charissa was thunderstruck when she found out this news and called her colleague Erin Andrews to consult the issue.
After all, Erin Andrews went through a similar incident when someone filmed her through the peephole of a hotel room in 2008.
Evidently, some of the pictures were the ones that Charissa shared with her boyfriend at that time, presumably Kyle.
Thompson stated that the intimate pictures were between her and her boyfriend while the two were in a long-distance relationship.
"When it comes to your physical being and intimate photos between you and your boyfriend and things that you sent to someone when you were in a long-distance relationship and in love, it is your private property. So, it felt — the obvious — like such an invasion."

– Charissa Thompson
Charissa filed a report, but the damage was already done.
"I was in a really bad place for a while after that because I started questioning me."

– Charissa Thompson
Read: Suzy Kolber & Eric Brady: Married Or Divorced In 2020?
Charissa Malibu House Invasion
Thompson bought a Malibu beach house in 2016 for $2.5 million. After buying the house in 2016, Thompson renovated the house to her liking.
She added things like a fire pit, Sonos Sound System, Suspended TV, Electrical wiring for ambient lighting, and so on.
In late 2016, two unidentified men entered the bottom floor of her house and began sniffing around.
One of the men even stripped down and began showering.
Before this came to her attention, she noticed some strange incidents. There were items like a paint sander, shampoo bottles that were disappearing from her house.
Just a few days later, a thief comes to her driveway while she had a friend over. The thief broke into her friend's car and stole a surfboard and a battery.
Charissa put her house for sale in 2018 for $3 million. The house is an impressive 1,646, three-story, 2.5 bath home, facing the Pacific Coast Highway.
Salary and Net Worth
From her impressive career as a sports broadcaster, Thompson earns a pretty hefty salary.
In 2020, she earns more than $500 thousand annually as a salary from Fox Sports.
Apart from journalism, Charissa also works as an independent home décor specialist. Her business is called House & Homes.
Her business team includes four people who handle different aspects such as digital brand maintenance, Designs, and over all projects.
From her professional career as a journalist and home décor expert, Thompson has managed to accumulate a massive net worth of $3 million.
She currently lives in her San Diego, California home.
How Old Is Charissa Thompson?
Charissa Thompson is 38 years old. She was born on May 4, 1982, in Seattle, Washington, United States of America.
How Tall Is Charissa Thompson?
Charissa Thompson is 5 feet 8 inches or 173cm tall in height.
Charissa Thompson Salary & Net Worth
Charissa earns an annual salary of over $500 thousand. In 2020, her net worth is $3 million.
[expand title=Sources]
https://www.linkedin.com/in/kylethousand/
https://www.youtube.com/watch?v=MtvhiGazwGs
https://www.si.com/media/2018/06/06/charissa-thompson-leaked-photos
https://www.si.com/nfl/jets/news/charissa-thompson-fox-nfl-kickoff-dream-job
https://www.realtor.com/news/celebrity-real-estate/charissa-thompson-malibu-price-trim/
https://www.houseandhome.design/
https://www.youtube.com/watch?v=2IHZnxb7VGk&list=PLiFOugfIu6hB9XnGgigxiEuCxXC_E0tLU&index=28

https://www.houseandhome.design/the-team
https://www.celebritynetworth.com/richest-celebrities/authors/charissa-thompson-net-worth/
[/expand]