Chrissy Metz is an actress and a singer best noted for her
Role in breakout drama series, this is us.
Apart from her recognition through the industry, she has impacted women through her inspirational weight loss journey.
Chrissy Metz Quicks Facts
Birthday: September 29, 1980
Birthplace: Homestead, Florida, USA
Age: 41 years old
Zodiac Sign: Libra
Height: 5 feet 5 inches
Relationship Status: Dating
Boyfriend: Bradley T. Collins
Children: None                               
Weight: 140 kg                     
Net Worth: $7million     
Chrissy Metz Age, Background
Chrissy Metz was born on September 29, 1980, in Florida.
At present, she is 41 years old.
She is the daughter of parents Denise and Mark Metz. Talking, about her parents, her dad, Mark, served in the US navy.
When Chrissy was very young, Mark had to move to Japan. For that reason, the whole family moved, and Chrissy spent most of her childhood in Japan.
Similarly, her parents divorced, and after the separation, Chrissy lived with her mother, stepfather, siblings, and half-siblings.
Reportedly, Chrissy did not have the best relationship with her mother while growing up.
Suggested Read: Amy Slaton Husband Michael Halterman, Age, Weight Loss, Net Worth
Chrissy Metz Weight Loss
Issue of weight is one of the most common issues right now, be it gaining or losing.
Chrissy Metz is dealing with the same issue right now. Like the majority of celebs, her road to stardom was a bumpy ride and full of obstacles.
She had her struggles with Obesity, and hormonal disorders followed.
Similarly, Metz once struggled with depression which plays a major role in her weight gain.
People labeled her as overweight, Fat, Ugly, and whatnot.
Despite all that, she still managed to gracefully make her way up in the industry with the true version of herself.
Chrissy was a heavy girl right from childhood. She did frequent visits to the doctors, tried diet control, but nothing ever worked in her favor.
Her stepfather was among one many people who bullied her for being heavy, which she had no control over while she was young.
Suggested Read: Ben Napier [2021 Update] Height, Weight Loss
Chrissy Metz Weight Loss Journey
Chrissy weighed around 180 kgs before. She knew it was high time to make healthy life choices.
Sadly, a horrendous incident took place before she could even plan things out.
Right on her 30th birthday, she woke up with terrible pain, which landed her in the hospital.
After checkups doctor diagnosed it to be a terrible panic attack.
Being asked about that day, she replies,
"It was scary – really, really, really scary."
This is how Chrissy described the attack. Doctors assured Metz that it was a panic attack but also warned her that she was overweight.
Doctors sternly advised Chrissy that she could not continue on this path.
After this day, the actress kick-started her weight loss journey. In just five months of her devotion, she shockingly dropped whopping 100 pounds.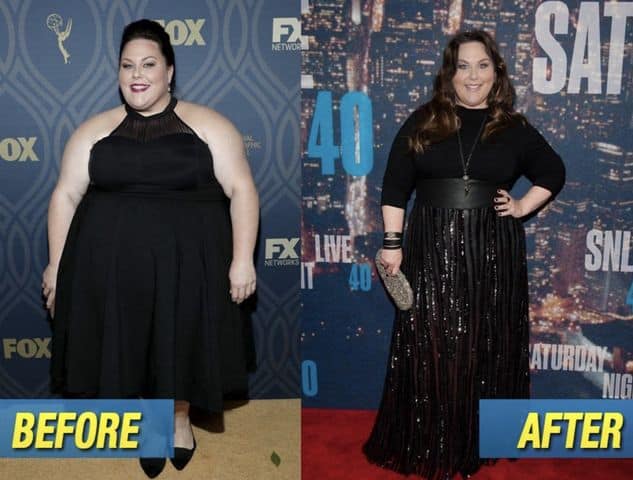 She now weighs around 140 kgs.
Suggested Read: Singer Anaís Age, Married Life, Husband, Kids, Net Worth
What are Chrissy Metz Diet and Exercises?
Proper planning and understanding are indeed an integral part of weight loss.
If you're someone who's gone that path, almost all exercises and diet plans look almost impossible to follow.
Similarly, Chrissy's path towards weight loss proved undeniably been tough. Yet, she managed to get on with it.
She did fall under the scam of over-the-counter diet pills and also started yoga to improve her weight status.
Upon asking about the diet, she mentioned 2000 calories diet followed by cautiously planned healthy meals and a 20 min walk on a daily basis.
Additionally, every passing day she progresses more in her weight loss journey.
Now, she is healthier and more confident.
She says,
"I want to have a fit, healthy body and not have to be put in a box."
Suggested Read: Kountry Wayne & His 10 Kids Story, Wife, Baby Mama, Net Worth
Her Weight Loss Update Now In 2021
The actress still struggles with her weight but not as much like she used to.
She shares 7 of her best Diet Plans with millions of people going through the same issue as hers.
These tips from Chrissy are
Love yourself
Keep a healthy relationship with food
Develop a fitness routine
Learn to handle
Don't rush. Go slow
Mediate
The weighing scale doesn't define you
With her positive attitude and optimistic nature, she has inspired a lot of women out there.
Now, Chrissy stands as a confident lady with a progressive mindset and self-esteem that doesn't spiral just because of her weight.
Chrissy Metz Age
Chrissy Metz is 41 years old. She was born on September 29, 1980, in Florida.
Chrissy Metz Parents
Chrissy Metz was born to parents Denise and Mark Metz. Her parents divorced and Metz lived with her mother and her new family.
[expand title=Sources]
https://www.wellnesswarrior.org/chrissy-metz-weight-loss/

https://fatlossdudes.com/chrissy-metz-weight-loss/

https://www.yournextshoes.com/chrissy-metz-weight-loss/
[/expand]