Anais Martinez is a Dominican-American singer and a television personality.
Some of her expertise genres are Latin Pop, Tropical, and Reggaeton.
Below is all the combined information about the singer for you to know more about her.  
Anais Martinez Quick Facts
Birthday: June 22, 1984
Birthplace: Santo Domingo, Dominican Republic
Age: 37 years old
Zodiac Sign: Cancer
Height: 5 feet 6 inches
Relationship Status: Married
Husband: Ruben Brito  
Children: 2                              
Weight: Unknown                               
Net Worth: 3 Million
Anais Martinez Age, Background
Anais Martinez was born on June 22, 1984, in the Dominican Republic.
At present, she is 37 years old.
Anais, along with her family, moved to the USA while she was very young. From the age of 7, she lived in Bronx, NYC.
She grew up alongside a younger brother named Damian Martinez.
Anais grew up in a very loving family, and everyone is very close to one another.
Suggested Read: Kountry Wayne & His 10 Kids Story, Wife, Baby Mama, Net Worth
Who Is Anais Martinez Married To?
Anais has openly discussed her sexuality; she's a Bisexual.
However, we still haven't heard about any romantic escapades with any ladies out there.
Maybe Martinez has some stories and keeps it a secret, or maybe she hasn't ever involved herself romantically with some of the same sex.
Talking about her present relationship status, she is happily married to her husband.
Yes, Anais is married to her husband Ruben Brito, and that too for a very long time now.
The duo has been together for almost 15 years now.
Martinez and her husband appeared on the show Love & Hip-Hop, where fans got a closer look into their marriage.
Fans were quick to spot some trouble in the couple's relationship.
Later, Anais herself opened up about the ongoing issues with her husband. Moreover, there was this alleged fling between Martinez and Rich Dollaz. (More on that later)
She said that she's "not getting enough support from her husband in any of her decisions and responsibilities."
Additionally, she opened up about being frustrated with her domestic life.
The matter stretched to the extent where divorce looked like the only way out.
Suggested Read: Rapper Rakim [2021 Update] Age, Wife, Kids, Net Worth
Anais and Ruben – Divorce?
Luckily, the two worked things out outside, put aside the differences and put their best foot forward to save their marriage.
The primary reason for their narrow escape from the divorce was their two sons, Diamond and King.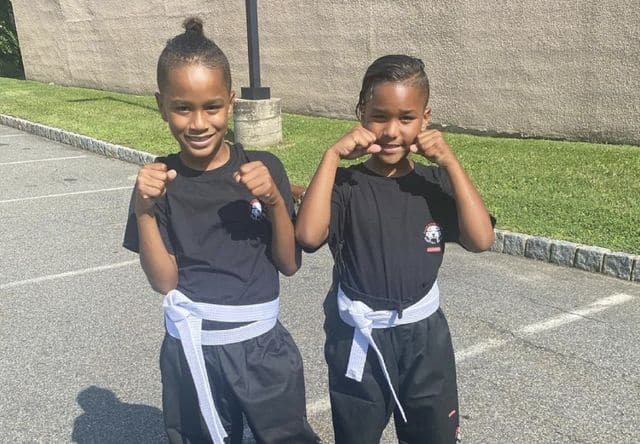 Fast forward to now, the family of 4 is happily living a fulfilled life in New Jersey, Hawthorne.
Suggested Read: Danny Koker Age, Wife, Korie Koker, Kids, Giant Net Worth
Who Is Husband Ruben Brito?
Ruben is a 55-year-old Colombian-American man.
Ruben is a businessman and the owner of M&P foreign cars, a dealership of luxury and expensive cars.
By the look of his social media, he gifts lavish cars to his ladylove time and again.
Also, Ruben never lags behind to post appreciate things about his wife on his social media handle.
From gifting her lavish cars to wishing her for mother's day, fans love the growing bond between the two.
Their 17 years of age difference does not affect them in the slightest. For Anais and Ruben, age has never been a barrier in their marriage.
The perfect definition of "Age is just a number."
Suggested Read: Erin Bria Wright [Eazy-E Daughter], Age, $50 Million, Net Worth
Anais Martinez Affairs
With fame come gossips, controversies, and alleged rumors.
Anais was no exception in this case.
As mentioned above, Anais, along with her husband, appeared in the show Love & Hip-Hop.
During the show's 8th season, Anais's flirtatious behaviors towards fellow co-star Rich Dollaz were very concerning to all the viewers.
It was later known that the duo had a budding fling right under her husband's presence.
This matter, without a doubt, brought a lot of heated arguments and troublesome situations.
Suggested Read: Rapper Matt Ox [2021 Update] Age, Mother, Father, Net Worth
Drama Escalates – Mental Health
The arguments between Anais and her husband escalated, which forced Rubin to call the cops on her.
This led to brief family separation. Ruben did not anticipate the authorities would take Martinez into a mental facility.
It all fired back into Ruben's face.
"They stopped my husband from seeing me; they didn't allow my family, nobody. And they even threatened me with taking my kids away," Anais said. "They even opened a case, an investigation to take my children away while I was in the mental facility."
Ruben wanted to take his wife home, but the authorities would not permit that.
"I got dumped in there, I was under medication, hallucinating, and all this concerned my husband because my husband was like, 'This is not right, I want my wife back.'"
Anais opened up about her mental state after the drama.
She was in a dark place which made her a brief stay at the mental facility for the possible mental illness. 
This little family rift also affected their kids in a major way.
One of Anais' kids is Autistic and working on his speech. During the time Martinez was away in a mental facility, her autistic son's speech progress degraded rapidly.
His therapist said,
"You know that affected him and his speech very much. You being away affected your child and his vocabulary. So, now he's back to not speaking again cause it kind of traumatized him that he didn't see his mother. So, he went back to shutting down again and not speaking."
However, the worked things about, and the affair was said to be over as she stopped appearing in the show post the drama and her mental illness.
Also, their son is starting to make progress since then as well.
Suggested Read: Sammy Wilk [2021 Update] Age, Siblings, Girlfriend, Net Worth
Career
Anais Martinez is a singer and a television personality.
She first got prominence after winning a reality singing competition Objetivo Fama in 2005.
Likewise, in 2006 she released her Debut Album Asi Soy, Yo, a nominee for the Latin Grammy award.
Her debut album reached 79 on Billboard hot 100.
Additionally, she was also seen on the 8th season of Love and Hip-Hop in 2017.
Suggested Read: Juliette Porter [Siesta Key] Age Boyfriend, Height, Net Worth
Anais Net Worth
The singer has amassed a net worth of $3 million throughout her career.
Anais Martinez Age
Anais Martinez is 37 years old today. She was born on June 22, 1984, in the Dominican Republic.
Anais Martinez Husband
Anais Martinez is married to Ruben Brito. The couple have been married for more than 15 years now.
Anais Martinez Children
Anais Martinez and her husband Ruben have two children together. Their names are Diamond and King. On of Anais' sons is Autistic.
Anais Martinez Net Worth
Anais Martinez has a net worth of $3 million as of 2021.
[expand title=Sources]
https://love-hip-hop.fandom.com/wiki/Ruben_Brito

http://www.vh1.com/news/342454/anais-husband-ruben-brito/
https://bossip.com/1789983/love-hip-hop-new-yorks-anais-reveals-the-state-of-her-marriage-after-affair-with-co-star-rich-dollaz-exclusive/

[/expand]