Danica Patrick is one of the best professional women racers. 
Throughout her racing career, she set records after records with her best performances in American open-wheel racing.
Let's get to know more about Danica, from her professional to personal life.
Danica Patrick Quick Facts
Birthday: March 25, 1982
Birthplace: Beloit, Wisconsin, United States
Age: 39 years old
Zodiac: Aries
Height: Five feet and two inches
Parents: Terry Joseph Patrick Jr and Beverly Ann
Siblings: Brooke Patrick
Marital Status: Divorced
Relationship Status: Dating
Ex-Husband: Paul Edwards Hospenthal
Boyfriend: Carter Comstock
Children: None
Danica Patrick Age, Background
Famous racer Danica Patrick was born on March 25, 1982, in Beloit, Wisconsin.
As of 2021, she is 39 years old. 
Moreover, she holds American nationality. Her zodiac sign is Aries.
She grew up in Roscoe, Illinois, with her parents, Terry Joseph Patrick Jr and Beverly Ann.
Danica also has a younger sister, Brooke Patrick.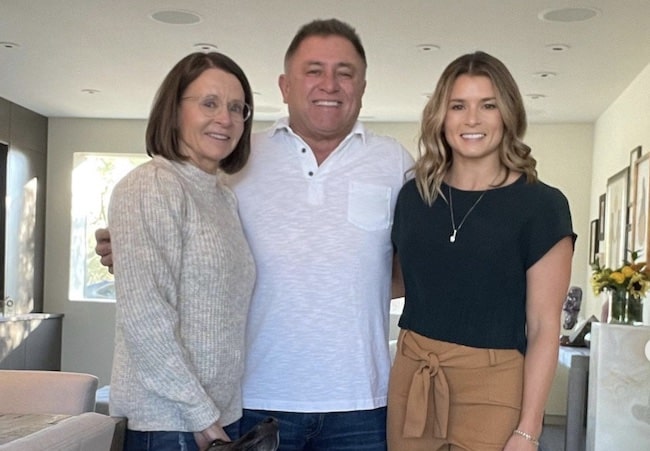 Moving on to her education, she graduated high school from Hononegah Community High School in 1990.
Suggested Read: Shawn Bradley [2021] Age, Wife, Children, Net Worth
Danica Patrick Married Life, First Husband
Danica was married to Paul Edwards Hospenthal.
Paul is a sports injury specialized therapist. 
The former couple met when Danica suffered a hip injury and sought therapy treatment from Paul.
Eventually, they formed a bond and started dating.
Later, in 2004, Patrick and Hospenthal announced their engagement.
Similarly, people could see Danica's diamond ring shining bright throughout the racing season.
After a year, Danica and Paul married each other in 2005 in Scottsdale, Arizona.
Sadly, they decided to divorce after almost eight years in 2013.
Although fans were raising their curiosity, neither of them opened up regarding the actual reason behind it. 
However, Danica did reveal that their decision to get a divorce was mutual.
Furthermore, Patrick said that Hospenthal has always been a very important person in her life and will always be.
However, rumors about Danica having an extramarital affair with Ricky Stenhouse Jr went from ear to ear at the time.
Suggested Read: Lucy Bronze [2021 Update] Age, Girlfriend, Salary, Net Worth
Danica's Relationships
Following the separation from Paul Edward, Daniel got into a relationship with Ricky Stenhouse Jr, a car racer for five years.
After five years of dating, they called it off as Ricky did not propose to Daniel as expected.
Then, Danica got into a relationship with Aaron Rodgers, a basketball player.
Just when she was looking forward to being engaged, Aaron broke up with her after two years of dating.
Suggested Read: Michael Oher [2021 Update] Wife, Son, Salary, Net Worth
Danica Patrick Boyfriend In 2021
As of 2021, Danica is in a relationship with Carter Comstock.
Carter is an entrepreneur who co-founded Freshly, a healthy meal delivery service company.
Regarding question about how the couple met each other, reportedly, one of Beam's co-founder set up the couple.
Beam is a direct-to-consumer wellness brand and both Danica and Carter are it's shareholders.
Similarly, Danica and Carter paced their relationship slow for four months.
Sometime later, Danica announced it publicly via an Instagram post.
Danica also further talked about her relationship in an interview.
"I just always imagine how great it would be to find someone to sit on the couch and talk with for hours, and that's just what we do."
Suggested Read: Derrick Henry Age, Wife, Height, Weight, Net Worth
Career
Patrick began kart racing when she was just ten years old.
Eventually, she went on to earn success at a young age by being three times winner at World Karting Association Grand National Championship 
After dropping education to focus on her career, she raced in Formula Vauxhall Formula Ford.
But she had to return to the US due to insufficient funding.
Later in 2002, she competed in Barber Dodge Pro Series for Rahal Letterman Racing and subsequently in Toyota Atlantic Series.
While racing in the 2004 Toyota Atlantic Championship, she became the first female pole position winner.
Then, Danica raced for Rahal Letterman Racing in the 2005 and 2006 IRL IndyCar Series and Andretti Green Racing in 2007.
Patrick joined the NASCAR Nationwide Series in 2010; while racing there, she became the second woman to win a pole position in the Nationwide Series.
In 2012, she got into the NASCAR Cup Series. 
Yet again, she broke the record of top ten finishes by a woman during the Sprint Cup Series, 2015.
She continued to race till 2017 and decided to retire from full-time racing due to health concerns.
Similarly, before her retirement, Patrick competed at the 2018 Daytona 500 and 2018 Indianapolis 500.
Besides racing, she has also made appearances in various movies, broadcasting channels, TV shows, music videos, and advertisements.
She also started her ventures like wine brand 'Somnium' and clothing collection 'Warrior by Danica Patrick.'
Currently, she hosts her podcast, 'Pretty Intense,' where she talks with famous personalities in various fields.
Her main motive is to promote inspiration and well-being, both physical and mental, to people.
Suggested Read: Patrick Mahomes [2021 Update] Age, Family, Salary, Net Worth
Danica Patrick Net Worth
As of 2021, Danica's net worth is estimated to be around $80 million.
Danica Patrick Age
Danica Patrick is 39 years old today. She was born on March 25, 1982, in Beloit, Wisconsin.
Danica Patrick Husband
Danica Patrick was previously married to Paul Hospenthal, a sports injury therapy specialist. The couple married in 2005 and divorced in 2013.
Danica Patrick and Aaron Rodgers
Danica Patrick and Aaron Rodgers dated each other for quite sometime. However, their relationship did not last long.
Danica Patrick Boyfriend In 2021
Today, in 2021, Danica Patrick is dating Carter Comstock, Freshly co-founder. The couple began dating in 2021 and made it official in April, 2021.
Sources