Michael Oher is one of the most famous athletes and celebrities around.
Not just because of his NFL career, but also because of how his life story became "The Blind Side" became really famous.
Learn about his wife, strained relationship with the Tuohy family, and what Michael Oher is doing today.
Michael Oher Quick Facts
Full Name
Michael Oher
Nick Name
Michael
Birth Date
May 28, 1986
Age
37 years old
Birth Place
Memphis, Tennessee, United States of America
Horoscope
Gemini
Religion
Christianity
Nationality
American
Ethnicity
African-American
Education
Briarcrest Christian School
Father's Name
Jerome Williams
Mother's Name
Denise Oher
Biological Siblings
Eight Siblings
Adopted Siblings
Collins Tuohy
Sean Tuohy Jr.
Height
6 feet 3 inches (1.92m)
Weight
140kg (308 lbs.)
Shoe Size
13 US
Hair Color
Bald
Eye Color
Dark brown
Physique (Figure)
Big
Married
Yes
Relationship Status
Married
Wife
Tiffany Roy
Girlfriend
N/A
Son
Kobi Oher
MJ Oher
Daughter
Kierstin Oher
Naivi Oher
Profession
NFL Player, Businessman
Net Worth
$10 million
Social Media
Facebook: Michael Oher

Instagram: @michaeloher
Michael Oher Is Married: Meet With Tiffany Roy!
Michael Oher is married, and his wife's name is Tiffany Michelle Roy.
While Michael Oher is 37 years old, his wife Tiffany Roy is 42 years old.
Oher and Tiffany live together as a happy couple in Nashville and run businesses together.
Michael and Tiffany's Wedding
Michael and Tiffany married each other after 17 years together as a couple.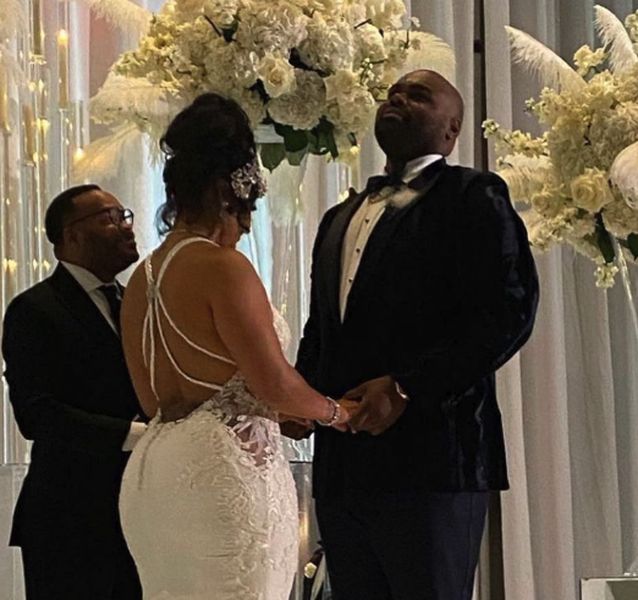 On November 5, 2022, Michael and Tiffany tied the knot and married each other in Nashville, Tennessee.
The whole affair was a very elaborate one, and every detail in their wedding reflected love.
Michael and Tiffany's wedding took place at the JW Marriott Hotel in Nashville, from where the couple had a really nice view.
A senior pastor of Mount Gilead Missionary Baptist Church in Nashville, named Breonus Mitchell, officiated the wedding.
One of the highlights of the wedding was the 7-tier wedding cake, which was covered with feathers and was nearly 5 feet long.
Michael and Tiffany invited more than 200 people to their wedding.
Suggested Read: Meet Fox News' Jessica Tarlov: Wiki, Husband, Family
Michael Oher's Uber Scandal
The couple once seemed to have troubles in their personal lives.
Back in 2017, Oher got himself arrested after he allegedly attacked an Uber driver.
According to the Uber driver, Mr. Berkessa, Oher directed him to follow a car ahead, occupied by his wife.
Furthermore, according to the Uber driver, he lost sight of the car occupied by Oher's wife, and an angry Oher began a verbal and physical assault on him.
According to official reports, Oher bit the driver on the back.
Oher and his friends who were in the Uber ride wrestled the driver, and Oher reportedly kicked him in the leg.
As of now, that issue is already settled.
Suggested Read: Meet Doug Rasheed, Chaka Khan's Ex-Husband
Who Is Michael's Wife Tiffany Oher?
Tiffany Oher is a beautiful African-American woman, born in 1981, in the United States of America.
Today, Tiffany is 42 years old.
As a young girl, Tiffany developed a keen interest in fashion, especially clothing and shoes.
Also, along the way, she became very interested in women culture and women equality.
As a result, Tiffany began her journey as an entrepreneur.
Tiffany currently runs an clothing line called Feminish Collection.
Her line of clothing focuses on bringing out the culture of women and making it available in all sizes.
Another main aspect that Tiffany focuses on is making stylish outfits that are also affordable.
Tiffany believes that fashion is more than brand names, and high end products. It is about taking what one has or can afford, then bringing it to life.
When she's not working, Tiffany likes to spend time with her husband and son.
Children, Family
Michael and his wife, Tiffany, have four kids together.
The couple have two sons, Kobi and MJ as well as two daughters named Kierstin, and Naivi.
The whole family lives together in Nashville.
Tabitha Soren Rumor
In late 2020, rumors came around that Michael Oher was married to a woman named Tabitha Soren.
However, that is not true. Tabitha Soren is married to Michael Lewis, author of "The Blind Side."
Michael Oher's real wife is Tiffany Roy, age 42.
Suggested Read: Sydney Moss Wiki, Age, Married, Baby, Mother, Net Worth
Michael Oher Bio, Age, Parents
Michael Oher was born on May 28, 1986, in Memphis, Tennessee, United States of America.
Today, Oher is 37 years old, and his zodiac sign is Gemini.
Oher was born to father Michael Jerome Williams and mother Denise Oher.
Both of Oher's parents had issues. His father, Michael Jerome Williams usually entangled in legal issues.
His mother, Denise Oher, had problems with alcoholism and drug abuse.
Oher has eight biological siblings. Among his eight siblings, Michael has five brothers and three sisters.
Later in life, Oher was adopted by the Tuohy family.
Suggested Read: Patrick Mahomes Girlfriend Brittany Matthews – She's Famous!
Michael Oher & Tuohy Family
In 2004, Oher had already lived in a couple of foster homes because his parents had their own issues and could not look after him.
As a student who went to Briarcrest Christian School, Oher became friends with Tuohy kids.
Eventually, Leigh Anne Tuohy and Sean Tuohy meet Michael and learned about his dire condition.
The couple let Oher live at their home and eventually adopted him as their own son.
After the adoption, Oher got new parents and two siblings, Collins Tuohy and Sean Tuohy Jr.
Why Michael Oher Did Not Invite Tuohy Family To His Wedding?
However, it seems like Michael Oher and the whole Tuohy family have an estranged relationship today.
As of today, Michael does not follow any of the Tuohy family in any social media platforms.
Similarly, fans noticed that none of the Tuohy family attended Michael's wedding ceremony as well.
From this we can deduce that there's a rift between Michael and the Tuohy family.
Why the rift began seems unclear as Leigh Tuohy, Michael's adoptive mother remained very close to Michael, his wife, and their kids.
Both Tuohy family and Michael have remained quiet on this matter.
Suggested Read: NFL Derrick Henry Age, Wife, Height, Weight, Net Worth
Michael Oher Career Today
Oher began playing for Baltimore Ravens back in 2009.
After a couple of years, Oher signed a $20 million contract with Tennessee Titans that span for four-years.
When his contract with Tennessee Titans expired, Oher joined Carolina Panthers for a two-year, $7 million contract.
In 2016, when Oher's contract expired, the Panthers offered him another three-year contract, worth $21 million with a signing bonus of $4 million.
Unfortunately, after a couple of matches, Oher became sidelined because of injuries.
Later, Oher failed physical tests, after which, Carolina Panthers let him go.
Oher is still unattached to any NFL team as of 2023.
Most of the time, Oher is out and about, traveling, hanging out with friends, and helping charities.  
Moreover, Oher frequently posts about his wife these days, and the couple seems to have started a business together as well.
Oher Became an Author
After his luck expired in NFL, Michael Oher has now shifted to working as an author.
Oher released his first book titled: "I Beat the Odds: From Homelessness, to the Blind Side, and Beyond," back in 2011.
He recently wrote another book which is titled: "When Your Back's Against the Wall: Fame, Football, and Lessons Learned Through a Lifetime of Adversity."
In this book, Oher talks about his greatest life lessons from the time he was at his lowest and going through it.
How Old Is Michael Oher?
Michael Oher is 37 years old. He was born on May 28, 1986, in Memphis, Tennessee, United States of America.
Who Is Michael Oher's Wife Tiffany Roy?