Wilson Bethel is one of those actors who will always remain a teenage heartthrob for a lot of ladies out there.
Bethel has appeared as an actor in Daredevil, Hart of Dixie, and several other successful movies and TV shows.
But it's about his personal life today.
Meet the person Wilson married after breaking up with Hassie Harrison
Wilson Bethel Quick Facts
Full Name
Stephen Wilson Bethel
Nick Name
Wilson
Birth Date
February 24, 1984
Age
39 years old
Birth Place
Hillsborough, New Hampshire, United States of America.
Horoscope
Aquarius
Religion
Christianity
Nationality
American
Ethnicity
American
Education
Not Disclosed
Father's Name
Steve Bethel
Mother's Name
Joyce Maynard
Biological Siblings
Audrey Bethel, Charlie Bethel
Half Siblings
Taj Estey-Betel (Father's Side)
Ray Mansfield (Mother's Side)
Kris Mansfield (Mother's Side)
Kari Kasilowski Mansfield (Mother's Side)
Height
6 Feet (1.83 m)
Weight
80 kg (180 lbs)
Shoe Size
11 US Size (Approximate)
Hair Color
Light Blonde
Eye Color
Brown
Body Measurement
Not Disclosed
Physique (Figure)
Muscular
Married
Yes
Dating
N/A
Wife
Liesl Martinez
Children
None
Profession
Actor
Net Worth
$4 million
Social Media
@wbethel
Is Wilson Bethel Married?
The short answer to this question is, yes.
Yes, Wilson Bethel is a married man.
For the most part, Wilson has remained quite silent about his personal life and that has kept fans oblivious about his status.
But it turns out, Bethel had a personal life, budding in utmost privacy.
But before anything, let's get you caught up to everything that's happening in Bethel's life.
Let's start from his dating life.
Suggested Read: Eric Braeden Married Life With Beautiful Wife & Net Worth
Wilson Bethel Relationship
There's a large number of people asking why Wilson is not dating anyone right now.
Why?
That's because he is married!
It turns out, the Hart of Dixie star is pretty good at keeping his relationship a secret.
Apparently, without fans' knowledge, Bethel was dating, and she was on good terms with his family as well.
Yes, Wilson Bethel kept his dating affair a secret for years.
In a late 2019 Facebook post, Wilson's mother, Joyce Maynard, mentioned spending Thanksgiving with Wilson and his girlfriend.

Joyce referred to Bethel's girlfriend as "his sweetheart" and wrote how she'd be spending Thanksgiving in LA with her son and his partner.
Also, around that time, Wilson fractured both of his wrists in a bicycle accident.
Now, who is Wilson's sweetheart?
Her name is Liesl Martinez and there's more to their relationship.
Wilson Bethel Married Liesl Martinez
As it happens, Wilson proposed to his sweetheart girlfriend Liesl Martinez back in early 2020.
Unfortunately, the exact date of Bethel's engagement remains unknown at the moment.
After dating for years, Wilson finally got down to one knee and proposed to his longtime girlfriend, asking her to marry him.
Ecstatic, Liesl said yes!
On November 28, 2020, Wilson Bethel married Liesl Martinez in the middle of the California desert in Joshua Tree.
Wilson's older brother Charlie Bethel officiated the wedding.
Wilson and Liesl invited only a handful of people to their outdoor.
Unfortunately, Bethel's mother, Audrey, could not be present to witness her son's wedding ceremony.
Now, fans want to know more about Bethel's wife.
Who Is Wilson Bethel's Wife Liesl Martinez?
Now that we know Bethel is married, here's some more information on his wife.
Liesl Martinez is a beautiful young lady who was born in the Dominican Republic.
She comes from a Latina background and has a very rich cultural background as well.
Currently, in her 30s, Liesl Martinez is an accomplished woman.
Liesl completed her high school education from Colegio Babeque Secundaria.
Later, Martinez moved to study at UNIBE, located in the Dominican Republic, and later at Universidad Iberoamericana, located in Mexico City.
Liesl Martinez finished her university education at Pratt Institute in New York City.
Currently, Liesl and Wilson both live together in Los Angeles, California.
Wilson Bethel and Hassie Harrison
In the early 2010s, Bethel began dating actress Hassie Harrison, an American actress.
Their relationship started as a low-key affair, which eventually made it out to public eyes.
Wilson and Hassie soon began making public appearances together and began mentioning their relationship in interviews as well.
In one interview, Bethel revealed how he enjoyed watching "The Office" together and go on little outdoor adventures as well.
In the same interview with Cosmopolitan, Bethel revealed that Hassie was his dream celeb love interest. Earning himself a couple of brownie points.
Suggested Read: Mckenna Grace Age, Kiernan Shipka, The Young and the Restless Net Worth
Wilson and Hassie Split
Despite the fact that the actor duo made a very cute couple together, their relationship did not transform into a marriage.
Hassie did feel that Wilson was a doting boyfriend, and they also had a lot of things in common as well.
Indifferent to all the romance and going out together and making public appearances, Hassie and Wilson split.
Since their split, both Wilson and Hassie have pursued love.
While The Young and the Restless actor has kept his romantic relationship with his girlfriend a secret, Hassie is quite open.
In 2021, she is dating a handsome man named Austin Nichols. Austin is an actor and a director who is famous for One Tree Hill and The Walking Dead.  
Suggested Read: Actor John-Paul Howard Wiki, Age, Parents, Girlfriend, Net Worth
Wilson Bethel Background
Wilson Bethel was born on February 24, 1984, in Hillsborough, New Hampshire, United States of America.
Today, Wilson is 38 years old, and his zodiac sign is Aquarius.
Bethel was born to father Stephen Bethel and mother, Joyce Maynard. Wilson's full and real name is Stephen Wilson Bethel.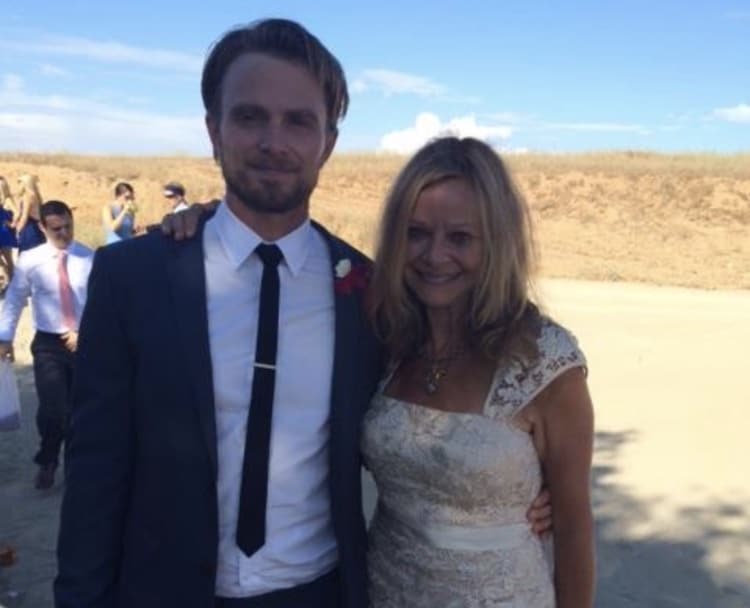 While Wilson's father is an artist and a devoted yoga practitioner, his mother, Joyce Maynard, is a celebrated novelist.
Wilson also has two older siblings; one sister named Audrey Bethel and one brother named Charlie Bethel.
Net Worth
Although Wilson has appeared in a lot of movies since the inception of his acting career, it's TV Shows that made him famous.
Bethel's big break came when he started appearing as Ryder Callahan in The Young and the Restless in 2009.
After that came Hart of Dixie, in which Bethel appeared as the main cast.
Since then, Wilson appeared in How to Get Away with Murder, Daredevil. Currently, he appears as Mark Callan in All Rise.
All of these successful appearances in major TV shows helps Wilson earn a massive amount of money.
In 2022, Wilson Bethel has a net worth of $4 million.
How Old Is Wilson Bethel?
Wilson Bethel is 38 years old. He was born on February 24, 1984, in Hillsborough, New Hampshire, United States of America.
How Tall Is Wilson Bethel?
Wilson Bethel is 6 feet or 183cm tall in height.
Is Wilson Bethel Married?
Wilson Bethel is married to Liesl Martinez. The couple got engaged in early 2020 and married on November 28, 2020, in Joshua Tree National Park.
How Much Is Wilson Bethel Worth In 2022?
In 2022, Wilson Bethel has a net worth of $4 million. He currently appears in a TV show called All Rise.
[expand title=Sources]
https://www.celebritynetworth.com/richest-celebrities/actors/wilson-bethel-net-worth/
https://www.justjared.com/photo-gallery/2979364/patrick-schwarzenegger-wilson-bethel-just-jared-halloween-party-2013-15/
https://www.cosmopolitan.com/uk/entertainment/a20317/wilson-bethel-the-ultimate-hart-of-dixie-hottie/
http://www.justjared.com/2014/12/19/hart-of-dixies-wilson-bethel-shows-us-his-heart-for-jj-spotlight/
[/expand]