Step into the world of Gabriel Iglesias and Claudia Valdez, a couple whose journey was filled with love, but not without its fair share of challenges.
From a chance encounter during a charitable event to a tumultuous battle with alcoholism and depression, their relationship was marked by highs and lows.
Despite best efforts, the couple ultimately parted ways.
As Gabriel embarked on a path to recovery, rediscovering himself and his passion, the world watched in anticipation.
Discover the untold story of Gabriel Iglesias and Claudia Valdez, two individuals who navigated fame, personal struggles, and the quest for happiness.
Gabriel Iglesias Quick Facts
| | |
| --- | --- |
| Full Name | Gabriel Iglesias |
| Nick Name | Fluffy |
| Birth Date | July 15, 1976 |
| Age | 47 years old |
| Birth Place | San Diego, California, United States of America |
| Horoscope | Cancer |
| Religion | Christianity |
| Nationality | American |
| Ethnicity | Hispanic-American |
| Education | |
| Father's Name | Jesus Iglesias |
| Mother's Name | Esther Mendez |
| Biological Siblings | 5 Siblings |
| Half-Siblings | N/A |
| Height | 5 feet 8 inches (1.77m) |
| Weight | 150kg (335 lbs.) |
| Shoe Size | 13 |
| Hair Color | Black Hair |
| Eye Color | Dark brown |
| Physique (Figure) | Heavy |
| Married | No |
| Relationship Status | Single |
| Wife | N/A |
| Ex-Girlfriend | Claudia Valdez |
| Son | Frankie |
| Daughter | N/A |
| Profession | Comedian |
| Net Worth | $40 million |
| Social Media | @fluffyguy |
Gabriel Iglesias Wife
Gabriel Iglesias has never tied the knot and, therefore, does not have a wife. However, he shared a close and significant bond with a woman who held a special place in his life, Claudia Valdez.
Due to his relationship with Claudia Valdez, many people mistakenly believe that he is married.
Iglesias and Valdez maintained a relationship that lasted over a decade, yet they never formalized their union through marriage.
Gabriel and Girlfriend Claudia Valdez

In 2008, they crossed paths during the "Make a Wish" program held at the Laugh Factory, where their connection ignited.
Both Gabriel and Claudia experienced a strong attraction towards one another, marking the beginning of their romantic journey.
Eventually, they began dating, and their relationship evolved into an official partnership.
As their commitment deepened, Gabriel and Claudia made the decision to cohabitate and share a life together.
For a considerable duration, Iglesias and Claudia resided in Whittier, California, building a home and creating memories.
However, Gabriel's battles with alcoholism and depression gradually strained their relationship, presenting challenges along the way.
Gabriel Iglesias Son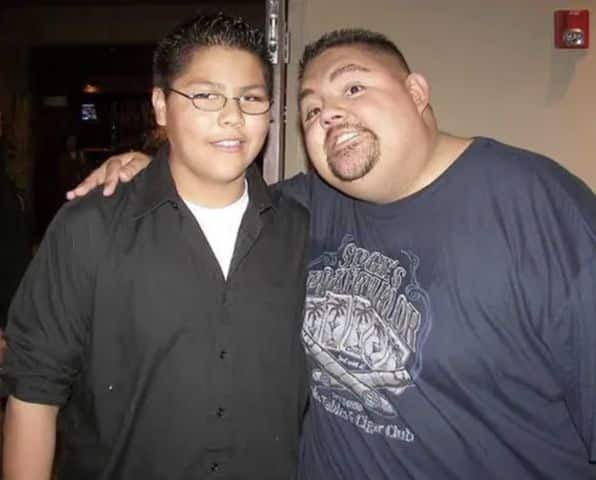 Gabriel and Claudia do not have children of their own.
However, Claudia has a biological son, Frankie, from her past relationship.
Frankie, aged 25, was born on December 8, 1997.
Although not a biological dad to Frankie, Gabriel adopted him and has taken his responsibility.
Besides, he also expressed his unwillingness to have any kids in the future to solely focus on Frankie.
Suggested Read: Manon Mathews Age, Husband, Divorce, Net Worth
Drinking Problem, Depression
For 20 years, Gabriel hadn't taken a single day off, causing a decline in his creativity and an overwhelming increase in stress.
The mounting stress led him to turn to excessive drinking as a means to fall asleep.
Although alcohol initially appeared to aid Gabriel's sleep, it swiftly began to negatively impact his daily life. It led to poor decision-making and a loss of self-confidence, harming both his personal relationships and his career.
Concerned for his well-being, Gabriel's team had to wake him up, fearing the potential consequences of his excessive drinking.
During a show in 2017, a pivotal moment occurred when Gabriel had a profound realization of how his struggles were impacting his child and girlfriend, prompting him to break down in tears on stage.
Overwhelmed by this realization, Gabriel stepped off the stage and contemplated the toll his actions were taking on himself and his family.
He made the difficult decision to cancel all upcoming tours and concerts, expressing his apologies to his fans.
Following this awakening, Gabriel engaged in therapy to address his drinking problems and combat his depression.
Additionally, he attended 12-step meetings, but eventually discontinued his participation due to a lack of privacy.
Gabriel publicly revealed that he has been sober since November 21, 2016, marking a significant milestone in his journey to recovery.
After Gabriel and Claudia's Break Up
Claudia remained supportive of Gabriel for a long time until reaching a point where she could no longer continue with the relationship.
Both Gabriel and Claudia made efforts to reconcile their differences.
In 2020, they made the mutual decision to end their 12-year relationship, bringing it to a close.
Both Gabriel and Claudia maintained a low public profile, valuing their privacy.
Despite no longer being together romantically, it has been reported that the former couple maintains a friendly and amicable relationship.
Currently, Gabriel is not publicly involved with anyone.
Similarly, there is limited information available about Claudia's current life and endeavors.
Suggested Read: Aaron Marino (Alpha M) Age, Wife, Kids, Height, Net Worth
Gabriel Iglesias Age, Background
Gabriel was born in San Diego, Calif., on July 15, 1976.
Iglesias is 47 years old and his star sign is Cancer.
Gabriel's parents are Jesus Iglesias and Esther Mendez, and he has five siblings.
Esther took on the responsibility of raising Gabriel and his siblings as a single parent.
During Gabriel's early years, his family frequently relocated, residing in various places such as Riversdale, Santa Ana, Baldwin Park, and Campton before finally settling in Long Beach.
Reflecting on his childhood, Gabriel holds mostly positive memories. Even from a young age, he had a strong desire to accomplish something significant on his own.
Suggested Read: Hannah Meloche Earning & Living The Perfect Life
Career
Before achieving fame, Gabriel worked at a cell phone company.
In 1997, despite it not being his initial career choice, Gabriel made the decision to pursue comedy. At the time, he was facing financial difficulties.
Gabriel made his debut appearance on the sixth season of Nickelodeon's sketch comedy show, "All That," which aired in 2000.
Since then, he has been involved in various movies and TV shows, including "Last Comic Standing," "Gabriel Iglesias Presents Stand Up Revolution," "Scooby-Doo! Ghastly Goals," "Modern Family," "Smurfs: The Lost Village," "Cocoa," and "Ferdinand," among others.
Currently, Gabriel is working on his upcoming movie, "Blazing Samura."
Additionally, since 2019, the 47-year-old comedian has served as the executive producer of the TV show "Mr. Iglesias."
Suggested Read: Who Is Diego Martir Girlfriend? Age, Girlfriend
Gabriel Iglesias Net Worth
Gabriel has a net worth of $40 million by the year 2023.
He lives in the Signal Hill area and is one of the best-paid comedians in the world. Sources say that he lives in a house worth $1.5 million and has a bunch of different cars.
Similarly, Iglesias is an admirer of classic Volkswagen buses and has a large collection worth $3 million.
His collection also expands to muscle cars and his most cherished muscle car is a rare Trans Am, signed by legendary actor Burt Reynolds.
Gabriel Iglesias Age
Gabriel Iglesias is 47 years old. He was born on July 15, 1976, in San Diego, California.
Gabriel Iglesias Wife
Gabriel Iglesias has never married, thus he does not have a wife. He was in a relationship with Claudia Valdez for over 12 years. They broke up in 2020.
Gabriel Iglesias Son
Gabriel Iglesias has an adopted son named Frankie. Frankie is Claudia's son from her past relationship. Frankie is 25 years old today as he was born on December 8, 1997.
Gabriel Iglesias Net Worth
Gabriel Iglesias has a net worth of $40 million as of 2023. He lives in a multi-million dollars worth home and drives exotic cars.