Last updated on May 30th, 2021 at 11:22 pm
Born on 26th, July 1974, Gary Owen is a standup comedian, television personality, and actor.
People call him the 'Funniest Serviceman in America.'
He has achieved many milestones on the way up to his career; keep reading to know more about him.
Gary Owen Quick Facts
Birthday: July 26, 1974
Birthplace:  Cincinnati, United States of America
Age: 46 years old
Zodiac Sign: Leo
Height: 6 feet 3 inches
Relationship status: Married
Wife: Kenya Duke                          
Children: Kennedy Owen, Emilio Toliver, Austin Owen
Weight: 86 kg (189lbs)
Net Worth: $3 million
Who Is Gary Owen & Why Is He Famous?
After six years in the navy, Owen decided to quit and switch to acting and comedy, where his passion actually belonged to.
Gary then started his career as a stand-up comedian, and in a very short time, he was named as 'Funniest Serviceman in America.'
Furthermore, he took a chance to audition in the show 'Comic View' and got selected.
He then started to appear as a stand-up comedian in the show.
Similarly, not only a standup comedian; he is also an actor.
Some of his major works are 'Daddy Daycare,' 'Rebound,' 'Love Chronicles,' meet the blacks and many more.
Similarly, Gary Owen has his very own show named 'The Gary Owen Show,' which aired in 2016.
Here in this series, the lives of his family were documented.
Moreover, fans get to see many aspects of his bi-racial marriage, which fans enjoyed a lot.
He has released his own comedy specials, Gary Owen: true story (2012), Gary Owen: to agree with me (2015), as well as Gary Owen: Doin what I do (2019).
Lastly, he has two stand-up DVDs: 'Breakin' Out The Park' and 'Urban Legend.'
Suggested Read: Ronny Chieng [2021 Update] Age, Wife, Kids, Family, Net Worth
Gary Owen Married Life, Wife, Kids
Gary Owen is married to Kenya Duke for over 18 years.
Owen saw Kenya at a comedy club, where he saw her and immensely liked her. Let's just say it was love at first sight.
Fortunately, he was able to get her number and called and confessed that he liked her that same night.
Now, that kind of move could have gone wrong in so many ways. But it turns out Kenya liked him too.
Soon after, they started dating each other.
Gary Owen and Kenya Duke got married on July 19, 2003. But they did not have a perfect fairytale wedding.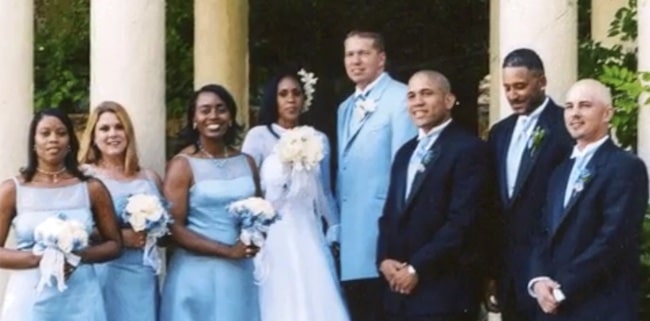 On the contrary, it was chaotic.
Suggested Read: Nancy Giles Biography: Age, Married, Husband, Salary, Net Worth
Drama At Gary & Kenya's Wedding
Instead, the couple experienced a nightmare-worthy situation that all of us would want to avoid.
Their wedding had its own ups and downs, which were followed by a series of misfortune.
Firstly their preacher left because Gary was late for his own big day.
Secondly, the baker dropped their wedding cake.
Lastly, and possibly the worst, a huge fight broke between guests.
Ugh! That's a lot of damage to be able to handle on their big day.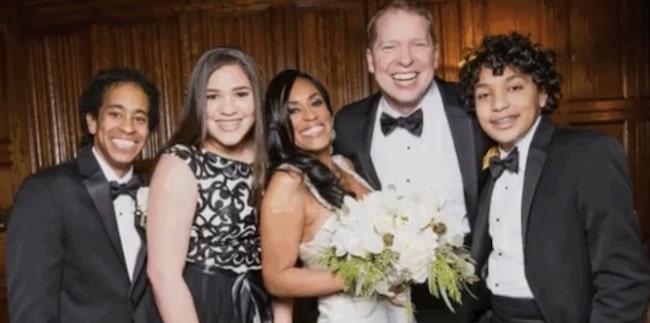 Maybe, because of how their special day turned out, the couple renewed their vows in 2015 in a private ceremony along with their kids.
Suggested Read: Who Is Jack Whitehall Dating? Age, Dating, Girlfriend, Net Worth
Gary & Kenya's Kids
The duo share two kids together: named Kennedy and Austin.
Their youngest daughter Kennedy Owen, an 18-year-old, studies at North Carolina agriculture and technical university.
His son Austin Owen followed in his dad's footsteps and became a comedian.
He did his first-ever stand-up comedy in 2018 at Tommy T's Comedy Club.
While Owen's marriage with Kenya was his first, it was a second marriage for Kenya.
Kenya was previously married to a man whose identity she never revealed.
Kenya also has a son from her past relationship named Emilio Toliver.
Despite these, the 5 are a very happy and blissful family.
Suggested Read: Joe Machi [2021 Update] Age, Wife, Family, Net Worth
Who Is Gary Owen's Wife Kenya Duke?
Kenya duke is a television personality, businesswoman, and entrepreneur.
Duke is the CEO of Premier Sports and Corporate Travel.
Apart from her business, she is also a television personality.
Duke, alongside her family, appeared in her husband's show, 'The Gary Owen Show.'
She was seen in a documentary named 'De Ray Davis: power play' in the year 2010, which brought her some limelight.
But she got fame after she got married to Gary Owen.
Suggested Read: Christina Tosi Age, Husband Will Guidara, Net Worth, 2021
Are Gary and Kenya Together? Divorce
The short answer is No. Kenya and Gary are in the process of separating.
 Kenya filed for divorce in March 2021, accusing Gary of being unfaithful to her.
A few months back, Kenya shared a post accusing a woman and Gary.
However, she later took down her post, leaving her fans shocked and confused.
Gary hasn't publicly addressed this situation.
On the other hand, Kenya remains all over it.
Moreover, somehow, Claudia Jordan, 'Real Housewives Of Atlanta,' found herself in the middle of Kenya and Owen's divorce.
Claudia took it to her Instagram and stated that she and Gary had been friends for over 20 years, and that's a line both never crossed.
Claudia quoted,
"The fact that I am being dragged into this is stupid and just not true. I have nothing to do with whatever is the reason for their divorce…sometimes people just break up."
Suggested Read: Marty Meierotto [2021 Update] Mountain Men Wiki
Kenya Demands Spousal Support
Things are starting to get messy between the duo.
After filing for divorce, Kenya has now appealed for spousal support from her soon-to-be ex-husband, Gary Owen.
Duke demands $44,000 as monthly spousal support from her husband.
Kenya claims she deserves her share since she has responsibilities for other expenses and her children.
Duke claims that the money she is asking for is the same amount he would deposit in her bank for payments and other expenses.
However, Duke reports that since the divorce, Gary has neither texted back nor reached out to Kenya, which made her appeal to the court.
Additionally, she even opened up about sacrificing her own passion.
She further stated how she left her promising career as an account manager to make Gary successful in his career.
As of now, Gary has been out of contact with his wife and hasn't sent any money to Kenya for the past two months.
For that reason, she also appealed to the court that Owen pays her a lump sum of $88,000 that Gary owes from the past two months.
Suggested Read: Larsa Pippen Net Worth & Luxury! Wiki, Age, Kids, Husband
Gary Owen Age, Family, Education
Gary was born on July 26, 1974, in Cincinnati, Ohio, United States of America.
As of today, Owen is 46 years old.
His parents are Gary Owen (father) and barb Randall (mother).
The comedian grew up with six siblings: Dallas Randall, Kyle Randall, Kayla Owens, Michelle truss, Emma Owens, and Ashley Muska.
Talking about his education, he went to Talawanda high school.
Later, when he got successful in his career, Gary was kind enough to go back there and provide scholarships to few students.
Suggested Read: Darrell Sheets In 2021! Net Worth, Married Life & Whereabouts
Gary Owen Career & Net Worth
At a young age, Gary worked in the US navy as a master at arms for six long years.
While Owen was serving in the US Navy, he was awarded many valuable awards for his selfless contributions.
Additionally, he won the funniest black comedian in San Diego and gained a lot of African- American followers.
This award landed him at his very first gig at the comedy store.
Slowly with every milestone he crossed, he got bigger and better opportunities.
Slowly and gradually, the comedian made his place stronger in the industry.
Eventually, with his hard work, he grabbed the spot of the host in the black entertainment TV's stand-up showcase, comic view.
Keeping in mind his successful career as a stand-up comedian and an actor, he has accumulated around $3 million in net worth.
Moreover, according to Kenya, Gary makes around $200,000 to $400,000 every month.
Gary reportedly earned that sum even throughout the pandemic.
Gary Owen Age
Gary Owen is 46 years old. He was born on July 26, 1974, in Cincinnati, Ohio, United States of America.
Gary Owen Family
Gary Owens has three children, including one son from wife Kenya Duke's previous relationship.
Gary Owen Kids
Gary Owens has one daughter and two sons. His daughter's name is Kennedy Owens. His sons are Austin Owens and Emilio Toliver (From Kenya's past relationship)
Gary Owen Wife
Gary Owen is married to Kenya Duke. However, Kenya has recently filed for divorce citing infidelity.
Gary Owen Net Worth
Gary Owen has a net worth of $3 million in 2021. He earns about $200,000 to $400,000 every month according to wife Kenya Duke.
Sources