The beautiful and equally talented Fox Business Network reporter Kristina Partsinevelos has one of the most charming ways of presenting herself.
If that wasn't enough, she's also a very inspirational person.
Here, learn more about this amazing woman's life. Who is she dating now, how she started in journalism?
Learn this, learn that, and everything in Between.
Who Is Kristina Partsinevelos? Age, Hometown
Kristina Partsinevelos was born on September 30, 1985.
The talented reporter was born in Quebec, Montreal, Canada.
Kristina is 38 years old today and her zodiac sign is Libra.
Kristina also has a sister named Maria Partsinevelou.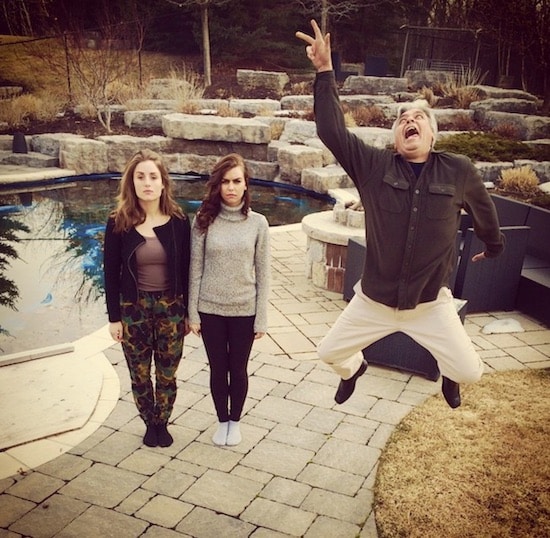 Partsinevelos spent most of her time in Canada, where she attended high school.
However, for her higher education, Kristina traveled to foreign countries.
Kristina Partsinevelos: Married, Wedding, Husband
Famous CNBC reporter Kristina is married and her husband's name is Justin Martin.
The couple married each other on August 27, 2022, in Lansing Charter Township, MI.
The couple asked their guests to not bring any gifts to their wedding.
Instead, they opened a Honeyfund page where guests could deposit desired amount towards Kristina and Justin's dream honeymoon.
Who Is Kristina's Husband Justin Martin?
Justin Martin was born in Michigan, however, he currently lives in New York City with his wife Kristina.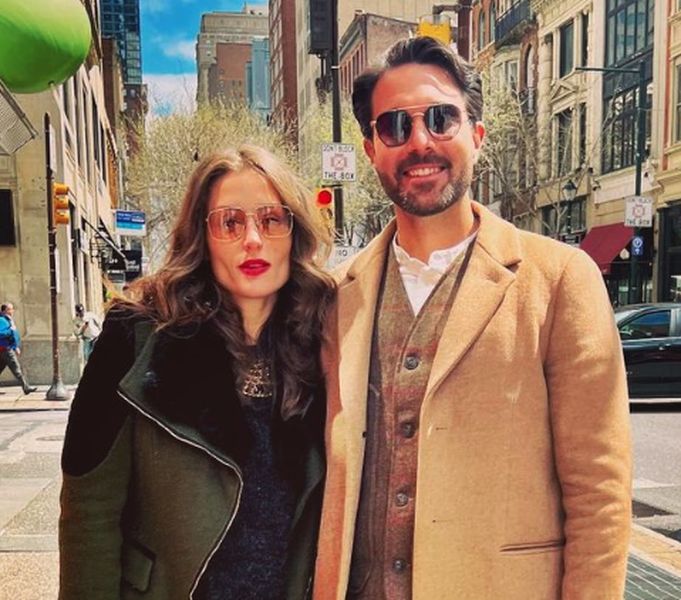 Justin Martin, Kristina Partsinevelos' husband, attended multiple educational institutions to enhance his knowledge and skills.
Martin joined Western Michigan University – Haworth College of Business in 1999 and graduated with a Bachelor of Business Administration (B.B.A.) degree in 2003.
After completing his undergraduate studies, Martin studied Credit Analysis at New York University from 2011 to 2012.
In 2014, Martin joined Master of Business Administration (M.B.A.) program at Bayes Business School, where he studied until 2016.
In 2021, Martin enrolled in the Fintech Revolution: Transformative Financial Services and Strategies program at the Wharton School.
Justin Martin has built a successful career in finance, holding various positions in different organizations.
Currently, he is employed at Investec in the Power and Infrastructure Finance department, a role he has held since January 2022.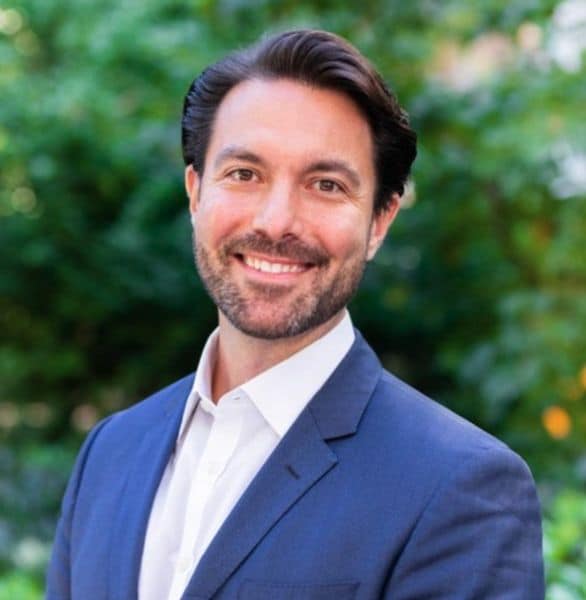 Justin began his career as a Licensed Financial Specialist at Wells Fargo (formerly Wachovia) from August 2005 to May 2007.
He then worked as an Analyst – Energy, Commodities, and Transportation at BNP Paribas Fortis from June 2007 to May 2009.
After that, Justin joined Nordea and served as Vice President – Shipping, Offshore, and Oil Services in Oslo, Norway, from April 2013 to December 2013.
He continued his tenure at Nordea as Vice President – Shipping, Offshore, and Oil Services in the Greater New York City Area from December 2013 to September 2016.
Following his time at Nordea, Justin held the position of Vice President – Natural Resources, North America at ABN AMRO Bank N.V. from September 2016 to October 2018.
Lastly, he served as the Director – Natural Resources, North America at ABN AMRO Bank N.V. from October 2018 to December 2021.
Partsinevelos: Ex-Boyfriend
The FBN reporter Kristina Partsinevelos was previously dating Dr. Mark Glaire.
To talk more about him, Mark is a doctor.
He studied at the University of Aberdeen, pursuing a degree in Medicine and Surgery and graduated in 2014.
Having worked at Oxford University Hospitals NHS Foundation Trust and Wellcome Trust, Mark currently works at the University of Oxford.
At the University of Oxford, Mark works in DPhil Biomedical and Clinical Sciences department.
However, Kristina and Mark broke up. Kristina has since deleted pictures with Mark from her Instagram.
More Stories
Partsinevelos' Education (College, University)
Initially, Kristina enrolled at Marianopolis College, located at Westmount, Quebec, in 2002.
In 2004, she graduated and received her DEC in Health Science.
The same year in 2004, Kristina enrolled to get her bachelor's degree at John Molson School of Business, located in Montréal.
In 2008, Partsinevelos graduated with a bachelor's degree in commerce and marketing.
While studying at John Molson School of Business, Partsinevelos went to Hirakata, Japan, to attend Kansai Gaidai University, where she studies health science.
While in Japan, Kristina also took Japanese speaking and writing classes along with other international business classes.
Kristina spent less than a year in Japan.
In 2011, Partsinevelos moved to Ottawa and attended Carleton University, where she pursued a master's degree.
Later in 2013, Kristina graduated with a Master of Journalism degree, focusing on broadcast journalism.
In 2015, Kristina joined two different institutes. She attended the Investor Protection Law Seminar at York University.
The same year, Kristina also completed the Canadian Securities Course at Moody's Analytics Training & Certification Services.
In 2016, Kristina traveled to the UK to enroll at the University of Oxford to pursue MBA.
In 2017, Kristina graduated with a Master of Business Administration degree like an MBA candidate at Oxford's Saïd Business School
Kristina Partsinevelos Career
In 2009, Kristina began her career as a B2B Sales Representative at Smartbox Canada.
She mostly wrote editorials and did cold calling to potential clients.
After six months at Smartbox Canada, Kristina left the organization to join Insight as a Marketing Strategy Specialist in September 2009.
In January of 2011, she became IBM Sales Specialist.
In September 2011, Partsinevelos left Insight to join The Montreal Gazette as a City Section Intern.
Later in September of 2011, Kristina began working as a Teaching Assistant at Carleton University.
In 2012, she joined CTV Montreal as a Chase Producer (Internship.)
Kristina moved to Kenya in 2012 to join A24 Media as a reporter and Chase Producer.
In February of 2013, Kristina did another one-month long internship at CTV News in Ottawa.
In May 2013, she worked at CBC as a TV and Radio Reporter and stayed there for eight months.
Kristina also served very short-lived roles in the Canadian American Business Council (2014), MaRS Discovery District (2014), Weizmann Canada (2015), and Canadian American Business Council (2015).
In December 2013, she joined Bell Media as Business News Network Reporter/ CTV Business Correspondent.
After leaving Bell Media in September of 2016, Kristina moved to the UK for her MBA degree.
In 2018, Kristina moved to the United States and joined Fox Business Network as a Business Reporter.
Kristina has also appeared in the 2014 movie "Contention" as Nadia.
Kristina Partsinevelos Career Struggles
During her career, Kristina has faced a lot of struggles.
According to an interview, several firms rejected her for diverse reasons.
From a very young age, Kristina was a fan of public speaking.
However, there were several times when her attempts were knocked out of the park because of rejection.
One time, in 2011, Kristina applied for a posting of the host in MTV Canada.
Unfortunately, even though she thought that her audition went well, MTV Canada rejected her.
However, in the rejection email, the person stated that she had what it takes to break into the broadcast industry.
That sparked a flame of motivation that helped Kristina hustle her way into the industry.
In 2017, while working for Canadian Business Network, Kristina decided to take a massive risk of moving to the United States.
She wanted to get into the big leagues aka New York City.
"All I knew was that I eventually wanted to work in the "big leagues" a.k.a. New York City."

– Kristina Partsinevelos
Partsinevelos reportedly took on debt, uprooted her life in Canada, and shift to live in the United States with hopes of making it large.
"I put myself in debt and uprooted my life to a foreign country with no guarantee of a job."

– Kristina Partsinevelos
When she first came to the United States, Kristina did not have any kind of connections here.
Therefore, she began implementing the cold call approach that she learned in her first job at Smartbox Canada.
"Hustling is how I've got past rejections, turning what would otherwise have been negative experiences into learning opportunities."

– Kristina Partsinevelos
Making Her Own Way
Kristina began sending emails to people already established in journalism.
It was when she sent a direct message to a prominent journalist on Twitter that worked out.
The journalist who worked for a national US network referred her to Fox Business, and that's how she landed a much-anticipated career in New York.
As a result of her hard work in both studies and in a professional career, Kristina won the Tim-Eisenmann award for the best speaker at the 2017 MBA Word Summit in Berlin
Partsinevelos Left FOX, Joins CNBC
In March of 2021, Partsinevelos left Fox Business Network as a business reporter.
She worked at Fox Business Network for over 3 years.
A couple months later in May 2021, Partsinevelos joined CNBC as a Full-Time Correspondent.
More specifically, Partsinevelos serves as a general assignment reporter for Business Day.
Kristina will cover stocks, investment trends around ESG and so on.
Kristina Partsinevelos Salary
In 2023, Kristina reportedly earns more than $100,000 annually.
Kristina joined CNBC as a correspondent and probably received a much bulkier salary compensation too.
While the actual numbers remain undisclosed, we believe CNBC is paying Kristina more than FOX Network did.
Kristina Partsinevelos Quick Facts
| Wiki and Bio | |
| --- | --- |
| Full Name | Kristina Partsinevelos |
| Nick Name | N/A |
| Profession | Television news reporter |
| Famous for | Fox Business Network |
| Age | 38 |
| Date of Birth | September 30, 1985 |
| Birthplace/Hometown | Quebec, Montreal, Canada |
| Nationality | Canadian |
| Sexuality | Straight |
| Gender | Female |
| Ethnicity | Mixed-Ethnicity |
| Religion | Christianity |
| Sun Sign (Zodiac Sign) | Libra |
| House In | N/A |
| Social Media Accounts | @kristinaparts [Instagram] |
| Height | 5 ft 6 in (approx. 168 cm) |
| Weight | 55 KG (121 lbs) |
| Biceps Size | N/A |
| Body Measurements | N/A |
| Shoe Size | N/A |
| Tattoo Details | N/A |
| Eye Color | Brown |
| Hair Color | Brown |
| Parents | N/A |
| Siblings | Maria Partsinevelou |
| Marital Status | Married |
| Dating History | Dr. Mark Glaire |
| Partner/Spouse | Justin Martin |
| Children | N/A |
| Highest Qualification | Master of Business Administration |
| School | Marianopolis College, John Molson School of Business, Carleton University |
| Alma Mater | University of Oxford, Saïd Business School |
| Hobbies & Favorites | N/A |
| Favorite Celebrities | N/A |
| Dream Holiday | N/A |
| Favorite Color | N/A |
| Interests | N/A |
| Net Worth | N/A |
| Salary & Earnings | Over $100,000 annually |
What Is Kristina Partsinevelos Age?
Kristina Partsinevelos is 38 years old. She was born on September 30, 1985, in Quebec, Canada.
How Tall is Kristina Partsinevelos?
Kristina Partsinevelos is 5 feet 6 inches or 168cm tall in height.
Is Kristina Partsinevelos Married?
No, Kristina Partsinevelos is not married. She was previously believed to be dating Dr. Mark Glaire.
Kristina Partsinevelos Salary
Kristina Partsinevelos earns an annual salary of over $100,000 at Fox Business Network.