Molly McGrath, the beautiful ESPN Sideline reporter, is pregnant with her husband. Here's everything that people need to know about Molly and her life with Max Dorsch.
Molly McGrath Quick Facts
Birthday: June 6, 1989
Birthplace: San Francisco, California
Age: 32 years old
Zodiac Sign: Gemini
Height: 5 feet 5 inches
Relationship Status: Married
Husband: Max Dorsch (Acquisitions Director for Taurus Investment Holdings, LLC)
Children: Not Disclosed
Molly McGrath and Max Dorsch History
Max and Molly both have a really strong bond. They often refer to one another as best friends, and that's because they are.
It wasn't a love story that started as when a mutual friend introduced Molly and Max, and they went out, began dating, and got hitched.
Max and Molly were friends for almost a decade. Yes, almost ten years of friendship that eventually became a romantic affair.
Molly has not revealed how the couple met, but it was in the late 2000s, presumably in 2008. Both Molly and Max were extremely supportive of one another, and slowly, their friendship took the shape of love.
On June 10, 2017, Max proposed to Molly, asking her to marry him.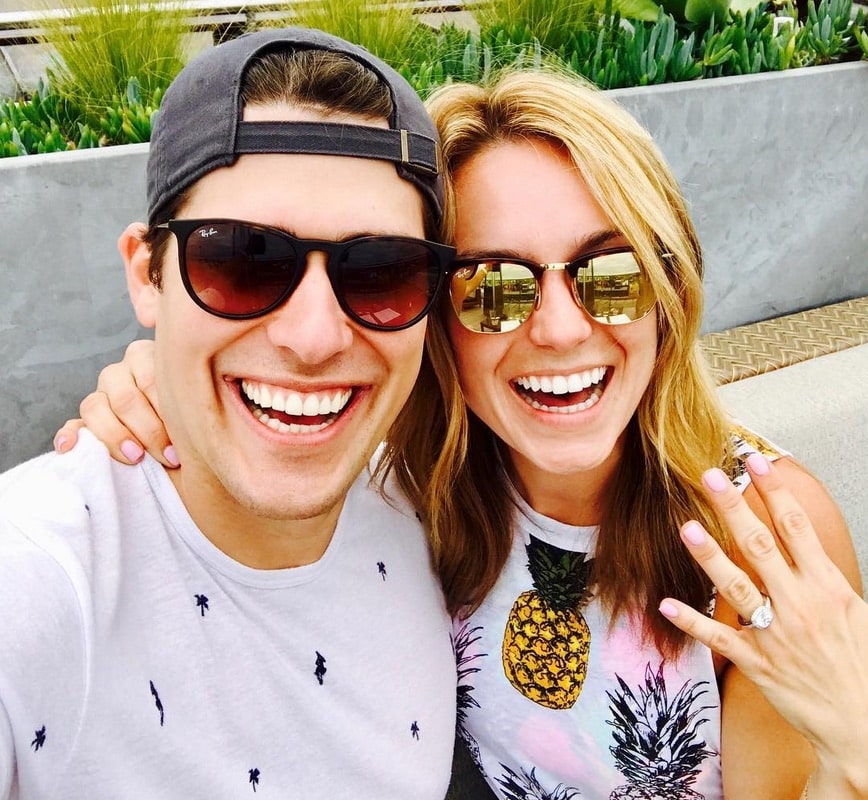 Molly showed off the ring with a big smile and announced her engagement via Instagram.
Read: Nitalia Lewis Age, Height, Job, Background, Bachelor Season 25
Molly McGrath Married, Husband
This beautiful ESPN sports reporter is already married, and that comes as no surprise.
She's beautiful, talented, passionate, and loves her work. What more does a man look in a woman before falling in love.
Max isn't guilty here.
On June 29, 2018, Molly and Max married at Resort at Squaw Creek. The venue is a luxury resort at Lake Tahoe, California, surrounded by greenery and amazing landscape.
The longtime-friends who later turned into a couple exchanged their vows, surrounded by friends and family in a beautiful setting amid trees and green grass.
Also, among their friends and family were Molly's two dogs named Stewart and Matthew.
Their ceremony was followed by a dance party which went on late at night.
Who Is Molly's Husband, Max Dorsch?
Molly is an established public figure but, her husband Max isn't. However, that does not mean Max isn't successful.
Max Dorsch was born on May 3, 1988, in Texas. He is 33 years old today.
He went to Westwood High School and later joined Syracuse University in 2006. In 2010, Dorsch graduated with a Bachelor's Degree in Finance and Marketing.
Before graduating, Max began his internship at Taurus Investment Holdings and worked there for less than a year.
In 2012, he joined Starwood Property Trust as an Analyst. Max then joined Starwood Mortgage Capital as an Assistant Vice President for Underwriting.
In 2016, He joined The Resmark Companies and worked there for nearly two years.
As of March 2018, Max has been working as an Acquisitions Director for Taurus Investment Holdings, LLC.
When not working, Max likes to go hiking and do things that are adventurous in nature.
Read: What Happened To Charlie Rose & Where Is He Now In 2020
Molly McGrath Pregnant
On September 20, 2020, Molly took the news of her pregnancy to Instagram.
She posted a picture with a sonograph image of a child, babywear, a football-inspired beanie, and a football toy.
The framed sonograph picture red the caption "Love at First Sight" and the babywear red "I'm What Happens When They Cancel Sports."
This is Molly and her spouse, Max's first child together. She hasn't revealed yet if it's a boy or a girl baby.
However, Molly did talk about her dream of becoming a mother before beginning her career in broadcast journalism.
She stated her good fortune of being able to live both of her dreams.
McGrath revealed the baby's arrival would be in the winter of 2021, presumably, in January or February.
Read: Nitalia Lewis, Bachelor Contestant – One Of A Kind
Pregnant Body Shaming
Just over two weeks after revealing her pregnancy, Molly is facing jabs that focus on her changing body.
The big round bump that most people refer to as beautiful baby bump is a part of the natural cycle but some people tweeted at McGrath, calling out on her changing body.
Since everyone knows how strong of a person McGrath, she did not sit quietly.
On October 10, McGrath took her answer to Instagram, addressed to anyone whose body shames a woman because her body is changing due to pregnancy.
"For the first time, maybe ever, I let a cruel troll tweet about the changes of my pregnant body get to me."
McGrath further mentioned all the physical pain and struggled that she's starting to face as she enters her third trimester, week 28 of pregnancy.
"Here's the thing: being pregnant is hard, especially as I enter my third trimester. My feet swell and hurt like I've never imagined and my back constantly aches. Not to mention the slew of other symptoms like nausea, heartburn, and exhaustion."
Molly further stated how she is making a human baby, from scratch, inside her body. We couldn't help but notice a hint of pride in that sentence, and rightly so as well.
"I am making a HUMAN LIFE! The baby I'm carrying around could live outside of my body right now, and my strong ass body made that baby from scratch."
McGrath went on, mentioning how her job as a sideline reporter looks easy on TV. She claimed how people don't know all the hard work that goes into her work.
"The job of a sideline reporter is also hard with the travel, prep, hustle to get information, and reality that we never get into a broadcast as much as we could have contributed."
She ended her thoughts, as a proud pregnant woman, inviting anyone who does not acknowledge how incredible women are, to kiss her "big achey butt."
"Women are freaking incredible and powerful and anyone who doesn't see that can kiss my big achey butt."
How do you guys feel about this? Is Molly's jab back at people who body shame fair or over the top?
Molly McGrath Age, Bio, Parents, Height
The American broadcaster for ESPN, Molly McGrath, was born as Molly Anne McGrath on June 6, 1989, in San Francisco, California.
McGrath is 32 years old today and stands at a height of 5 feet 5 inches.
Molly was born to father Michael Shannon McGrath, 68 years old, and mother Deborah Navarrette McGrath, 66 years old.
McGrath also has a brother named Patrick McGrath.
She spent her childhood in California and attended St. Ignatius College Preparatory in 2003.
She graduated high school in 2007.
Molly then joined Boston College in 2007 and later, in 2011, graduated with a Bachelor of Arts degree in Communication and Broadcast Journalism.
At the moment, she and husband Max Dorsch live in their Seattle home, with their two dogs.
Career, Salary
Molly began her career as an Intern for New England Sports Network in 2009.
Since then, she has worked for WHDH-TV, NBC Sports, Boston College Athletics, Boston Celtics, Fox Sports 1, and many other networks and organizations.
As of 2016, Molly serves as a Sideline Reporter and host for ESPN, alongside other hosts such as Suzy Kolber and Samantha Ponder.
With over ten years of experience in the field, Molly earns a massive salary that's above $100,000 annually.
Molly's husband, Max, also earns massive salary compensation from his position as Acquisitions Director at Taurus Investment Holdings, LLC.
What Old Is Molly McGrath?
Molly McGrath is 32 years old. She was born on June 6, 1989, in San Francisco, California.
How Tall Is Molly McGrath?
Molly McGrath is 5 feet 5 inches or 165cm tall in height.
Molly McGrath Salary?
Molly McGrath earns more than $100,000 every year.
Is Molly McGrath Pregnant?
Yes, Molly McGrath is pregnant. McGrath revealed that she and husband Max Dorsch are expecting a baby in early 2021.
[expand title=Sources]
https://www.linkedin.com/in/molly-mcgrath-60b2a024/
https://www.linkedin.com/in/rmdorsch/
[/expand]