Tracy Nelson is an actress, dancer, and writer who peaked her career in the 1980s to 2000s.
Along with her siblings, Tracy followed her parent's footsteps into the industry like it was destined to be.
Don't miss out on the article below to know more about her.
Tracy Nelson Quick Facts
Birthday: October 25, 1963
Birthplace: Santa Monica, California
Age: 58 years old
Zodiac Sign: Scorpio        
Height: 5 feet 6 inches
Relationship Status: Divorced
Husband: William R. Moses
Children: Two
Weight: 62 kg
Net Worth: $2 Million – $12 Million
Tracy Nelson Age, Background
On October 25, 1963, Tracy Nelson was born in Santa Monica, California, USA.
Tracy is 58 years old today, and her zodiac sign is Scorpio.
Furthermore, Nelson is the oldest child of her late parents, Ricky Nelson and Kristin Nelson.
Similarly, she has three younger siblings who grew up with her: Gunnar, Sam, and Matthew Nelson.
Likewise, she attended the Buckley School and graduated in 1981.
Later, Tracy joined Bard College in New York with a major in Dance and European History.
However, Nelson dropped out to focus on her progressively rising career during the '80s.
Suggested Read: Valencia Daniel Coleman [Ronnie Coleman Daughter] Age, Now In 2021
Family
Tracy's father, Ricky, was a singer, Pop Pioneer, and musician.
On the other hand, her mother, Kristin, was an actress and a painter.
The duo's high-profile lifestyle contributed to their relationship's ending.
Sadly, both of Tracy's parents aren't alive anymore.
Ricky died in a plane crash on New Year's Eve in Texas.
Tracy's mother, Kristin, died from a heart attack on April 27, 2018.
Talking about her siblings, they all followed the performing tradition as if it was passed down to their generation from their great grandparents who were involved in the same career.
Matthew and Gunman are the founders of a rock band named 'Nelson.'
Sam Nelson is an actor, along with being a music executive.
Suggested Read: Rachel Bradshaw [Terry Bradshaw Daughter] Age, Now In 2021
Who Is Tracy Nelson's Husband?
Tracy Nelson was married to actor William R Moses for a decade.
The pair tied the knots in 1987.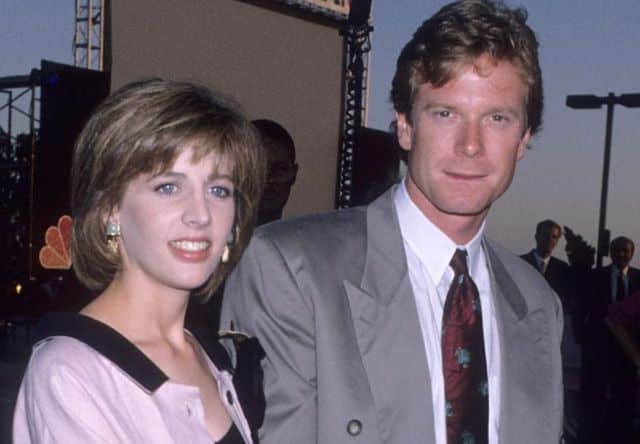 From their marriage, Tracy and William welcomed their only daughter named Remington Elizabeth Moses in 1992.
She has followed her parent's footsteps into the entertainment industry as an actress.
After a decade of being married, Nelson and Moses parted ways in 1997.
After her split, the actress went ahead to form a romantic bond with actor Chris Clark.
Rumors have it that they were engaged but later called off their engagement and split.
The pair shares a son together named Elizah Nelson Clark.
Nothing more about their relationship was known or talked about.
As of now, Tracy is presumably single. With growing age, she might want company for herself. Nevertheless, time will tell.
Suggested Read: Amy Slaton Husband Michael Halterman, Age, Weight Loss, Net Worth
What Is Tracy Nelson's Net Worth?
Tracy has worked in the industry as an actress for decades now, which means she has built a strong and stable net worth for herself.
However, like every other celebrity, she has chosen not to reveal her fortunes and net worth.
Additionally, many web portals have a different net worth figure for her.
Moreover, she has a stunning net worth that ranges between $2 Million and $12 Million.
Suggested Read: Drew Sidora Age, Husband, Children, Net Worth, 2021 Update
What Is Tracy Nelson Up To Now In 2021?
The actress has survived three kinds of cancer.
In 1987, she was diagnosed with stage 2 of Hodgkin's Lymphoma but fought like a champ.
Unfortunately, what helped her get through Hodgkin's Lymphoma caused another cancer.
Yes! Radiations from chemotherapy caused Thyroid cancer in 2005.
Similarly, in 2010 she was diagnosed with breast cancer. Nonetheless, she fully recovered from all three of the life-threatening cancers.
So now, she is an advocate for cancer and its awareness.
As of today, she contributes as a spokesperson for the Lymphoma research foundation America.
Tracy Nelon Age
Tracy Nelson is 58 years old today. She was born on October 25, 1963, in Santa Monica, California, United States of America.
Tracy Nelson Husband
Tracy Nelson is not married as of today. She was previously married to William R Moses for a decade until 1997.
Tracy Nelson Children
Tracy Nelson has a daughter named Remington Elizabeth Moses born in 1992 with husband William R Moses. She also has a son named Elizah Nelson Clark with former partner Chris Clark.
Tracy Nelson Net Worth
Tracy Nelson has a net worth that ranges between $2 million and $12 million.
[expand title=Sources]
https://www.datalounge.com/thread/12093248-tracy-nelson-is-an-unfortunate-acceptable-loss
[/expand]