Ashley Morrill is one of the member of reality TV show, 'Maine Cabin Master.'
Her commendable skills, along with the team to turn cabins buried deep down into the woods into a freshly renovated place, have been an interest of many people.
But more than anything, she wants to be a stay-at-home, dog mom.
Ashley Morrill Quick Facts
| | |
| --- | --- |
| Full Name | Ashley Morrill |
| Nick Name | Ash |
| Birthday | January 27, 1976 |
| Age | 47 years old |
| Birth Place | Maine USA |
| Horoscope | Aquarius |
| Religion | Christianity |
| Nationality | American |
| Ethnicity | Caucasian |
| Education | University of Maine |
| Father's Name | Eric Morrill |
| Mother's Name | Peggy Morrill |
| Brothers | Chase Morrill |
| Sisters | |
| Height | 5 feet 6 inches (1.68m) |
| Weight | 65 kg (143 lbs) |
| Shoe Size | 8 |
| Hair Color | Brown |
| Eye Color | Brown |
| Physique (Figure) | Fit |
| Sexuality | Straight |
| Married | Yes |
| Relationship Status | Married |
| Husband | Ryan Eldridge |
| Ex-Partner | |
| Son | |
| Daughter | |
| Famous As | Reality Star |
| Net Worth | $250,000 |
| Social Media | @ashley_maine_cabin_masters |
Ashley Morrill Husband, Married Life
Ashley Morrill is a married woman.
She married her long-time boyfriend, Ryan Eldridge.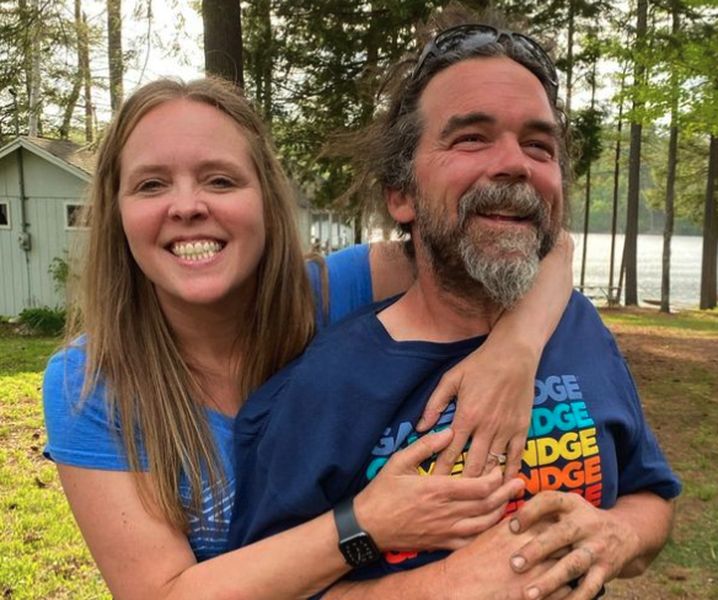 The couple met each other, and slowly, one thing led to the other. Eventually, Ashley and Ryan began dating.
Their dating relationship went on for years, and when the right time came, Ryan took it to another level and asked Ashley to marry him.
During one of the Q/A sessions, the interior designer also revealed that her now-husband proposed to her a day after attending Willie Nelson's concert.
Ashley Morrill and Ryan Eldridge married each other on July 19, 2014, in Maine. w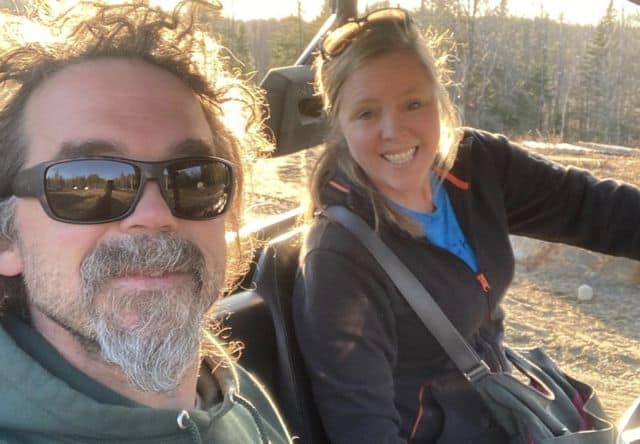 Ryan has always been one of the most appreciative and expressive individuals in Ashley's life.
He never holds back his feelings for his significant other. All in all, Ryan and Ashley are hopelessly and head over heels in love with each other.
He is always all praise for his wife.
Suggested Read: Jimmy Riffle Age, Wife, Married Life, Relationship, Married, Kids
Does Ashley Morrill Have Kids?
The couple is yet to start a family of their own. Back in 2020, a picture that Ryan posted on his social media gathered a lot of attention.
The viewers assumed Ashley became pregnant as the picture heavily indicated that possibility. However, that was just a wild guess by some followers.
Nevertheless, the couple is dog parents to two adorable dogs named Guss and Sadie.
Who Is Her Husband Ryan Eldridge?
Ryan Eldridge is best known as one of the cast members of the reality TV show 'Maine Cabin Master.'
He appears alongside his wife on the show, doing some major makeovers to the old cabins.
The couple's chemistry, along with his personality, remains one of the show's attractions for the viewers.
Suggested Read: Kara Keough Bosworth Age, Kyle Bosworth, Kids, Net Worth
Ashley Morrill Age, Background
Ashley was born on January 27, 1976, which makes her 47 years old.
She is the older child of parents Eric and Peggy Morrill.
Ashley has a younger brother named Chase Morrill, who is 45 years old today.
Ashley's father, Eric, was a professional building constructor who passed on his skills to his offspring.
His hard work to coach his children paid off in the long run, keeping his legacy alive.
Unfortunately, Eric succumbed to cancer in 2014. However, people still remember him via the work and skills he passed on to his kids Ashley and Chase.
Furthermore, Ashley graduated from the University of Maine with majors in Graphics design.
Suggested Read: Chase Morrill Age, Wife, Kids, Maine Cabin Masters Now
Net Worth
Ashley Morrill has a net worth of $250,000 as of 2023.
Suggested Read: Shelby Stanga Age, Wife, Kids, Death, Net Worth
Where Is She Now Today?
Ashley is an interior designer and now a cast member of DIY Network's show 'Maine Cabin Master.'
She appears there with Matt Dix, Ryan Eldridge, Jared Baker, Brad Weston, Lance Gatcomb and her brother Chase Morrill.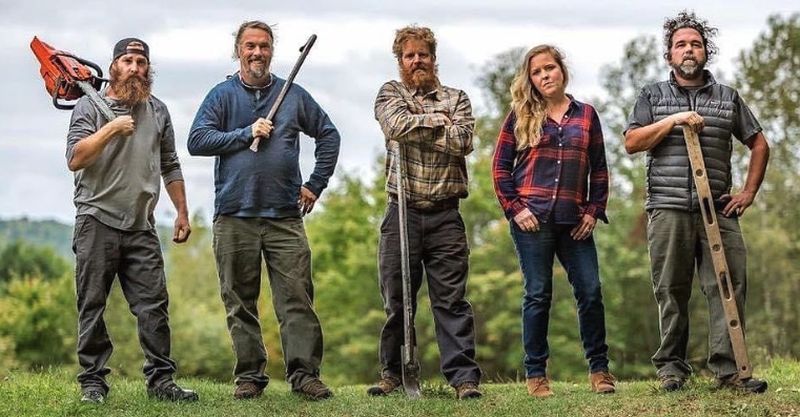 She has expertise in interior designing's and paintings.
Once asked what she loved the most, Ashley answered, "I love paintbrush, oil paints, and painting everything."
As one of the casts of high-rated shows of DIY, Ashley saw new heights of success.
Furthermore, Ashley, along with her brother Chase owns a business called 'Kennebec Cabin Company.'
So, as of 2023, she continues to work in the show as well as handle the business.
Interesting Facts About Ashley Morrill
When asked about her aspirations for the future, Ashley's response has remained consistent for years: she dreams of being a stay-at-home dog mom.

If Ashley ever had to change her name, she would choose her married name, Ashley Rae Eldridge. However, she admits that the process of changing her name seems daunting, as she's unsure where to begin or where the necessary documents are located.

One of Ashley's peculiar talents is twirling her hair around her nose and making it stick, a seemingly useless yet oddly entertaining trick she finds herself doing quite often.

In her rare moments of spare time, Ashley loves going on vacations and traveling whenever possible, although she humorously suggests that spare time is scarce for her.

Ashley draws inspiration from her dad.

Her favorite movie is "Gone with the Wind." She claims to know every single line and has watched it countless times.

Her favorite song is "Jack Straw" by the Grateful Dead and enjoys watching baseball the most.

Ashley's favorite place to visit is Clearwater Lake.

If Ashley had the chance to meet someone from history, she would choose Willie Nelson, despite him still being alive. She expresses her admiration for him and shares the story of Ryan proposing to her the day after attending a Willie Nelson show. She even dreams of becoming best friends with him.
Ashley Morrill Age
Ashley Morrill is 47 years old today. She was born in Maine, United States of America, on January 27, 1976.
Ashley Morrill Husband
Ashley Morrill is married to her longtime boyfriend-turned-husband Ryan Eldridge. The couple married in July 19, 2014.
Ashley Morrill Now
Ashley Morrill currently appears on Maine Cabin Master and runs a business called Kennebec Cabin Company.
[expand title=Sources]
https://mainecabinmasters.com/meet-the-masters/ashley/
[/expand]