Last updated on January 7th, 2023 at 02:26 am
Ashley Morrill is one of the DIY channels reality show casts, 'Maine Cabin Master.'
Her commendable skills, along with the team to turn cabins buried deep down into the woods into a freshly renovated place, have been an interest of many people.
Ashley Morrill Quick Facts
Birthday: January 27, 1976
Birthplace: Maine, USA
Age: 47 years old
Zodiac Sign: Aquarius
Height: 5 feet 6 inches
Brother: Chase Morrill
Relationship Status: Married
Husband: Ryan Eldridge
Children: None                               
Weight: 65 kg                       
Net Worth: $250,000
Ashley Morrill Age, Background
Ashley was born on January 27, 1976, which makes her 47 years old at present.
She is the older child of parents Eric and Peggy Morrill.
Ashley has a younger brother named Chase Morrill, who is 45 years old today.
Ashley's father, Eric, was a professional building constructor who passed on his skills to his offspring.
His hard work to coach his children paid off in the long run, keeping his legacy alive.
Unfortunately, Eric succumbed to cancer in 2014. However, people still remember him via the work and skills he passed on to his kids Ashley and Chase.
Furthermore, Ashley graduated from the University of Maine with majors in Graphics design.
Suggested Read: Chase Morrill Age, Wife, Kids, Maine Cabin Masters Now
Ashley Morrill Husband, Married Life
Ashley Morrill is a married woman.
She married her long-time boyfriend, Ryan Eldridge.
The couple met each other, and slowly, one thing led to the other. Eventually, Ashley and Ryan began dating.
Their dating relationship went on for years, and when the right time came, Ryan took it to another level and asked Ashley to marry him.
During one of the Q/A sessions, the interior designer also revealed that her now-husband proposed to her during the concert of Willie Nelson.
While there's no official announcement or official wedding date available, we've found something.
A little digging into Ryan's Instagram page revealed their wedding date.
In one of the posts of July 19, 2021, he wished Ashley a happy seventh wedding anniversary.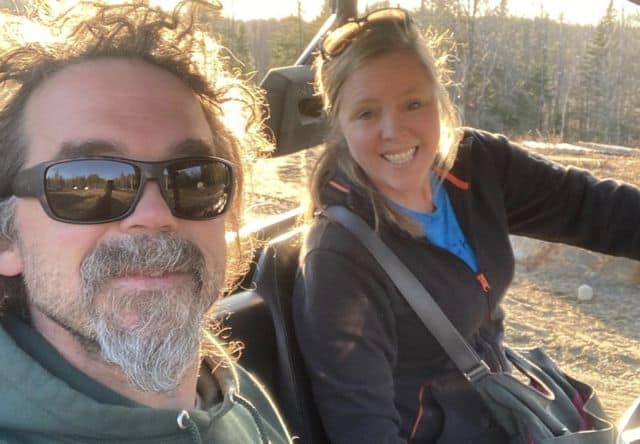 With that being said, the duo got married in July 19, 2014.
Ryan has always been one of the most appreciative and expressive individuals in Ashley's life.
He never holds back his feelings for his significant other. All in all, Ryan and Ashley are hopelessly and head over heels in love with each other.
He is always all praise for his wife.
Suggested Read: Jimmy Riffle Age, Wife, Married Life, Relationship, Married, Kids
Does She Have Kids?
The couple is yet to start a family of their own. Back in 2020, a picture that Ryan posted on his social media gathered a lot of attention.
The viewers assumed Ashley became pregnant as the picture heavily indicated that possibility. However, that was just a wild guess by some followers.
Nevertheless, the couple is dog parents to two adorable dogs named Guss and Sadie.
Who Is Her Husband Ryan Eldridge?
Ryan Eldridge is best known as one of the cast members of the reality TV show 'Maine Cabin Master.'
He appears alongside his wife on the show, doing some major makeovers to the old cabins.
The couple's chemistry, along with his personality, remains one of the show's attractions for the viewers.
Suggested Read: Kara Keough Bosworth Age, Kyle Bosworth, Kids, Net Worth
Net Worth
Ashley Morrill has an estimated net worth of around $250,000 as of 2023.
Suggested Read: Shelby Stanga Age, Wife, Kids, Death, Net Worth
Where Is She Now Today?
Ashley is an interior designer and now a cast member of DIY Network's show 'Maine Cabin Master.'
She has expertise in interior designing's and paintings.
Once asked what she loved the most, Ashley answered, "I love paintbrush, oil paints, and painting everything."
As one of the casts of high-rated shows of DIY, Ashley saw new heights of success.
Furthermore, Ashley, along with her brother Chase owns a business called 'Kennebec Cabin Company.'
So, as of 2023, she continues to work in the show as well as handle the business.
Ashley Morrill Age
Ashley Morrill is 47 years old today. She was born in Maine, United States of America, on January 27, 1976.
Ashley Morrill Husband
Ashley Morrill is married to her longtime boyfriend-turned-husband Ryan Eldridge. The couple married in July 19, 2014.
Ashley Morrill Now
Ashley Morrill currently appears on Maine Cabin Master and runs a business called Kennebec Cabin Company.
Sources