Last updated on January 11th, 2022 at 02:43 am
Gabriel Iglesias is widely recognized as 'Fluffy' is a comedian as well as an actor.
He is known for his acclaimed comedy movies and shows, and stand-ups.
Let's get to know about Gabriel below, including his family, girlfriend, children, and more.
Gabriel Iglesias Quick Facts
Birthday: July 15, 1976
Birthplace: San Diego, California, USA
Age: 45 Years Old
Zodiac: Cancer
Height: 5 and 8 inches
Parents: Jesus Iglesias and Esther Mendez
Siblings: 5
Relationship Status: Single
Partner: Claudia Valdez (Former)
Children: Frankie (Son)
Gabriel's Son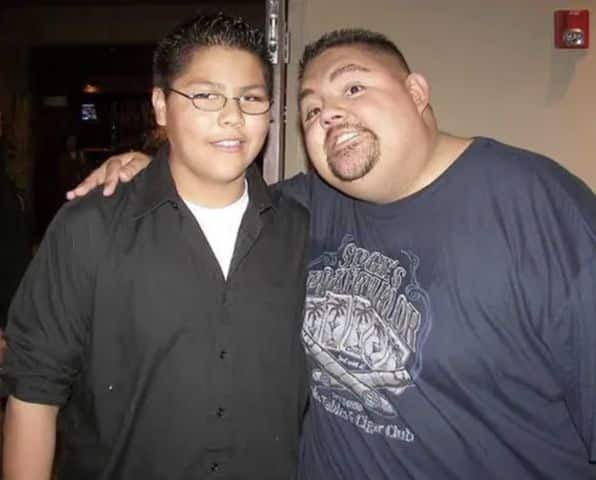 Gabriel and Claudia do not have children of their own.
However, Claudia has a biological son, Frankie, from her past relationship.
Frankie, aged 24, was born on December 8, 1997.
Although not a biological dad to Frankie, Gabriel adopted him and has taken his responsibility.
Besides, he also expressed his unwillingness to have any kids in the future to solely focus on Frankie.
Suggested Read: Manon Mathews [2022 Update] Age, Husband, Divorce, Net Worth
Gabriel Iglesias Wife & Married Life
No, Gabriel has not been married to anyone.
Many speculate that he's married, referring to his relationship with Claudia Valdez.
Although the longtime couple was together for more than a decade, Iglesias and Valdez never married.
On the contrary, Iglesias and Valdez ended their relationship in 2020. More about it later on. 
Let's get to know more about their relationship and more.
Suggested Read: Dude Perfect Coby Cotton [2022 Update] Age, Wife, Kids, Net Worth
Gabriel and Claudia Valdez Relationship
The couple met during the Laugh Factory's 'Make A Wish' program in 2008.
Both noticed the attraction between one another, giving a start to a romantic journey ahead.
Eventually, they started meeting for dates and officially began their relationship.
As their relationship became more and more serious, Gabriel and Claudia moved in and began living together.
For a long time, the couple lived together in Whittier Community, California.
However, their relationship took a downhill turn when Gabriel began having trouble with alcoholism and depression.
Thereafter, the couple decided to separate in 2020, ending their 12 years relationship.
Suggested Read: Aaron Marino (Alpha M) Age, Wife, Kids, Height, Net Worth
Drinking Problem, Depression
After working for 20 years without taking a day off, Iglesias could feel himself losing his creativity and increasing stressing more than ever.
Due to the constant pressure, he had gotten into a habit of frequent drinking to help him fall asleep.
This habit led to poor decision-making and degrading self-ability, affecting both his personal life and career.
According to Fluffy, his team had to wake him up with the constant fear of something bad happening to him.
During a show in 2017, he came to a harsh realization about how his issues have been affecting his child and girlfriend, which choked him up on stage.
After that feeling surged, he got off the stage, and questioned what he was doing with himself and his family.
Gabriel canceled his entire upcoming tours and shows and conveyed his apologies to the fans.
Thereafter, he had a conversation with Frankie and apologized for being unavailable, to which his son replied, "It's okay," with a hug.
Moving on, he started attending therapies for drinking issues and depression.
The worldwide comedian also attended 12 step meetings but later left due to lack of privacy.
He revealed that he's been sober since November 21, 2016.
Suggested Read: Gamer Moo Snuckel Real Face, Age, Girlfriend, Net Worth
After Gabriel and Claudia's Break Up
As of now, Gabriel is not known to be involved with anyone else.
Likewise, there is no news regarding Claudia's present affairs.
As both of them prefer to maintain their privacy, Gabriel and Claudia do not reveal much to the public.
However, the former couple reportedly maintains a good relationship even after separation.
Suggested Read: YouTuber Kwebbelkop Has New Girlfriend? Age, Net Worth
Gabriel Iglesias Age, Background
Gabriel was born on July 15, 1976, in San Diego, California.
As of 2022, Iglesias is 45 years old, and his zodiac sign is Cancer.
He was born to his father, Jesus Iglesias, mother, Esther Mendez, and five siblings regarding his family.
His mother, Esther, raised him and his siblings as a single mother.
During his early childhood, the family moved from places to places like Riversdale, Santa Ana, Baldwin Park, and Campton before permanently settling in Long Beach.
For the most part, Gabriel's childhood has good memories. However, even growing up, Gabriel always wanted to do something big by himself.
Suggested Read: Hannah Meloche Earning & Living The Perfect Life
Career
Before fame, Gabriel worked at a cell phone company.
He decided to choose comedy as a career in 1997 which brought inconveniences over him.
In 2000, he made his debut appearance in the sixth season of Nickelodeon Sketch Comedy, All That.
Since then, he has worked on various movies and Television series like Last Comic Standing, Gabriel Iglesias Presents Stand Up Revolution, Scooby-Doo! Ghastly Goals, Modern Family, Smurfs: The Lost Village, Cocoa, and Ferdinand, to name a few.
As of now, Gabriel is working on his upcoming movie, 'Blazing Samura.'
Also, the 45-year-old is the executive producer of the series 'Mr. Iglesias' since 2019.
Suggested Read: Who Is Diego Martir Girlfriend? [2022 Update] Age, Girlfriend
Gabriel Iglesias Net Worth
As of 2020, Gabriel was estimated to have accumulated a net worth of around $40 million.
Being one of the highest-paid comedians worldwide, he resides in the Signal Hill area.
According to sources, he lives in a house worth $1.5 million and has a collection of various automobiles.
Gabriel Iglesias Age
Gabriel Iglesias is 45 years old today. He was born on July 15, 1976, in San Diego, California
Gabriel Iglesias Wife
Gabriel Iglesias has never married, thus he does not have a wife. He was in a relationship with Claudia Valdez for over 12 years. They broke up in 2020.
Gabriel Iglesias Son
Gabriel Iglesias has an adopted son named Frankie. Frankie is Claudia's son from her past relationship. Frankie is 24 years old today as he was born on December 8, 1997.
Gabriel Iglesias Net Worth
Gabriel Iglesias has a net worth of $40 million as of 2022. He lives in a multi-million dollars worth home and drives exotic cars.
Sources