Last updated on September 4th, 2021 at 12:07 am
Chanel West Coast is an aspiring rapper, actor, and singer. She got recognition from the show Rob Dyrdek's fantasy factory and another show, Ridiculousness. 
Chanel West Coast Quick Facts
Birthday: September 1, 1988
Birthplace: Los Angeles, California, USA
Real Name: Chelsea Chanel Dudley
Age: 33 years old
Zodiac Sign: Virgo 
Height: 5 feet 5 inches   
Relationship Status: single
Boyfriend: Unknown
Children: 0                              
Weight: 50 kg 
Net Worth: $6 million
Chanel West Coast Age, Background
Chelsea Chanel Dudley, famously known by her stage name Chanel West Coast was born on September 1, 1988, in Los Angeles, California, USA.
As of today, she is 33 years old.
Suggested Read: Ali Stroker, From Wheelchair To Hollywood & Love
Chanel West Coast Parents
Young singer Chanel was born to an English descent mother, Jamie Penny Porsche Dudley, and a Russian, Jewish descent father.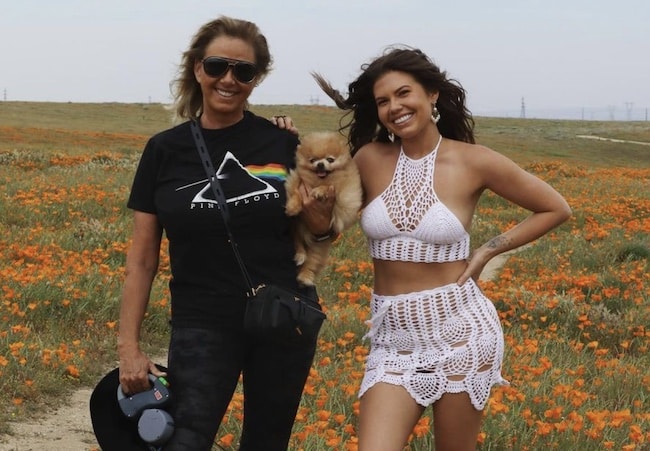 The marriage between Coast's parents turned sour, which led to divorce while Chanel was still very young.
This caused a slightly unusual childhood experience for Coast.
Receiving a request to choose whom she wanted to be with after the divorce was an unfamiliar situation to Coast as a child.
She decided to spend equal time with both her parents.
Moreover, she spends half her childhood with her mom in North Hollywood, whereas the other time with her dad in New York.
According to Chanel, Jamie cultivated and sold weeds for her livelihood or "To pay bills."
Suggested Read: Titus Makin Jr From 'Glee' & His Love Life in 2021
Coast's Interest In Music
Her dad was a renowned local DJ in New York.
While staying with her dad, she would accompany him to his work at nightclubs around NYC.
She used to hide under the DJ booth and sometimes help him with the songs.
During an interview, Chanel Opened up about her interest in music and credited her dad for it.
She says, "I remember just dreaming of one day, my dad pulling out my record to play."
Furthermore, Chanel has a stepmother named Linda.
The duo seems to have a pretty close bond with one another as Chanel wished them on their 16th anniversary with a joyful caption dedicated to her especially.
Suggested Read: Rupert Everett Partner Revealed! Age, Bio, Net Worth
Is Chanel West Coast Transgender?
Chanel has been subject to a lot of rumors and controversies, including her sexuality.
It all started back in 2015 with a meme trend.
According to those memes, Lee Noris, who portrayed nerd in one movie, had now transformed herself into Chanel West Coast.
The comparison picture of their resemblance was the subject of trolls and laughter for a while.
Moreover, via recommended content on our social media with misleading and false heading to attract revenues and readers.
The "Clickbait ads" gave fuel to the fire.
Similarly, the rumor spread like wildfire, and the media outlets took advantage of it, riding the wave.
Ultimately, it took a toll on her reputation and rising fame.
Nevertheless, she is heterosexual, and even her dating history doesn't say otherwise.
Suggested Read: Manon Mathews [2021 Update] Age, Husband, Divorce, Net Worth
Who Is Chanel West Coast dating?
The 33-year-old is reportedly single currently.
There isn't any instance that says she is dating or the opposite.
Her Instagram is filled with either her music promotion or her stunning pictures.
We are yet to know if she is seeing someone, but for now, she completely indulges in the climbing success of her career.
However, back in the days, she was linked to a couple of guys. Let's know more about her past relationships.
Suggested Read: Rome Flynn [2021 Update] Girlfriend, Dating, Family & Net Worth
Coast's Ex-Boyfriend Liam Horne
Liam Horne is a Scottish singer.
Liam and Chanel were in a long-term public relationship with each other.
Chanel and her fellow musician were together for four years, from 2015-2017.
The duo was so in love, and their love and PDA while in public appearances never went unnoticed by everyone.
They even collaborated on one of Chanel's albums in 2015.
However, the couple parted ways after being together for a long time, right before Chanel was all set to join the show's cast: Love & Hip-Hop: Hollywood.
The reason behind the split remains undisclosed. Fans hoped for their rebound, which certainly never happened.
Both moved on for good.
Suggested Read: Carl Marino In 2021: Age, Wife, Married, Net Worth
Solo Gucci and Chanel Coast Relationship
After joining the cast of Love $ Hip Hop: Hollywood, Coast reportedly began dating fellow cast member Solo Gucci.
Her rumored romance did not, however, last very long.
Their on-air romance made a lot of viewers question the originality of the show.
Many presumed their romance was another scripted storyline to raise the TRP of the show, while some believed it was a genuine connection between the two.
Nevertheless, it short-lived, and once in an interview, Chanel called Solo Gucci her "TV Boo."
Suggested Read: Gwendolyn Osborne [ 2021] Age, Husband, Kids, Height, Net Worth
Rob Dyrdek and Chanel
Rob and Chanel met through one of Rob's cousins, who happened to be Chanel's close friend.
They bonded pretty quickly, and Rob liked her personality instantly.
Rob offered her a job as a receptionist for him. If we had more specific, he asked her to be his "rapper receptionist."
Furthermore, she appeared in the reality series called 'Rob Dyrdek's Fantasy Factory,' where she came off as a receptionist.
This was when fans speculated about them being together.
But the couple kept denying being an item.'
Additionally, Rob is married to Bryiana Noelle Flores since 2015 and has two kids.
Chanel says, "He lives in a mansion with the cutest family," she even gushed to InStyle. "So, he's super happy."
After the first show, the duo came back together with another show called Ridiculousness as a Co-Host.
Viewers often complemented their on-screen chemistry and connection. However, that looks like the end wall to their relationship.
Chanel West Coast Age
Chanel West Coast is 33 years old. She was born on September 1, 1988, in Los Angeles, California, USA.
Chanel West Coast Parents
Chanel West Coast's parents divorced when she was very young. Her biological mother is Jamie Penny Porsche Dudley. Her step-mother's name is Linda. She is close with both of them.
Is Chanel West Coast Dating?
As of today, Chanel West Coast is not dating anyone. She had relationships and boyfriend in the past.
Sources