Chris Distefano is a comedian, actor, and writer best known for his stand-up comedy performances and for appearing as Eric on the famous MTV series "Guy Code." 
He has also appeared on "Adam Devine's House Party," "This is Not Happening," and "Girl Code." 
With his unique brand of observational and relatable humor, Chris quickly became a favorite among a large number of people.
Chris Distefano Quick Facts
Full Name
Chris Distefano
Nick Name
Chris
Birth Date
August 26, 1984
Age
39 years old
Birth Place
Brooklyn, New York, United States of America
Horoscope
Virgo
Religion
Christianity
Nationality
American
Ethnicity
Italian-American
Education
Archbishop Molloy High SchoolNew York Institute of Technology
Father's Name
Tony Distefano
Mother's Name
Donna Distefano
Biological Siblings
One brother and one sister
Half-Siblings
Height
5 feet 10 inches (1.78m)
Weight
89 kg (197 lbs.)
Shoe Size
12
Hair Color
Black
Eye Color
Dark Brown
Physique (Figure)
Fit
Married
Yes
Relationship Status
Married
Wife
Jazzy Distefano
Ex-Wife
Step-Son
Tristan
Daughter
Delilah Distefano
Violette Distefano
Profession
Stand-Up Comedian
Net Worth
$10 million
Social Media
@chriscomedy
Chris Distefano Early Life and Background
Chris Distefano was born on August 26, 1984, in Brooklyn, New York, in the United States of America.
He is 39 years old and his zodiac sign is Virgo.
Distefano grew up in the Ridgewood area and, for the most part of his young days, believed that he came from an Italian background.
However, later, Chris got to know that his family's lineage is diverse and mostly roots back to Germany. Apart from that, Chris' ancestry also goes back to Italian and Irish heritage.
In an interview, Chris jokingly said that he is as white as a "toilet paper."
Suggested Read: Meet Bert Kreischer's Family: Wife and Daughters
Chris Distefano Dad & Mom
Chris is one of Donna and Tony Distefano's three children.
His father is of Italian descent, and his mother is of Irish descent.
Donna and Tony are no longer together.
There were rumors that Tony was involved with and worked for the mafia.
In response, the comedian once stated in an interview that he was unaware of his father's occupation but remembered men in black suits visiting some of their family gatherings on occasion.
Some would say that Chris' father was a man of good intentions but bad decisions.
Tony was reportedly infamous for beating people up, getting in and out of prison, and even piling up gambling debts.
Suggested Read: Meet Comedian Ron Funches, His Wife, And Two Sons
Education and Early Career
The comedian attended Archbishop Molloy High School.
Chris attended St. Joseph's College and graduated with a major in Bachelors in Psychology.
Furthermore, he graduated from New York institute technology with a doctorate in Physical therapy.
In an interview, Chris said that he pursued bachelor's degree in psychology to impress his "mom's friends," and a doctorate to impress his "friends' moms."
Chris started his career as a pediatric physical therapy from 2010 to 2013.
However, his interest where somewhere else. He started standup comedian since 2009.
He emceed the Elite 8 of the March Madness Comedy Competition in 2011 and 2012 at the comedy club Carolines on Broadway.
He was chosen to perform as the opening act for Caroline's Breakout Artist Series and was a finalist for the 2011 New York Comedy Festival.
Distefano joined the second-season cast of MTV's Guy Code in 2012. He also joined the Girl Code cast the following year.
These shows were a staircase for his success.
In 2015, the comedian set off for his first national U.S. tour.
Furthermore, His hour-long Comedy Central stand up special Chris Distefano: Size 38 Waist debuted in January 2019
Chris is famous as a stand-up comedian.
He rose to fame after appearing in the second season of MTV's Guy Code in 2012.
he following year, he joined the cast of Girl Code which shed light to his career and skills.
He has had appearances in episodes of several other MTV series, including Guy Court, Guy Code vs. Girl Code, Off the Bat, and The Challenge.
Suggested Read: Jimmy Riffle Age, Wife, Married Life, Relationship, Married, Kids
Relationship and Marriage
Chris is married to a beautiful Puerto Rican woman named Jazzy Distefano.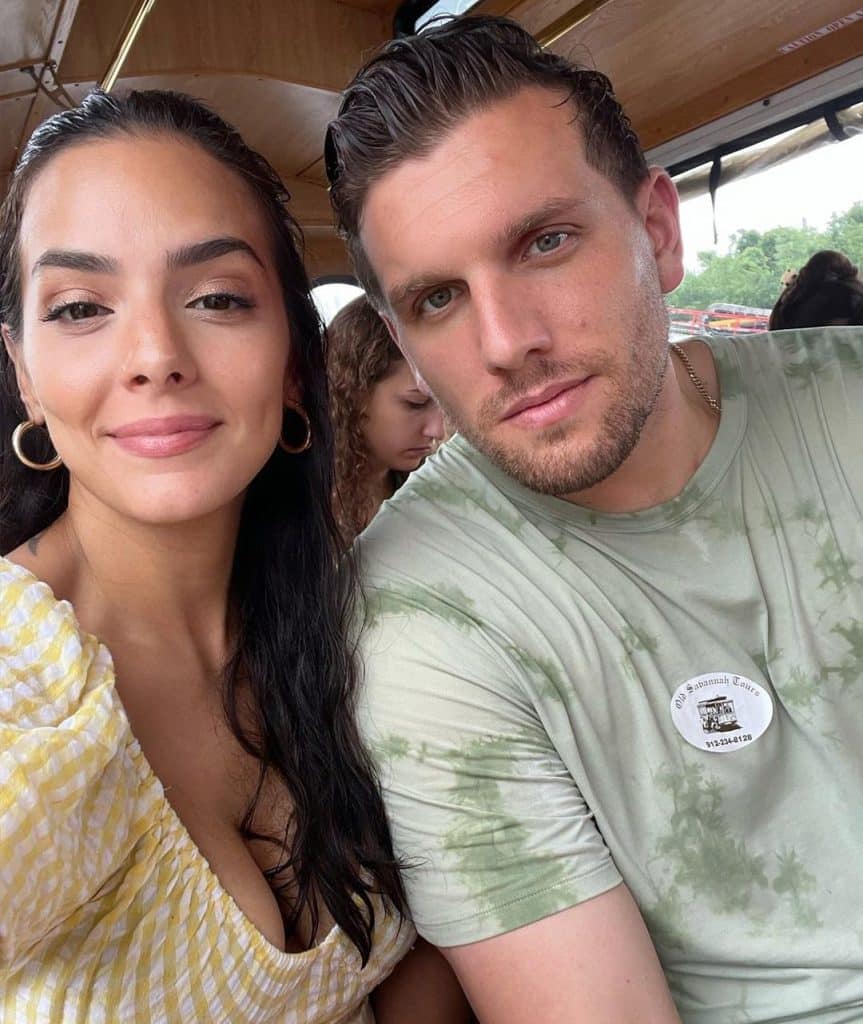 Chris and Jazzy first met each other back in 2014 at a bar called Place to Beach in Coney Island, New York.
A year later, the couple married on February 15, 2015.
However, there are some tabloids that claim Chris and Jazzy are not officially married.
However, neither Chris, nor, Jazzy have ever bothered to comment on these speculations.
Suggested Read: Kara Keough Bosworth Age, Kyle Bosworth, Kids, Net Worth
Who Is Chris Distefano Wife, Jazzy Distefano?
Jazzy Distefano born also known as Jasmin Canuelas was born on April 17, 1984, in Staten Island, New York, USA. She is 39 years old.
Jazzy is one of the three children of her parents, Edward Canuelas who worked at Lutheran Medical Center, and Liz Canuelas.
Sadly, Edward passed away on 26 January 2018.
She was born into a Latino family and a 100% Puerto Rican by ethnic background.
She grew up along a sister named, Jessica Canuelas and a brother who has kept his identity anonymous.
Professionally, Jazzy is an accomplished woman on her own.
She is an American fitness instructor, spin instructor, personal trainer, and Zumba instructor.
As a National Academy of Sports Medicine (NASM) certified personal trainer, Jazzy also provides virtual fitness classes for her clients.
You can follow Jazzy Distefano on Instagram @jazzymethod.
Suggested Read: Shelby Stanga Age, Wife, Kids, Death, Net Worth
Chris' Past Relationship
Chris Distefano has always been extremely open regarding his personal life and relationship. About his relationships, Chris Distefano has always been fairly transparent.
Chris was dating a fellow comedian Carly Aquilino between 2010 – 2014.
However, Carly reportedly accused Chris of cheating on her and eventually, the couple broke up.
After Chris and Carly broke up, rumors spread over the internet that Chris was gay.
We all know that this is not true.
Chris is married to Jazzy Distefano for past 8 years.
Suggested Read: Erik Salitan, Life Below Zero: Wife, Children, Net Worth
Fatherhood and Children
Chris and Jazzy are proud parents of three children.
Jazzy and Chris announced the birth of their first child, Delilah in 2015. Today, Delilah is 8 years old.
Similarly, in mid-2022, the couple welcomed their second child, Violette Distefano. Violette is 1 years old.
Chris is also a step-dad to Jazzy's son, Tristan.
Jazzy gave birth to Tristan from her past relationship with a man named Jeremy.
Today, the family of 5 resides in New York at present.
Take a look at the complete family!
Suggested Read: Marty Meierotto From Mountain: Men Wiki
How Much is Chris Distefano Worth?
Chris Distefano has an estimated annual income of around $400,000.
However, despite Chris makes a lot of money, he lives a very simple life and does not own anything flashy.
Chris currently has an estimated net worth of $10 million.
How Old Is Chris Distefano?
Chris Distefano is 39 years old. He was born on August 26, 1984, in Brooklyn, New York, the United States of America.
What is Chris Distefano known for?
Chris Distefano is known for his stand-up comedy performances and for his role as Eric on the MTV series "Guy Code." He has also appeared on "Adam Devine's House Party," "This is Not Happening," and "Girl Code."
Has Chris Distefano released any comedy specials?
Yes, Chris Distefano has released a comedy special "Size 38 Waist" on Comedy Central.
What is Chris Distefano's style of comedy?
Chris Distefano's style of comedy is observational and relatable, often discussing his personal experiences and observations.
Does Chris Distefano tour?
Yes, Chris Distefano tours and performs at comedy clubs and festivals across the country. Currently, show dates from February to March are out. Click here to buy tickets.
Is Chris Distefano Married?
Chris Distefano is married to a beautiful Puerto Rican-American woman named Jazzy Distefano. The couple married on February 15, 2015.
Does Chris Distefano Have Children?
Yes, Chris and his wife Jazzy have two daughters together, Delilah Distefano and Violette Distefano. Chris is also a step dad to Tristan, Jazzy's son from her past relationship with a guy named Jeremy.
How much is Chris Distefano Worth?
Chris Distefano is worth $10 millions as of 2023. He makes approximately $400,000 per year.