Drew Brees is a former Quarterback for the NFL team, the New Orleans Saints.
You might know a thing or two about his professional life, but what about his personal life?
Drew Brees Quick Facts
Birthday: January 15, 1979
Birthplace: Dallas, Texas, USA
Age: 43 years old
Zodiac Sign: Aquarius
Height: 6 feet  
Relationship Status: Married
Wife: Brittany Brees
Children: Rylen Judith Brees, Baylen Robert Brees, Callen Christian Brees, Bowen Christopher Brees.                             
Weight: 95 kg                                 
Net Worth: $160 Million
Who Is Drew Brees Married To?
The brew is married to his high school sweetheart, Brittney Brees.
The pair dated for a long time before tying a knot in February 2003.
Their companionship has been nothing but absolute bliss.
But what has added more meaning to their relationship are their four bundles of joy, their children.
The couple shares four children together, three sons and a daughter.
Let's get to know each one of them.
Suggested Read: NFL Coach Britt Reid Age, Wife, Wedding, Salary & Net Worth
Baylen Robert Brees
The oldest of Brees children, Baylen Robert Brees is an engaging young man.
He was born in January of 2009 and grew up in New Orleans, USA.
Baylen is a French word meaning Auburn Haired, and Robert is an English word meaning Famed-Bright shining.
As of now, Baylen is 12 years old, so we predict he's a middle school student.
However, his academic information hasn't been opened up to date.
12-year-old Baylen is already passionate about art and paintings, and you won't believe what he was up to during the lockdown period.
Baylen developed a passion for making the art of shoes which was a good thing because he could enhance his skills during the ongoing lockdowns.
Baylen began started selling his custom shoes and raised over $11,300 for covid relief.
What a thoughtful little man!
Furthermore, he is also a basketball enthusiast and loves the sport.
As of now, he has developed an interesting hobby in arts and continues doing what he is best at.
Suggested Read: Devonta Freeman [2022 Update] Age, Wife, Injury, Net worth
Bowen Bress
Born in October 2010, Bowen is the second child of the pair who was born 19 months apart from his elder brother.
Bowen is a welsh origin meaning Son of Owen.
As of now, Bowen is 11 years old, doing his primary schooling at Isidore Newsman School.
Drew is always very hilarious with his Instagram post.
One instance was when the father posted about Bowen's first shiner (black eye).
It somehow looked like a proud dad moment, and that post definitely cracked a lot of the viewers. Have a look.
Bowen is passionate about sports like his older brother.
The brother's duo does basketball shoots in their backyard.
Suggested Read: DeMarcus Lawrence Age, Wife, NFL, Stats, Salary
Callen Christian Brees
The 3rd child of the couple arrived in August 2012.
His name Callen is of Irish origin, meaning 'slender,' and Christian is of English origin, follower of Christ.
Again, no details about his academics are known, but his father does give his Instagram followers timely updates on his children.
A couple of months back, Drew shared a picture of Callen with his bruised face with a caption, Callen wrestled his first bear, and the rest is funny, which deserves a look! Here it is.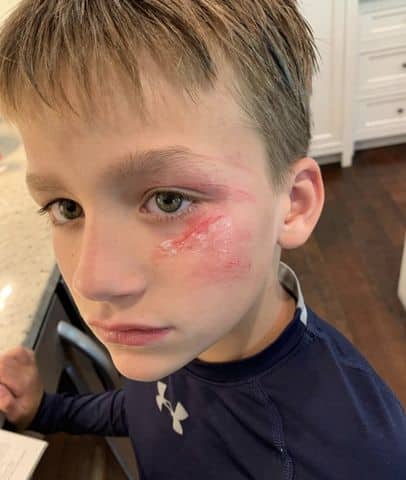 He had a bad scratch in his left eye.
We don't know if it really was a bear or just a metaphor he used for the mishap.
Nonetheless, the little champ is a Stephan Curry fan who often watches his games.
Not just that, the three brothers even impersonate him and his winning shot.
Nevertheless, the brothers are connected with each other and spend most of their time together.
They play golf, hang out together and do all kind of fun stuffs.
Suggested Read: Sterling Sharpe [2022] Age, Wife, Daughter, Net Worth
Rylen Bress
The last child and the only daughter of Drew and Brittney is their seven-year-old daughter Rylen.
She was born in August 2014.
Her Blonde hair with little blue eyes astonishes everyone.
Drew shared a hilarious moment while Brit was in labor with their little girl.
"Brit was looking at me during that delivery like, 'Hey, this is the last one.'"
Having born as the only sister among three elder brothers is indeed a blessing.
However, it gets tough at times when you want to build a dollhouse, but your brothers are sports freaks.
Jokes apart, she is an adventurous kid without a doubt, always seen on trips or in games with her brother.
Furthermore, Rylen is a daddy's girl.
Once while Drew was covering Sunday night football, she was so excited to see her dad that she climbed up on the TV shelf to give him a virtual kiss.
Someone captured it, and the commenters couldn't stop gushing over the adorable video.
Besides, all his four children have joined him in his retirement announcement video, which made fans emotional.
Nevertheless, the family of 6 seems to be enjoying each other's company a lot.
They are frequently spotted out on trips and, If not that, on games and tournaments.
Drew Brees Age
Drew Brees is 43 years old today. He was born on January 15, 1979, in Dallas, Texas, United States of America.
Drew Brees Wife
Drew Brees is married to Brittney Brees. The couple married in February 2003
Drew Brees Children
Drew Brees has four children with his wife. Their names are Rylen Judith Brees,7 , Baylen Robert Brees, 12, Callen Christian Brees, 9, Bowen Christopher Brees, 11.
Drew Brees Net Worth
Drew Brees currently has a net worth of $160 million.
[expand title=Sources]
https://people.com/parents/drew-brees-welcomes-a-daughter/

https://people.com/parents/drew-brees-welcomes-son-bowen-christopher/
https://people.com/parents/new-orleans-saints-drew-brees-welcomes-son-callen-christian/
[/expand]