Iskra Lawrence is one of the successful figures in the modeling industry for more than a decade.
She's not your typical model but an inspirational plus-size model who embraces her body and spreads body positivity on every platform.
Below is everything we know about Iskra from her boyfriend, their relationship and parenting life to her net worth. 
Iskra Lawrence Quick Facts
Birthday: September 11, 1990
Birth Place: Worcester, United Kingdom
Age: 31 Years Old
Zodiac Sign: Virgo
Height: 5 feet and 9 inches
Parents: Wilma Lawrence and Doug Lawrence
Relationship status: Dating
Boyfriend: Philip Payne
Who Is Iskra Lawrence's Boyfriend Philip Payne?
Philip Payne is a well-known figure in the music industry as well as an Instagram platform.
He has previously worked as a talent manager and A & R with ScoreMore Management and has assisted acclaimed artists like Tory Lanez.
In the meantime, he also worked as Tory's DJ and security guard. 
Regarding his academics, he went to South Garland High School, where he was very much into playing football and also played at the University Of Texas.
Afterward, he left behind his could-be career in sports to enter the entertainment industry.
Philip Payne was born on January 21, 1988, in the United States. He is 33 years old, and his zodiac sign is Aquarius.
Furthermore, he is also well known for his fashion and daily social media account, Instagram, where he has 49.9K followers as of 2021. Thus, his net worth is over $450K.
While Payne being a self-established figure may be true, at the same time, it's undeniable that he rose to a higher level of fame when he started dating the famous model Iskra Lawrence.
And Iskra's fans started becoming curious about Payne.
Suggested Read: Jasmine Roth Age, Bio, Baby, Husband, Net Worth
When Did Payne & Lawrence Began Dating?
Lawrence and Payne met at the 60th Annual Grammy Awards in 2018.
One of Lawrence's friends dialed her up and asked if she would like to attend the Grammy as he/she had an additional ticket.
Immediately filled with enthusiasm, Lawrence said yes and booked a flight to NYC. 
While Lawrence was at the Grammy, she and Payne locked eyes on each other.
Later, Payne approached her and exchanged quick smiles, and had a pleasant conversation which, in the meantime, led to an exchange of numbers.
They started hanging out ever since and were even spotted by paparazzi plenty of times.
People posted their pictures online, which created an ever-increasing demand for more information among the fans.
Lawrence and Payne officially started dating in January 2019.
On January 21, 2019, Lawrence posted a really adorable picture with Payne on her Instagram. 
Iskra stated how sorry she was for not being able to announce her relationship herself.
She also showed a hint of contempt towards paparazzi pictures which ousted her romantic affair as well.
Lawrence further said how posting pictures of her boyfriend was scary, for she considers her love story pure and an extremely private subject.
However, she ended the statement proudly, saying it did not matter what the world thought of her relationship.
Suggested Read: David Visentin Age, Married, Wife, Children, Net Worth
Fans Bully Lawrence and Payne's Love
Majority of her fans were expressing their happiness for her.
Meanwhile, on the other hand, people were showing disrespect and hatred towards their interracial relationship.
In Spite of continuous degrading comments, Lawrence still managed to stay critically positive and responded by posting a picture of her and Payne captioned with a heart-touching poem.
"Kindness is a choice you make
Doesn't it feel better to give, not just take
In a world where life is tough enough
Why don't we make someone's day a little less rough
Being mindful of what others may be going through, but don't share
We are all sisters and brothers, so let's show some care
A simple act of kindness can go a long way
It will make somebody's day
It'll make you feel good too
So why not try something new
Stop before you say or write something mean
Just because you want to be seen
You're entitled to your opinion, but there's a nice way to share
If you don't agree with someone's life choices, that's your cross to bear
Because love loves no matter what controversy we may face
Our love will light up any dark place
Spread kindness and acceptance and put a smile on a face
Because we are all made the same and part of the human race."
Thus, Lawrence and Payne have been going strong, sticking through thick and thin ever since.
Suggested Read: Erik Salitan, Life Below Zero: Wife, Children, Net Worth, 2021
Lawrence & Payne Welcome Their First Baby
Lawrence announced on her Instagram post that she was 17 weeks pregnant news in November 2019.
Later in April 2019, she announced that she had officially given birth to her child, whom she referred to as "Baby P" via Instagram post.
Last but not least, she mentioned that she is extremely protective about her newborn as the couple has been receiving death threats and hate comments.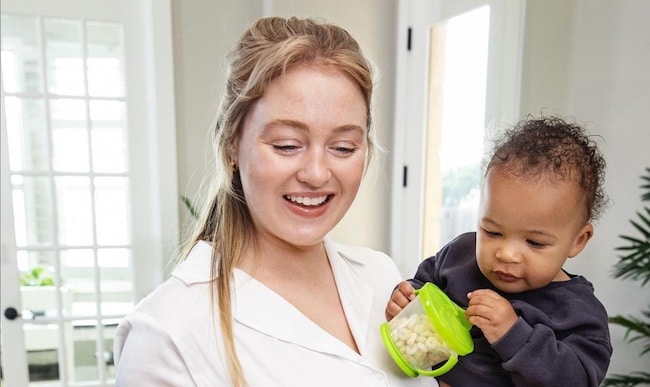 Also, she doesn't want her baby to feel like he was overexposed, which could possibly hinder his private life growing up.
Thus, the pair are extremely content with their parenting life.
Suggested Read: Mike Wolfe 2021 Net Worth, Earnings & Multiple Big Houses
Iskra Lawrence Career and Net Worth
Lawrence has modeled for lingerie brands like  "Aerie" and " Adore me."
Iskra also walked at New York Fashion Week in 2016 and afterward at Paris Fashion Week in 2017.
In 2018, Marina Rinaldi announced Lawrence as their brand ambassador for their Persona Collection Campaign.
Besides modeling, Lawrence advocates for body positivity.
In addition, she is also a brand ambassador at the National Eating Disorders Association.
She is actively engaged in raising her voice against body shaming people.
Since long ago, she has embraced her flaws, and thus, she doesn't retouch her images.
Lawrence has also made her spectacular appearance in a documentary and a ted talk focusing on body positivity and the effects of unrealistic beauty standards.
BBC has listed her under its world's 100 women category. Furthermore, she was a member of the World Association of Girl Guides and Girl Scouts. 
Aside from being listed in different magazines and categories, Lawrence has her contributions towards Self magazines and RunwayRiot. 
Lawrence starred as an extra in the Tv show titled Misfits as a zombie cheerleader in 2011 and hosted the show "The Mirror Challenge With Iskra," a watch series.
She's known to launch her own Swimwear collection anytime soon.
Therefore, her contribution to various fields and hard work has earned her a net worth that exceeds $2 million.
How Old Is Iskra Lawrence?
Iskra Lawrence is 31 years old. She was born on September 11, 1990, in Worcester, United Kingdom.
How Tall Is Iskra Lawrence?
Iskra Lawrence is 5 feet 9 inches or 175cm tall in height.
Is Iskra Lawrence Married?
No, Iskra Lawrence is not married. She is currently dating boyfriend/partner Philip Payne. The couple has a son together.
Iskra Lawrence Net Worth
Iskra Lawrence has a net worth of $2 million in 2021
[expand title=Sources]
https://en.wikipedia.org/wiki/Iskra_Lawrence
https://www.forbes.com/profile/iskra-lawrence/
https://www.dailymail.co.uk/tvshowbiz/article-8335241/Iskra-Lawrence-boyfriend-Philip-Payne-cradle-daughter-sweet-snaps.html
https://people.com/parents/iskra-lawrence-welcomes-first-child/
[/expand]