Eva Pilgrim is a 39-year-old television journalist. Eva is considered to be one of the most notable journalists in recent times. 
Let's know more about her career endeavors and all about her personal and professional life.
Eva Pilgrim Quick Facts
Birthday: 30 August 1982
Birthplace: Seoul, South Korea
Age: 39 Years
Zodiac Sign: Virgo
Height: 5 Feet 8 Inches
Relationship Status: Married
Husband: Ed Hartigan
Children: N/A
Salary: $150,000 – $200,000
Net Worth: $1.5 million
Is Eva Pilgrim Dating Anyone? Boyfriend
According to sources, Eva was dating singer and songwriter Clayton Anderson.
There are some rumors that Eva was previously having an affair with Mikah Caskey, who is the criminal prosecutor of the county's courthouse.
Moreover, Pilgrim never confirmed any of her relationships, so it is completely based on assumptions.
Some while ago, Eva posted a picture of a man and called him her valentine.
Later that year, Eva posted even more pictures of her boyfriend. Fans went crazy to find out who he was as she did not reveal his identity at all.
Eva has multiple pictures with that man, but nobody knew if it was her boyfriend or her husband.
However, everything became clear in May 2020.
Eva made a tweet mentioning how her "husband" managed her a cup of coffee when she had an issue with her coffee maker.
Fans were quick to join the dots.
His name is Ed Hartigan. she even follows him on her Instagram, but he hasn't uploaded any pictures yet.
Well, now it's clear that Eva is happily married to ed.
Suggested Read: ABC's Kenneth Moton Age, Married, Husband, Gay, Salary
Ed Hartigan Details
Ed Hartigan is the director of digital marketing and media services at Moravia and has over 15 years of experience in this industry.
Before Moravia, he worked at the performance marketing agency called iProspect for five long years.
But Ed is mostly known as the husband of Eva Pilgrim.
From a family background perspective, Ed is half-Irish and half-English.
Suggested Read: Is David Muir Married? Or Secretly Gay, Living With Partner?
Married To Ed Hartigan
Not very long ago, Eva met Ed Hartigan at a Miami wedding hosted by their mutual friend.
At that time, Ed lived in London and had traveled to attend the wedding and flew back to London again.
Later, ABC assigned Eva with a work that required traveling to London. There, she met Ed, and that's how things started for the couple.
After dating for quite some time, the couple decided to get married legally first. This is because Eva was approaching quite a busy schedule.
In November 2019, Eva Pilgrim married her longtime boyfriend Ed Hartigan legally.
For an actual wedding ceremony, Eva envisioned a small destination wedding to Ireland mostly because Ed is half-Irish.
"We are just trying to keep it small because neither one of us is great with big crowds. I know that seems crazy because I do the job that I do, but he's not a crowd person, and I don't like big groups of people either."
Unfortunately, the COVID-19 pandemic spread like wildfire, and the couple had to postpone their destination wedding to sometime in 2021.
Suggested Read: Lisa Boothe Wiki, Age, Bio, Husband, Married
Eva Pilgrim Pregnant
On July 4, Eva took to her Instagram about the news of her pregnancy.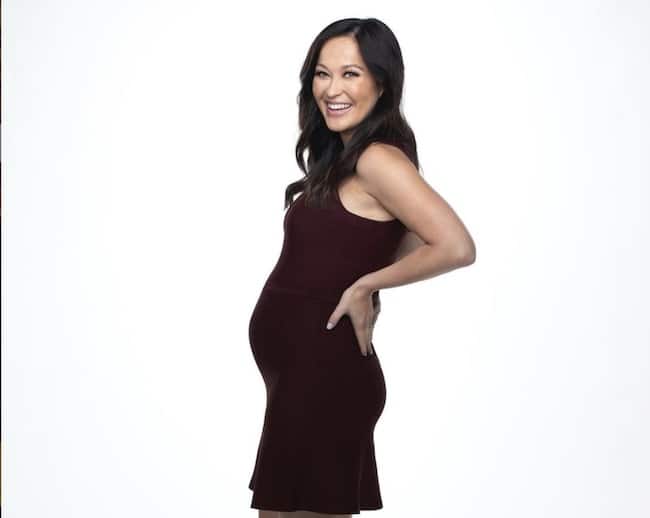 In an Instagram picture that clearly shows a significant baby bump, Eva revealed that she and her husband Ed Hartigan are expecting a baby girl.
Pilgrim further revealed that she's in her third trimester as of now.
Both Eva and her husband Ed are very excited to welcome their little baby girl, or as Eva likes to call "Little Miracle."
The couple's baby is due in late 2021 this year.
Suggested Read: ESPN's Molly McGrath Age, Married, Husband, Pregnant, Salary
Eva Pilgrim Family
Eva was born and brought up in Seoul, South Korea. The fun thing here is that she is a mix of Korean and American.
Her mother is South Korean, whereas her father is an American.
Because both her parents are from the military, they used to get deployed to other countries in time.
While on deployment, Eva's parents met each other for the first time.
Apart from them in her family, Eva also has a brother and a sister.
But unfortunately, details such as their names and other information apart from the above-mentioned ones are oblivious.
Suggested Read: ABC Ken Rosato Age, Wife, Married, Salary, Net Worth
Eva Pilgrim Education
After completing high school, Eva attended the University of Florida for her bachelors' level in journalism and mass communication.
Later she also went to the university of south Carolina for her further studies.
Who Is Eva Pilgrim? Career Outline
Born on 30 August 1982, Eva, in recent times, is the most notable and prominent journalist.
It is said that Eva leaves her marks wherever she goes with her work and dedication to work.
Eva is famously known for her work in "Good Morning America," "ABC News Nightline." Her work in these gave her stardom.
Eva started her career as a wed production in WIS-IV.
In 2004 Eva joined WVVA, where she worked as an anchor and a reporter.
After working there for few years, she joined FOX.
She worked as an anchor and a reporter at the station as well, and that too for numerous networks.
In the year 2012, she joined WPVI, which was an affiliate of ABC NEWS. Luckily, the parent company noticed her talent.
She even became the co-host for "Good Morning America."
She later signed a contract to join the ABC main network. In the year 2016, she became an ABC news correspondent.
She covered important and critical issues. Since then, she works for ABC NEWS as a news correspondent.
Suggested Read: Grant Napear Age, Wife, Married, Net Worth
Eva Pilgrim Net Worth
As per sources, Eva earns a decent amount of money from her career.
Her net worth is estimated to be around $1.5 million.
How Old Is Eva Pilgrim?
Eva Pilgrim is 39 years old. She was born on 30 August 1982, Seoul, South Korea.
How Tall Is Eva Pilgrim?
Eva Pilgrim is 5 feet 8 inches or 178cm tall in height.
Eva Pilgrim Net Worth
In 2021, Eva Pilgrim has a net worth of $1.5 million.
[expand title=Sources]
https://columbiametro.com/article/made-in-cola-town-13/
[/expand]