Last updated on November 20th, 2021 at 07:59 pm
Tim Cook, who is officially a billionaire now is the CEO of the multinational technology company Apple Inc since 2011.
Likewise, Tim has also garnered the tag as "The First Ever Gay CEO of Apple Company."
Follow the article till the end to know more such interesting details about Tim Cook.
Tim Cook Quick Facts
Birthday: November 1, 1960
Birthplace: Alabama, United States
Age: 61 years old
Zodiac Sign: Scorpio
Height: 6 inches 3 inches
Relationship Status: Single
Boyfriend: Not Disclosed
Children: Not Disclosed
Weight: Unknown
Net Worth: $1.4 Billion
Tim Cook Coming Out As Gay
Tim Cook officially secured the position as the CEO of the multinational technology company Apple Inc in 2011. Since then, he has been vocal about a lot of things.
One of them is about his sexuality.
In 2014 the CEO opened up about being gay, making him the first-ever Gay CEO of the company.
However, it took him ages to reveal publicly about his sexuality.
Only a few of his close friends and family members knew about it.
Moreover, fear of knocking over his successfully built career and reputation restrained him from coming out.
However, things did not turn out as bad as Cook expected.
While there's always some backlash from the conservative population, Tim received a positive response from coming out as a gay man.
Furthermore, he has served as an inspiration for all LGBTQ communities.
He advocates for human rights and the issue people of his community face.
People appreciate Tim for his unapologetically vocal nature when it comes to LGBTQ advocacy.
"If hearing that the CEO of Apple is gay can help someone struggling to come to terms with who he or she is, or bring comfort to anyone who feels alone, or inspire people to insist on their equality, then it's worth the trade-off with my own privacy."
Apart from doing an amazing job as the CEO of Apple, he makes the most of his position to inspire and spread the message of equality.
Cook does this in the hopes that everyone gets treated the same despite their sexual orientation.
Suggested Read: Ben Napier [2021 Update] Height, Weight Loss, Brothers, Net Worth
Tim Cook Boyfriend & Dating Life
After coming out as gay, the public took an interest in Tim's personal life.
However, he has managed to evade his love life from the public.
Back in 2015, he Tim attended the gay pride parade with one of his colleague/associates. His name is Benjamin Ling.
In the past, Benjamin expressed his gratitude towards the CEO through a tweet for being vocal about his sexuality.
Ever since followers began brewing rumors about a possible relationship.
Unfortunately, no evidence supports the existence of a romantic relationship between Tim and Benjamin.
Moreover, neither accompanied one another in public ever after attending that pride event.
In 2018, all the rumors died. Benjamin revealed his boyfriend Chris Coudron, who was an engineer by profession.
Suggested Read: Michael Darby [Ashley Darby's Husband] Age, Business, Net Worth
Who is Benjamin Ling?
Tim Cook's alleged former boyfriend Benjamin Ling is the delegation of Apple staff.
Benjamin Ling was born on November 7, 1976. As of today, Benjamin is 45 years old.
While Ling is American by nationality, his ancestral roots trace back to China and Taiwan.
He is an Asian-American with a Master's from Stanford University and Ph.D. in computer science.
He previously worked for famous most used platforms like Google and YouTube.
Lastly, he is the co-founder of 'Bling Capital.'
Apart from running his company, Benjamin also holds a board position at various other businesses.
Some of them are 'Quantopian,' Academia.edu,' 'Plastiq,' and so on.
As of today, through his intelligent investment techniques, Benjamin Ling has amassed an impressive net worth of $100 million.
Suggested Read: Ryan Cohen [Chewy] Age, Wife, Married, Net Worth
Who Is Benjamin's Boyfriend Chris Coudron?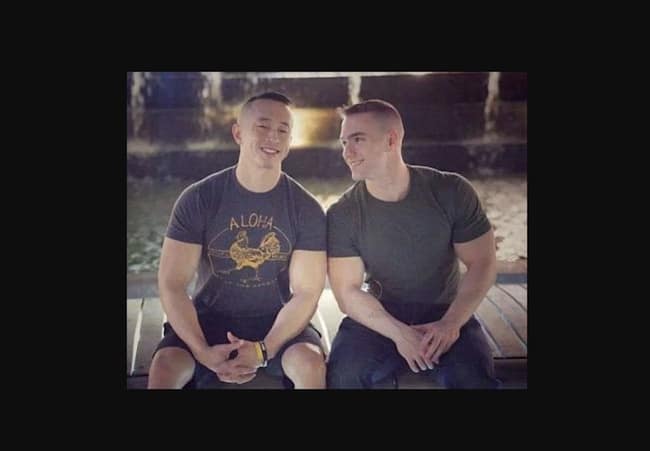 Chris Coudron is currently about a decade younger than his partner Benjamin who is 45 years old today.
Coudron graduated from Iowa University with a BS degree in Computer Science.
Chris has worked in many highly branded tech companies like Apple Retail and Abode Systems.
Suggested Read: George Farmer Age, Height, Candace Owens, Wife, Net Worth
Is Tim Cook Married?
According to the public domain, the 61-year-old remains unmarried to date.
Like mentioned, he evades personal life questions, so it is quite hard to get hold of any info on his dating life.
Similarly, there isn't any news or reliable information that says otherwise.
After Benjamin, he hasn't been linked to anyone.
Possible reason being due to his workaholic nature or either he is maintaining the utmost privacy.
Tim bluntly says that he cannot talk about it and closes off the topic entirely when it comes to marriage.
When John Chambers once asked about marriage and stuff, Tim said,
"I can't talk about marriage much."
Well, that's about it. That's how much anyone is ever going to get out of Tim regarding marriage.
Tim Cook Age
Tim Cook is 61 years old today. He was born on November 1, 1960 Mobile, Alabama, United States.
Tim Cook Partner
Tim Cook was previously linked to Benjamin Ling, an investor. However, their relationship never confirmed.
Tim Cook Net Worth
Tim Cook has a net worth of $1.4 billion as of 2021.
Sources