Dolores Robinson is one of the most well-known and reputed former producers, actresses, and talent managers. 
Let's get to know more about Dolores in detail below. 
Dolores Robinson Quick Facts
Birthday: April 13, 1936
Birthplace: Pennsylvania, USA
Age: 87 years old
Zodiac: Aries
Height: Unknown
Parents: Unknown
Siblings: Unknown
Relationship Status: Divorced 
Partner: Matthew Robinson (Former)
Children: Holly Robinson Peete and Matt Robinson
Dolores Robinson Age, Background
Dolores was born on April 13, 1936, in Pennsylvania. As of 2023, she is 87 years old.
She doesn't look her age at all, does she?
Moreover, Dolores is an American by nationality and belongs to the African-American ethnicity. Her zodiac sign is Aries.
Moving on to her education, she completed her high school education at Ambler High School in 1954. 
Later, Robinson graduated with a Bachelor's degree in Arts from West Chester Teacher's College in 1958.
Suggested Read: Cristina Greeven Cuomo Age, Husband, Chris Cuomo, Kids, Net Worth
Dolores Robinson Married Life, Husband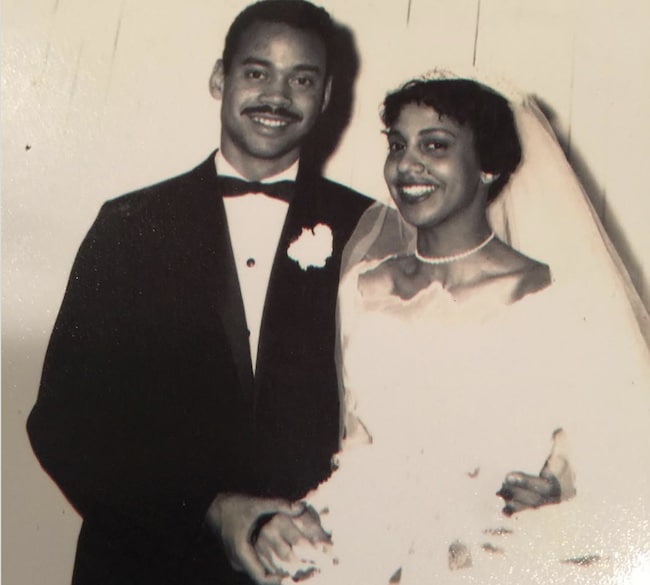 Dolores married Matthew Robinson, the late American actor, and producer, on February 13, 1960. 
Unfortunately, they got divorced due to certain inconveniences in 1976. The actual reason behind the separation remains undisclosed.
After divorce, Robinson moved out of east coast with Holly and Matt, her two kids and landed a job as a receptionist in a talent agency. 
Suggested Read: Sammy Wilk – Emily Wilkinson's Brother & The Famous Singer
Matthew Robinson, Who Is He?
Matthew Robinson was an American actor, writer, and producer, born on January 1, 1937, in Pennsylvania.
Similarly, Robinson started his early career as a writer and producer at WCAU-TV, which opened him a gate to higher opportunities.
Later, his breakthrough came in 1969 when he portrayed the role of Gordon in 'Sesame Street.'
He backed away from the role in 1972 but continued as a scriptwriter.
Besides 'Sesame Street,' he has produced and written various movies and TV show episodes, like 'Save The Children,' 'Amazing Grace,' 'Sanford and Son, 'Captain Kangaroo' and 'The Cosby Show' to name a few.
Moreover, Matthew also wrote Sesame Street's first storybook, 'Gordon of Sesame Street's Storybook.'
Similarly, he also recorded the first album of Sesame Street, 'The Year of Roosevelt Franklin,' in 1971. 
Sadly, Matthew passed away on August 5, 2002, from Parkinson's Disease.
Suggested Read: Elena Moussa, Greg Gutfeld's Beautiful Model Wife
Dolores Robinson's Children
Holly Robinson Peete and Matt Robinson are the two children of Dolores. 
Both of her children are well-known figures in their respective careers.
Holly is a famous American actress as well as an author. She has been in the industry since 1969. 
People mostly know Dolores for appearances in TV series like '21 jump street,' 'Hangin' with Mr. Cooper, ' and 'For Your Love,' to name a few.
She had her reality shows, 'For Peete's Sake' and 'Meet The Peetes.'
Additionally, she is an active advocate for Autism. 
Likewise, Matt is a DJ by profession and an advocate for Parkinson's Disease. He also appeared on a few TV shows.
Suggested Read: Brittany Matthews, Patrick Mahomes' Long-Time Girlfriend & Their Romance
Her Grandchildren
Robinson is a grandmother of 5 grandchildren.
Four of her grandchildren, Ryan Elizabeth Peete, Rodney Jr. Peete, and Robinson James Peete and Roman Peete, are children of Holly Robinson Peete.
Ryan is a published author, single, and television personality. 
Rodney Jr suffered from Autism since the age of 3. However, he is a well-accomplished man despite being diagnosed with Autism.
As of now, he advocates Autism, and even appears on Fox Sports Net's 'Kid Pitch' with a segment of his own, 'Stump Rodney.'
Robinson James Peete, third of Holly's children, is an aspiring athlete and an artist.
Likewise, Roman is very young as of today and busy with school.
He used to appear on their family's reality show 'Meet the Peetes' and is seen at various events with his family.
Moving on, Dolores's fifth grandchild, Sulana Robinson, is the daughter of Matt Robinson.
She owns her own business of hand-made potions and salts.
Suggested Read: Gwendolyn Osborne Age, Husband, Kids, Height, Net Worth
Career
Robinson started her career as a public-school teacher in Levittown.
There, she also helped in various educational and health programs for young pregnant girls.
She quit teaching when she became a mother.
Eventually, she started working as a public relations director at KYW-TV in Philadelphia.
She also worked as a host of a local station's children's TV shows.
Later, In 1974, she moved to Los Angeles with her family when LeVar Burton hired her as a manager at a talent agency. 
After working as a talent agent for two years, she founded her own company, Dolores Robinson Entertainment. 
Since then, Dolores has worked as a producer and manager for various famous people.
Some of them are Wesley Snipes, Mark Wahlberg, Martin Sheen, Pierce Brosnan, and Mariska Hargitay. 
Additionally, she is well known as a producer of various shows like 'Between Brothers,' 'Matt Waters,' 'The Hunter,' to name a few.
In 2014, she also represented the former Little League Baseball pitcher and current Hampton University softball player, Mo'ne Davis.
Furthermore, she appeared in the reality show 'For Peete's Sake' and worked as a consultant producer for 'Meet The Peetes.'
Besides, she was the board of directors at the American Civil Liberties Union.
Moreover, she also served as an advisory board member for the Hollywood Women's Political Committee. 
Likewise, she was among one of the board of directors for the Motion Picture & Television Fund.
Currently, he appears on podcasts and advocates for youngsters with special needs.
Suggested Read: Manuela Testolini Today! Prince's Ex-Wife Married
Dolores Robinson Net Worth
As one of the best producers in America, she has accumulated a net worth of $1.1 million.
On the other hand, Holly Robinson Peete currently has a net worth of $4 million.
Dolores Robinson Age
Dolores Robinson is 87 years old today. She was born on April 13, 1936, in Pennsylvania.
Dolores Robinson Today
Dolores Robinson appears on TV as of today along with her daughter Holly Robinson Peete.
Dolores Robinson Net Worth
Dolores Robinson has a massive net worth of $1.1 million in 2023.