Jason Cole Critchlow, best known by his stage name Jay Critch is a 24-years-old American rapper a singer-songwriter known for his song, 'Did it again.'
His other solo hist include 'Hood favorite,' 'Out of Line,' and many more.
Learn more about the youth rapper who is slowly climbing the ladder of success.
Jay Critch Quick Facts
Birthday: February 25, 1998
Birthplace: Clinton Hill, New York, USA
Age: 24 years old
Zodiac Sign: Aquarius
Height: 6 feet 2 inches
Weight: 65 kg
Relationship Status: Single
Girlfriend: Unknown
Children: None
Net Worth: $2 Million
Jay Critch Age, Background
Originally known as Jason Cole Critchlow, Jay is born on February 25, 1998, in Clinton Hill, New York, USA.
At present, he is 24 years old.
Jay is the middle kid of his Trinidadian mother and British Guyanese father.
Since both his parents come from different backgrounds, Jay has a mixed ethnic background.
Needless to say, he enjoys the best of both worlds.
Similarly, the rapper grew up along with two siblings, his elder brother and a younger sister.
Jay's brother inspired and encouraged him to pursue this career as his brother belongs to the music industry as well.
Likewise, his younger sister Kae Critch is an entrepreneur and runs her own online clothing fashion boutique named, Shopkaecritch.
Suggested Read: Chrissy Metz Weight Loss 2021, Before & After, Diet, Exercise, Now
Education
The rapper graduated from the Beacon School.
Beacon School is a private educational institute in New York.
Suggested Read: Amy Slaton Husband Michael Halterman, Age, Weight Loss, Net Worth
Is Jay Dating Anyone? Girlfriend
Jay has established a place for himself in the music industry. On top of that, he is a young rapper who has massive success opportunities lying in Front of him.
A successful career and great music are what define Jay and his progressively rising career.
Now, with all of that, he also has an amazing physique with a stunning height which has earned him thousands of female fans and followers who crush on him.
Despite all this, the rapper is presumably single at present.
Similarly, Critch hasn't mentioned his relationship status yet or dropped any hints; we must assume him to be single.
Earlier this year rapper had shared a few pictures with a girl named Sofia, who people assumed was his alleged girlfriend.
However, Jay neither confirmed nor denied the rumors.
There are no pictures of the two as of today.
It looks like the rapper wiped off all their pictures together from the feed since then.
Maybe it was over, or they were just friends, who knows!
The rapper is very career-oriented and highly ambitious.
As we all know, there comes that one time in life where we get to shine, flourish, and excel, which is the moment for Jay.
Moreover, he probably chose a career over a romantic relationship, just remains centered his focus on one place.
Nevertheless, we respect his privacy on this topic.
Suggested Read: Ben Napier [2021 Update] Height, Weight Loss
Jay Critch Net Worth
Jay Critch initially started his music career in 2015 with his 1st main song called, 'Man Down' in collaboration with Rowdy Rebel.
A year later, he uploaded one of his songs, 'Did It Again,' in sound clouds, which gained so many listeners and fans in a short fan.
That was when his road towards fame started. The same year of his song's release, that song was remixed by Rich the kid.
That remix caught the attention of the public and did pretty well too.
In November of the same year, he made a deal with Rich Forever Music.
Similarly, Interscope Records, the same record label that once signed famous rapper Eminem, later signed Critch.
As of today, he's with both Interscope and Rich Forever Music, also the rich kid's record label, rich forever music.
The rapper has an estimated net worth figure of $2 Million as of 2022.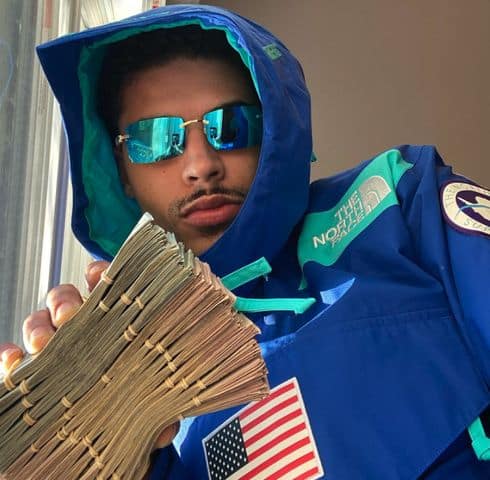 No wonder why Jay always flexes his wealth in social media. He's often seen with bundles of cash.
Suggested Read: Singer Anaís Age, Married Life, Husband, Kids, Net Worth
Jay Critch Height & Weight
Although not an NBA Player, if he ever wanted to, Jay could easily pass the height requirement.
As of today, Critch stands very tall at a height of 6 feet 2 inches. That is 189 cm or 1.89m tall.
Critch also maintains his weight that ranges between 78 kg – 85 kg. That's roughly between 171 lbs. – 187 lbs.
Jay Critch Age
Jay Critch is 24 years old today. He was born on February 25, 1998, in Clinton Hill, New York, USA.
Jay Critch Girlfriend
As of today, Jay Critch is single. He does not had a girlfriend publicly.
[expand title=Sources]
[/expand]