Manuela Escobar is the only daughter of the drug lord Pablo Escobar, also known as the "King of Cocaine," and his wife, Maria Victoria Henao.  
Although carrying no criminal record, other than being the daughter of Pablo Escobar, Manuela proactively avoided the spotlight for most of her life until now.
These days, Manuela has a hefty social media presence, and thousands of people follow her.
Find out whatever happened to the daughter of Pablo Escobar.
Manuela Escobar Quick Facts
Full Name: Juana Manuela Marroquin Santos
Date of Birth: May 25, 1984
Age: 39 years old
Zodiac Sign: Gemini
Current Residence: United States of America
Birth Place: Colombia
Nationality: Colombian
Religion: Christianity
Ethnicity: White
Height: 5 feet 7 inch
Weight: 60 Kg
Gender: Female
Relationship Status: Dating
Husband: Tomás Botero
Children: N/A
Profession: Not Disclosed
Famous as: Pablo Escobar's Daughter
Instagram: manuelaescobare
Facebook:
Net Worth: $1 million
Manuela Escobar Today
Manuela Escobar is the only member in her family who is clean from any accusations so far.
She has never been under any speculations for being involved in criminal acts either in regards to her father or any other thing.
For the most part, Manuela has maintained a very low profile, not letting people know about what she does professionally and keeping similar info hidden.
The constant hate towards the Escobar family after Pablo's death affected Manuela's mental health, which prompted her to isolate herself from the outer world.
While Pablo committed countless unspeakable crimes, he was an amazing dad to Manuela and her brother Sebastian Marroquin.
When Pablo died, it was too much for then 9-years-old Manuela to handle.
Add constant public loath towards the Escobar family and legal issues for prolonged years to the existing grief of losing a father, and you get the perfect recipe for degrading mental health.
She has barely been seen or recognized in public as Manuela lives a quiet life away from everything post the traumatic events that happened while she was growing up.
Suggested Read: Sam Alexis Woods [Tiger Woods Daughter] Untold Truths
Manuela Escobar's Relationship Status
As of today, Manuela is dating a handsome young man named Tomás Botero.
The couple has been dating for quite a while and seems very happy together.
Talking more about Tomás, he's an Architect by profession.
Tomás runs an architectural firm that deals with developing projects with sustainable values.
When not working, Tomás is an avid cyclist and loves riding a cycle on different trails.
Manuela and Tomás hang out with each other a lot and share a strong bond.
It's all evident from their Instagram pictures.
Suggested Read: Fred Kotto [Yaphet Kotto's Son] Worked As Police – Untold Truth
Manuela Escobar Wiki, Age, Bio
Juana Manuela Marroquin Santos, best recognized as Manuela Escobar, was born on May 25, 1984, making her 39 years old at present.
She is the daughter of the late Pablo Escobar and Maria Victoria Henao.
Manuela grew up along with an elder sibling named Sebastian Marroquin.
Sebastian is an architect and an author.
Furthermore, Manuela attended the University of Nicaragua.
Suggested Read: Kimiko Flynn [Rome Flynn Daughter] Unknown Facts
Manuela Escobar's Family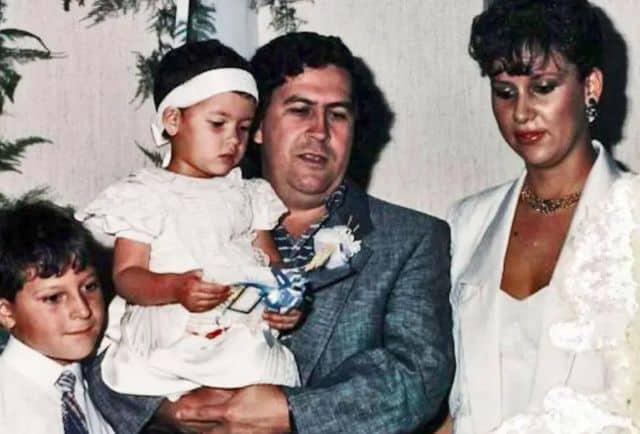 Manuela's father, Pablo, was one of the biggest drug lords and narcoterrorists who walked this earth. He was also the founder and leader of the Medellin Cartel.
He was one of the wealthiest and most powerful criminals in history, having amassed more than $30 Billion through all his criminal activities.
Pablo Escobar's peak net worth of $30 billion would be over $100 billion in today's money.
In the 1970s and 1980s, he and the Medellin Cartel saw great growth in the cocaine business all over the USA.
With over 80% of total drug supplied worldwide at its peak, Pablo's began earning over $400 million on an annual basis.
The 1980s was the peak of his smuggling, and he employed two remote-control submarines to do more of his business.
His constant new ways of smuggling drugs and scandals made him the enemy of the Colombian and American governments, and both countries began chasing him relentlessly.
Besides his cocaine supply, he was also held accountable for the assassination of Luis Carlos, a Colombian presidential candidate.
When the government threatened Pablo's extradition to the USA, he offered to pay Colombia's $10 billion foreign debt as a negotiation deal.
Suggested Read: Deborah Jennifer Stern [Howard Stern's daughter] Untold Truth
Pablo's Surrender and Jail Time
Eventually, he did surrender and was kept in the La Catedral jail.
Now, Pablo's criminal mind didn't rest even in jail. Rather, he started operating his supply from the jail itself.
Upon discovering that, Search Bloc, a special Colombian task force, was trained for the shoot-out of the drug lord.
In 1993, Pablo was killed in a shoot-out that resulted in bloody carnage killing more than 300 people along with him.
His effort to escape across the rooftops in between the shoot-outs happening between Colombian authorities and him only resulted in the dramatic and bloody death of the drug lord.
That was the end of Escobar.
Suggested Read: Dane Luke Majors [Lee Majors' Son] Actor & A Hidden Talent
Pablo Escobar and Maria Victoria Relationship
The pair first met way back in 1974.
Maria's brother was a drug trafficker and worked for Pablo. She met him through her brother and instantly caught feelings for the drug lord.
He was 11 years older than Maria and was known for her infidelities and criminal activities.
Neither of those stopped her from falling in love with Pablo. Upon finding out about their relationship and Pablo's history, Maria's family was against their relationship.
Now, not to forget, she was only 13 when they first met. Seeing rejection from her family at the age of 15, she eloped with Pablo leaving behind everything she had.
She was naïve about his drug cartels and other acts for the first few years. He tricked her into thinking he was a businessman.
During their 17-year-long marriage, Pablo was unfaithful to her numerous times.
Despite knowing all, she never left his side until his death.
Suggested Read: May Theodora Benben [Madeleine Stowe Daughter] Hidden Truth  
Manuela Escobar & Family After Pablo Escobar's Death
Pablo's death was devastating news for his family.
While the Colombian government, police, and the families of his victims were rejoicing his death, Escobar's family was in constant fear for their own lives.
After his death, Maria singlehandedly had to take care of her two kids, and they moved across countries and stayed anonymous for safety reasons.
Similarly, when the family thought they would have peace now, the family, except for Manuela, were arrested for money laundering.
It was the first of many arrests they went through.
Maria was under continuous suspicion of being involved in her husband's criminal acts.
However, she never left her stand and denied having any involvement in it.
After being imprisoned for a few months, the family was released due to insufficient evidence.  
Manuela Escobar, along with her family, then fled Colombia, fearing for their lives.
Sadly, no country was willing to welcome them after everything Pablo had done.
Every petition for help resulted in a futile attempt. Even the Cali Cartel was demanding money in million for Pablo's crime against them.
The Escobar family tried seeking refuge help in places like South Africa, Peru, and Brazil before finding a suitable place in Argentina in 1994, and they settled there for a few years.
They were constantly running away from their pasts all those years, and it finally looked like they were all behind them as their life in Argentina was going smoothly.
Now, talking about the billion dollars he had earned during his lifetime was untraceable.
Neither it reached his family, nor the authorities could figure it out.
Few of his properties were seized, but the remaining hard assets were never found, which remains a mystery.
How Old Is Manuela Escobar?
Manuela Escobar is 39 years old today. She was born on May 25, 1984, in Colombia.
Manuela Escobar Boyfriend
Manuela Escobar is dating architect Tomás Botero. The couple maintain a healthy relationship in 2022.
Manuela Escobar Net Worth
Manuela Escobar's net worth remains unknown today. However, her father reportedly had a massive net worth of $30 billion at one point of his life.
What Is Pablo Escobar's Net Worth In Today's Money?
Pablo Escobar had a net worth of $30 billion in the 80s. In today's money, Pablo Escobar was worth more than $100 billion.
[expand title=Sources]
https://www.conguadua.com/home#proyectosconguadua
[/expand]