Christopher Chace Crawford, an American actor who rose to prominence through his character as Nate Archibald in the teen drama series 'Gossip Girl,' is undoubtedly gorgeous.
Keep reading till the end to know more interesting facts about the 36-year-old heartthrob.
Chace Crawford Quick Facts
Birthday: July 18, 1985
Birthplace: Lubbock, Texas
Age: 36 years old
Zodiac Sign: Cancer
Height: 6 Feet
Relationship Status: Unknown
Girlfriend: Rebecca Rittenhouse (On and Off)
Children: 0                              
Weight: 68 kg                 
Net Worth: $6 Million
Chace Crawford Age, Parents
Chace was born on July 18, 1985, which makes him 36 years old as of today.
He is the eldest son of parents Dana Crawford and Chris Crawford.
Chace's father, Chris, worked as a dermatologist, whereas his mother, Dana, worked as an instructor in college.
The now 36-years-old has a younger sister named Candice Crawford, former Missouri USA Champ.
Furthermore, he spent a part of his childhood in Bloomington, Missouri, only to return to Texas after few years.
Likewise, he completed schooling at Ridgeview Elementary school.
Later, Chace attended Trinity Christian Academy, where he completed his high school.
For further studies, Crawford enrolled at Pepper dine University with Marketing and casting journalism as majors.
However, due to his increasing acting opportunities, the young actor put his academics on hold to focus more on acting.
Suggested Read: Andrew Cheney [2021] Age, Wife Kara Killmer, Net Worth
Chace Crawford Married? Wife
The actor is presumably single at this point.
He has had numerous relationships in the past. Two of his prominent relationships were with Carrie Underwood and Rachelle Goulding.
However, apart from that, there are no talks about getting married whatsoever for the actor.
And since he's probably single at the moment, you ladies might even have the chance of grabbing him.
Now, let's get back to his relationships.
Suggested Read: Rupert Everett Partner Revealed! Age, Bio, Net Worth
Chace & Carrie Underwood
For people who do not know already, Carrie Underwood is a Grammy-Winning Singer.
Chace and Carrie met each other back in 2007 at the Hollywood Nightclub Hyde.
By winter/fall, people began suspecting their relationship.
Some of the things about Chace that attracted Underwood were his hair, nice height, and "beautiful blue eyes."
While Crawford and Underwood did not officially state about their relationship status, actress Nicole Fiscella, Chace's co-star in 'Gossip Girl' said,
"They're the cutest couple."
While people assumed that things were great between the couple, around early 2008, the couple had broken up.
In an interview, the previously upset Underwood regarding her break finally revealed her relationship status.
She said that their decision to part ways was completely mutual, and it happened over text.
"It's like 'peace out.'"
Underwood also said that things just did not work between them.
Moreover, another insider told PEOPLE that Carrie broke Chace's heart regardless of whatever the 'Gossip Girl' actor did.
Yeah, it's complicated.
Suggested Read: Manon Mathews [2021 Update] Age, Husband, Divorce, Net Worth
Chace and Ashley Greene
For a very short time, Chace made headlines with his sensational relationship news with Alice Cullen. Oh, sorry, Ashley Greene.
According to a picture, Chace and the 'Twilight' star Ashley engaged in a very intimate kiss at Los Angeles Airport (LAX).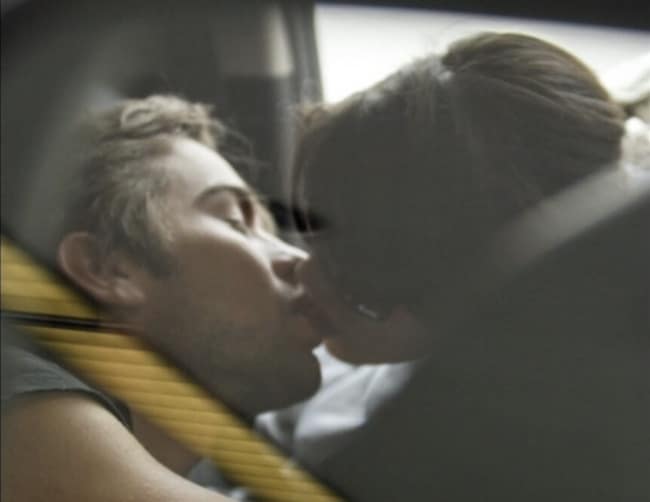 Before this, Chace and Ashley made multiple appearances together, but everyone thought they were just good friends.
However, when the paparazzi caught the couple kissing at LAX in October 2009, their relationship was confirmed.
It looks like their dating spree did not last very long as talks about Chace and Ashley's relationship died away.
Suggested Read: Carl Marino In 2021: Age, Wife, Married, Net Worth
Crawford and Rachelle Goulding
After he breaks up with Ashley Greene, Chace began dating Rachelle Goulding.
While it remains unknown how these two connected initially, Chace and model Rachelle attended a Knicks game in March 2013.
Although sources claim that there was nothing between the actor and the model during that time, we suspect their relationship escalated sometime afterward.
Both looked very smitten of each other as they sat very close, giggled, and laughed around as new couples usually do.
However, this relationship did not last very long.
In 2014, Crawford revealed that he and Rachelle Goulding were not together, thus not dating anymore.
"It's totally good… totally good."
Chace further said that the couple had fun together.
Suggested Read: Joe Machi [2021 Update] Age, Wife, Family, Net Worth
Chace and Actress Rebecca Rittenhouse
In 2015, rumors sparked about the actor dating Rebecca Rittenhouse.
The duo first met each other on the sets of US soap operas Blood and Boil in 2015.
Later, the duo was spotted out together in July 2015, which sparked their dating rumors more.
They came out clean about their relationship and announced that they were indeed together.
They made a great pair and had a great connection, told everyone who knew them personally.
Sadly in 2018, the rumors about their break up surfaced on the internet.
In May 2019 during an interview, the actor talked openly about his split with Rebecca, confirming the rumors about their breakup.
He got too candid during the interview and even mentioned,
"I've been dating around a little bit, but, you know, nothing serious."
No! It wasn't Rebecca. It was someone else whose identity he preferred keeping a secret.
Suggested Read: Who Is Jack Whitehall Dating? Age, Dating, Girlfriend, Net Worth
Are Rebecca and Chace back together?
In 2020, the couple was photographed together in California, which hinted at their reconciliation.
Earlier this month, he was spotted holidaying with his former girlfriend, Rebecca, in Capri, Italy.
However, they weren't there for a romantic getaway instead were on a friendly trip with eight other people.
They haven't publicly announced anything regarding their relationship.
Similarly, they aren't back together yet and have been keeping a friendly relationship since the split.
Suggested Read: Julio Macias Isn't Gay! Meet Talented Girlfriend
Who Is Rebecca Rittenhouse?
Rebecca is an American actress who was born on November 30, 1988.
She has starred in wide genres of TV films and movies.
Some of her prominent roles were Cody LeFever in 'Blood and Oil' and 'Dr. Anna Ziev' in 'The Mindy Project.'
Her other acting appearances are in 'Four weddings' and 'a funeral,' 'Good on paper,' and many more.
Rebecca almost made it to the female lead role for the superhero film 'DeadPool' but lost her role to Morena Baccarin.
Nevertheless, she has been a part of other big projects.
Suggested Read: Daredevil's Wilson Bethel Wife, Married After Hassie Split?
Chance Crawford Net Worth
The 'Gossip Girl' famous actor has amassed a Net Worth of $6 Million as 2021.
Chace Crawford Age
Chace Crawford is 36 years old today. He was born on July 18, 1985, in Lubbock, Texas.
Chace Crawford Height
Chace Crawford's height is 6 feet. Or in other metric terms, Chace Crawford is 1.83m or 183 cm tall in height.
Chace Crawford Wife
Chace Crawford is not married as of now. He has had multiple relationships in past with actresses and models like Ashley Greene, Rachelle Goulding, and Rebecca Rittenhouse.
[expand title=Sources]
https://www.dailymail.co.uk/tvshowbiz/article-9746487/Gossip-Girls-Chace-Crawford-joins-girlfriend-Rebecca-Rittenhouse-boat-trip-Italy.html
https://www.tmz.com/2021/07/11/chace-crawford-not-back-with-ex-rebecca-rittenhouse-despite-vaca-pics/
https://www.celebritynetworth.com/richest-celebrities/actors/chace-crawford-net-worth/
https://www.instyle.com/celebrity/tbt-carrie-underwood-chace-crawford-relationship
https://www.tmz.com/2009/08/10/spotted-chace-crawford-kissing-twilight-star/
[/expand]